Azerbaijan's Defense Ministry has announced that three Armenian and two Azerbaijani soldiers have been killed in clashes near the disputed territory of Nagorno-Karabakh.
In a statement issued on September 1, the ministry blamed Yerevan for the incident, saying Armenian troops had crossed the line of control separating northern Nagorno-Karabakh from Azerbaijan proper and "tried to attack Azerbaijani forces."
Karabakh authorities, in turn, blamed the attack on Azerbaijani "special forces." Armenian media reported that only one Armenian soldier had been wounded in the assault.
RFE/RL's Armenian Service quoted Defense Minister Seyran Ohanian as saying Azerbaijani accounts of the incident were false. "Azerbaijan has again shown its face [by launching the attack], but when we responded, they fled and suffered losses in the process," he said.
The clash is the latest outbreak of violence between Azerbaijani and Armenian troops in the long-standing dispute over Nagorno-Karabakh, the Armenian-majority enclave located inside Azerbaijani territory.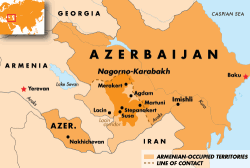 Armenia and Azerbaijan fought a six-year war over the territory that ended with an uneasy cease-fire in 1994. But its final status has never been resolved and frequent skirmishes are reported between Armenian and Azerbaijani troops.
The reported clash comes just ahead of a scheduled visit to Azerbaijan by Russian President Dmitry Medvedev on September 2-3.
An agreement on demarcating the Russian-Azerbaijani border is expected to be at the center of Medvedev's trip. But the Russian president is also likely to discuss Nagorno-Karabakh, an issue where Moscow has sought increasing influence as a mediator.
Azerbaijani President Ilham Aliyev and his Armenian counterpart, Serzh Sarkisian, met for bilateral talks on Nagorno-Karabakh hosted by Medvedev in June in the Russian city of St. Petersburg.
A day later, five soldiers -- four Armenian and one Azerbaijani -- were killed in a skirmish near the Karabakh border. Aliyev later declared the Azerbaijani soldier, Mubariz Ibrahimov, a "national hero."
Cesur Sumerinli, the chief editor of the Azerbaijani military-analysis website mil.az, told RFE/RL that tension between Azerbaijan and Armenia has been increasing since the leaders of the two countries met in St. Petersburg in June.
"This latest violation could be connected to Medvedev's forthcoming visit. But it could also have nothing to do with it," Sumerinli said. "Generally, however, the cease-fire is being violated more and more frequently. It could result in the resumption of local [military] operations in the near future."
Medvedev's trip to Baku comes two weeks after the Russian leader visited Yerevan, where he and Sarkisian signed a deal committing Moscow to guaranteeing Armenian security on its territory. Armenian officials welcomed the deal as a pledge of Russian support should tensions over Nagorno-Karabakh escalate into full-fledged war.
Aliyev has used Azerbaijan's massive energy wealth to steadily build up his country's military and has frequently threatened to resolve the territorial conflict by force.
It is unclear, however, whether the Yerevan deal would obligate Russia to intervene in an armed conflict involving Nagorno-Karabakh, which is located outside Armenia and within Azerbaijan's borders.
Casting further doubts on the Kremlin's loyalties in the region are rumors that Moscow recently sold antiaircraft missiles to Azerbaijan. Russian officials have dismissed the reports, saying Moscow does not sell arms to unstable regions.