MUNICH (RFE/RL) -- Azerbaijani President Ilham Aliyev and his Armenian counterpart, Serzh Sarkisian, made "important progress" today at four hours of talks in the German city of Munich to discuss the Nagorno-Karabakh conflict, mediators say.
"Some important progress has been reached," said Bernard Fassier from the Organization for Security and Cooperation in Europe (OSCE). "At the same time, we have identified some difficulties."
Both Aliyev and Sarkisian left the talks without speaking to journalists.
Fassier told reporters that he and his co-mediators from the United States and Russia would begin to prepare for the next round of talks, but did not say when such talks might take place.
Today's talks were the latest in a string of meetings held this year as the two leaders seek to settle their countries' long-standing dispute over Nagorno-Karabakh, an enclave in Azerbaijan controlled by ethnic Armenian forces.
Mediators from the United States, Russia, and France -- the co-chairs of the OSCE's mediating Minsk Group -- say they have been making progress in the talks. But so far neither side has committed to difficult concessions.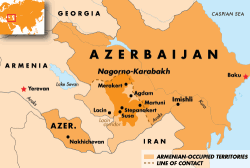 Hrair Tamrazian, the director of RFE/RL's Armenian Service, was in Munich today and quotes Fassier as saying the two leaders discussed some issues for the first time. When pressed for details about what progress had actually been made, Tamrazian says mediators declined to elaborate.
Tamrazian says the talks lasted longer than expected and quotes OSCE mediators as saying that was an indication of the "depth" of the discussions.
"I think today what was impressive was the way the two presidents worked with us, the depths of their discussion, the seriousness of the discussion, their willingness to discuss points that are quite difficult and quite controversial," said U.S. mediator Robert Bradtke. "I think, as someone who is relatively new to this process, that is what impressed me the most."
Diplomacy 'Exhausted'
Today's talks came days after Aliyev said hopes to resolve the conflict through diplomatic means would be "exhausted" if an agreement did not materialize in Munich.
Speaking on November 20 at a meeting of Azerbaijani refugees from the Nagorno-Karabakh conflict, he warned that Azerbaijan is ready to use force to reclaim the rebel region.
It wasn't the first time Aliyev has threatened force to take back the territory.
Although the line of contact is unstable, Tamrazian says armed conflict is unlikely.
"I don't believe that there will be a use of force. Neither France nor the United States will let that happen," Tamrazian says. "In two days, Ilham Aliyev travels to Moscow to meet Russian President Dmitry Medvedev, and the Russians will try to persuade him that not only Armenia, but also Azerbaijan, has to make concessions."
Said Fassier: "In Moscow, Paris, and Washington, our governments are of the opinion that war is not an option because war could be providing no solution."
Aliyev's comments reflect Azerbaijani fears that Turkey's move last month to normalize ties with Armenia could ruin hopes for regaining control over Nagorno-Karabakh.
Turkey, a staunch ally of Azerbaijan, has consistently supported Baku in the dispute.
Ethnic Armenians in Nagorno-Karabakh, backed by Armenia, broke off from Azerbaijani rule in a war in the early 1990s that killed about 30,000 people and displaced hundreds of thousands.
With Reuters