Neither Iraqi Prime Minister Nuri al-Maliki's bloc nor former Prime Minister Iyad Allawi have been able to build a majority coalition needed in parliament to form a new government since results of Iraq's March 7 elections were announced in late March.
Electoral alliances led by the two leaders finished neck and neck in the poll. Allawi's Al-Iraqiyah bloc won 91 out of 325 parliamentary seats and Maliki's State of Law bloc garnered 89.
But a court order for a manual recount of Baghdad's 2.5 million ballots could alter the overall results and change the dynamics of coalition talks. Some fear sectarian tensions could be enflamed if the recount tilts the results in favor of State of Law.
Both Maliki and Allawi are Shi'a. But Allawi's election list included Sunni candidates and attracted significant support from Iraq's minority Sunni community.
Analysts say any perception among Sunnis that they have been robbed of their votes in a recount has the potential to fuel a resurgence of sectarian violence.
Watching Recount Closely
It was Maliki's State of Law bloc that has been claiming election fraud and demanding a recount in five provinces, including Baghdad. The Iraqi capital accounts for almost a fifth of the country's parliamentary seats.
Abd al-Hadi al-Hassani, a member of the State of Law bloc, told RFE/RL's Radio Free Iraq that Maliki's supporters were satisfied with the Baghdad recount and expected the move to change the distribution of parliamentary seats.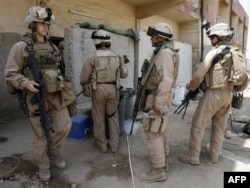 Some fear a return of sectarian violence could prevent U.S. troops from withdrawing as planned.
"We are happy that the panel did its job independently from the executive and legislative authorities, that it made this decision that is compatible with what everybody was saying; meaning there were irregularities," Hassani said.
"I am confident the outcome will be corrected clearly in favor of the State of Law, which can get at least two extra seats. In itself, this is a positive result that can correct the outcome of the equation in favor of the State of Law."
But Muhammad Tawfiq, from Allawi's Al-Iraqiyah bloc, said that he is concerned the ballot boxes may have been tampered with since the March 7 vote -- a situation that might not be detected by monitors of the recount.
"We also are interested in this recount but we have some fears," Tawfiq said. "These ballot boxes were left aside with no control or protection. This is what we are afraid of. Otherwise, we support the recount because we also think there was some unfairness toward us."
Sunni Vice President Tariq al-Hashimi has said all political parties and candidates should comply with the court's call for a recount. But he said it was important that the recount be done in a way that is transparent.
"We have no reservations about such a decision. The problem is the supervision of the recounting process. I think this is a highly sensitive issue," Hashimi said. "We have to guarantee that the group of supervisors is being nominated by a neutral body like United Nations with highly professional staff to do the recounting as soon as possible. This is the only loophole that has to be taken care of."
Commission Counts
The recount is to be carried out by Iraq's Independent High Electoral Commission. Commission official Hamdia al-Hussaini said she had only received the court's decision on a recount in Baghdad voting districts. She said she had not received any decisions about recounts in other provinces. She said the commission would decide how and when the recount would be carried out.
Iyad al-Kinani, another commission official, told RFE/RL's Radio Free Iraq that the recount will take place at vote-counting centers in two different parts of Baghdad that are separated by the Tigris River, Russafa and Karkh, because that's where the ballot boxes are.
"The process will consist of reopening these boxes and recounting the ballots that are in these boxes," Kinani said. "The results will be registered in special forms and then sent to the main center of the Electoral Commission. Local and international monitors will be present during these operations as well as representatives of the political blocs."
Some observers say the decision to recount Baghdad's ballots could lengthen the time it takes to seat the next government -- a situation that also would raise questions about Iraq's stability as political factions battle for supremacy.
written by Ron Synovitz, with contributions from RFE/RL's Radio Free Iraq correspondents Maysoon Abo al-Hab in Prague and Laith Ahmad in Baghdad