Kyrgyz security forces have detained a nephew of ousted President Kurmanbek Bakiev whom they accuse of playing a key role in recent ethnic unrest.
Interior Ministry officials confirmed to RFE/RL that Sanjarbek Bakiev was arrested in mountains near the city of Jalal-Abad.
The 27-year-old is accused of organizing deadly clashes between ethnic Kyrgyz and Uzbeks in Jalal-Abad two weeks ago.
On June 24, the Kyrgyz State Security Service accused Bakiev's relatives of hiring Islamist militants to organize the unrest in the southern cities of Osh and Jalal-Abad that left more than 250 people dead and forced hundreds of thousands to flee their homes.
Kyrgyz Crisis Coverage
Clashes In Kyrgyzstan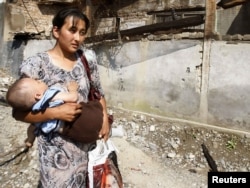 Full RFE/RL coverage of the ethnically charged violence that has shaken southern Kyrgyzstan since June 10. More