By The Center For Investigative Reporting & RFE/RL
SARAJEVO -- The Republika Srpska Investment-Development Bank (IRB) was created in Bosnia's Serbian entity in 2006 with the aim of putting money into the hands of ordinary citizens looking to buy homes, business owners looking to expand, and entrepreneurs starting new companies.
The bank's start-up funds came in part from 667 million Bosnian marks ($485 million) earned from the sale of the republic's state-owned telecommunications company to Serbian Telecom. The IRB's interest rates average 5.5 percent, more favorable than rates offered by commercial banks, and bank representatives say the venture has proved a boon for the many people who have taken advantage of the loans.
But an investigation by the Center for Investigative Reporting (CIN) has revealed that the IRB program has given most of its largest loans -- with personal approval from the Serb Republic's prime minister, Milorad Dodik -- to foreign-backed companies with offshore bank accounts and assets that exist only on paper.
A review of dozens of the 2,140 loans issued by the Republika Srpska IRB shows that many of the largest loans -- some as large as $3.65 million -- went to companies with apparent ties to Dodik or his government, sometimes within days of application.
All requests for loans of $36,500 and higher are forwarded to a five-member IRB board for approval. Those above $365,000 are then passed to a second five-person board, chaired by Dodik. All agreements are personally signed by the prime minister, or, in his absence, by his finance minister.
Dodik, a former darling of the West during the Bosnian war, has since emerged as a fiery nationalist who has threatened to break Republika Srpska away from Bosnia-Herzegovina. Since coming to power in 2006, he has been criticized by local media and nongovernmental organizations, who accuse him of using political and economic levers in order to turn his republic into a personal fiefdom.
Lender Largesse
CIN's review of IRB's disbursements shows that Dodik signed off on a $2.2-million loan for a business run by his son, Igor. His name also appears on approval for a $3.65 million loan for a Banja Luka newspaper that has given Dodik favorable coverage in the course of an investigation by Bosnia's SIPA state law-enforcement agency into possible corruption in the construction of a lavish new Republika Srpska government building in Banja Luka.
Dodik's office declined a CIN request for an interview, saying the prime minister was on vacation and was unavailable for comment. But IRB spokesman Zoran Popovic defended the bank as a success that cannot be judged on the basis of a few loans. Popovic also said most loans are preapproved by local banks and that Dodik's board serves only to give the final, formal go-ahead.
Farmaland's director said the guards were there to "protect the farm." It is unclear, however, what security threats the farm, which is home to 2,700 cows, might face.
Still, many of the largest loans continue to raise questions. The list of recipients also includes $2.2 million to a dairy farm owned by a firm with bank accounts in Belize and shell companies throughout the United States. The farm is also alleged to be a possible front for the mobilization of a private army with ties to Dodik. Still another recipient is a restaurant owned by the family of a close Dodik associate whose bank accounts were frozen because of suspected ties to war criminals.
Records examined by CIN also revealed discrepancies between companies' stated reasons for applying for loans and what they ultimately delivered.
Ein Shemer, an Israeli rubber company, received $2.4 million in loans, claiming it wanted to upgrade facilities at Fagum, a rubber plant based in the eastern Republika Srpska city of Zvornik, of which it had become partial owner. Ein Shemer issued a press release promising to hire 100 new workers by April 2008, including employees from Fagum's main plant, who were facing downsizing.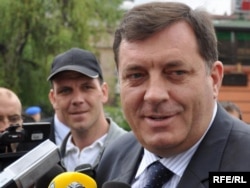 Dodik launched what was considered to be a largely toothless anticorruption drive last year.
To date, only 16 people have been hired, none of them from Fagum. Vesna Jankovic, who directs Ein Shemer's projects in Bosnia, said the Israeli firm found Fagum workers were not up to desired standards and couldn't be retained. She also said Ein Shemer's production work with Fagum is still in the testing phase and is currently running at 20-percent capacity.
Ein Shemer's claim to have purchased part of Fagum also appears to be in doubt. A review of court records show no evidence of such a purchase.
Farmaland
Not far from the Dodik family estate in the town of Gradiska, some 45 kilometers north of Banja Luka, sits Farmaland, a dairy farm with a complicated provenance and unusually tight security.
Farmaland is also the headquarters of Elite Security, which local and international investigators claim is manned by a group of former Republika Srpska military and police officers loyal to Dodik.
Farmaland's director, Hrvoje Kapora, told CIN that the guards were there to "protect the farm." It is unclear, however, what security threats the farm, which is home to 2,700 cows, might face.
Bosnian journalists, citing international sources, have alleged in recent years that Dodik has sought to build a private paramilitary force in case he is forced to unite Republika Srpska's police force with that of Bosnia's second entity, the Muslim-Croat Federation. That reform is seen as critical to Bosnia's closer integration with the European Union, and has been hotly resisted by Dodik and other Bosnian Serb officials.
Kapora, however, denied the security personnel at Farmaland are there to protect Dodik, calling the suggestion "unfounded."
Other large IRB loans appear to follow the same pattern -- recipients with close ties to the government and projects that only sometimes come to fruition.
Farmaland received $2.2 million from the IRB in January. In application summaries provided by the bank, the firm was planning to use the loan to buy cattle and make improvements to the property.
Farmaland is owned by a U.S. company, Farmland LLC, which maintains addresses in Wyoming, Delaware, and Florida. According to records filed in Wyoming, the company's sole director is a British investment group, Tylney Directors Ltd.
Tylney Directors has corporate offices in Belize and the Channel Islands, according to records at the office of the Florida Secretary of State. It lists its headquarters as being in London, but the company has no listed telephone number and no website.
In Florida, Tylney manages 10 companies -- including a yacht sales office and an olive oil enterprise -- out of the back of a tiny storefront in remote Orange City belonging to the UPS shipping service. Florida records show a total of 27 companies, all with links to Croatia, list the same Orange City address as their headquarters.
Dharmesh Amin, a store worker, said the address is simply a mailbox, and not home to any company other than UPS. The local tax assessor says none of the companies has been granted operating permits, meaning they were never legal entities.
Tylney's sole public board member is listed as Sandro Stipancic of Croatia. CIN was unable to contact Stipancic.
Farmaland director Kapora says his business was purchased by its U.S. parent several years ago for less than $10,000, plus outstanding debt that he said had reached more than $7 million.
A Friendly Arrangement
Another recipient of a large IRB loan was the Banja Luka daily "Nezavisne novine," which last year was granted $3.65 million in order to finish construction on its new office building and to buy publishing materials.
"Nezavisne novine" gained prominence and international funding in the 1990s for its daring and critical coverage of Bosnian Serb war crimes led by its editor, Zeljko Kopanja. (Kopanja lost both legs in a car bombing in October 1999, an attack seen as reprisal for the paper's investigative work.)
But the paper has experienced a marked editorial shift since Dodik came to power, becoming a firm backer of the prime minister and his policies. "Nezavisne novine" has defended Dodik's integrity throughout the ongoing SIPA probe into allegations the premier rigged bids on more than $100 million worth of construction projects, including the Republika Srpska government building.
The lending patterns of the Investment-Development Bank are likely to fuel Dodik critics who argue that rampant corruption within the entity government comes at a heavy cost to Republika Srpska, and to Bosnia overall.
"Nezavisne novine" and Integral Inzenjering, the construction company behind the revamp of the government headquarters -- whose founder, Slobodan Stankovic, is a close Dodik ally -- last year jointly purchased Republika Srpska's only other daily newspaper, "Glas Srpske."
Kopanja declined to discuss the IRB loan with CIN, saying he was away on holiday.
Other large IRB loans appear to follow the same pattern -- recipients with close ties to the government and projects that only sometimes come to fruition.
When the bank approved a loan of $2.2 million for Fruit Ecco, an agricultural firm co-owned by Dodik's son Igor, the funds were meant to support the hiring of three workers and the planting of 169,000 apple trees and 9,400 pear trees. But Fruit Ecco now refuses to comment on how the loan was spent, and IRB officials say they have not verified whether the proposed improvements were made.
Sinecoop, a lakeside restaurant complex located in Trn, a small town outside Banja Luka, likewise received $2.2 million to upgrade its facilities and add an orchard of fruit trees. The complex is owned by the family of Slavko Roguljic, a Dodik ally who, according to media reports, lets the prime minister vacation at his villa in Montenegro.
Roguljic is a onetime supporter of former Bosnian Serb leader Radovan Karadzic, who is currently awaiting trial in The Hague for war crimes. In 2002, Roguljic was among a group of people stripped by the international community's High Representative to Bosnia, Paddy Ashdown, of travel and banking rights for aiding suspected war criminals.
The High Representative order remains active, as does a similar assets freeze by the U.S. Treasury Department. That did not prevent Dodik and the IRB, however, from granting $2.2 million to the Roguljic family business. (Again, neither the bank nor Sinecoop would confirm the money resulted in the planting of any orchards.)
The lending patterns of the Investment-Development Bank are likely to fuel Dodik critics who argue that rampant corruption within the entity government comes at a heavy cost to Republika Srpska, and to Bosnia overall.
The Transparency International watchdog has named both the Republika Srpska and Muslim-Croat governments as being among the most corrupt institutions in Bosnia. But Miroslav Lajcak, shortly before stepping down as the High Representative to Bosnia early this year, singled out Dodik as the most troublesome of Bosnia's leaders to work with.
Dodik, who has no personal commitment to the notion of an undivided Bosnia, is largely dismissive of such criticism. An anticorruption drive launched by the prime minister late last year appeared to be little more than a toothless response to the SIPA construction investigation.
Still, there are signs that the culture of impunity that Dodik, for many, has come to represent will not go unpunished in the way that hurts most -- economically. A key foreign investor, the Czech energy group CEZ, pulled out of a 1.4-billion-euro project in Republika Srpska earlier this year, citing "repeated breach of the implementation contract" by its Bosnian Serb partners.
Finger-wagging by the international community may do little to sway public confidence in Dodik. A steady retreat of foreign investors may prove far more damaging.
The
Center for Investigative Reporting
(Centar za istragivacko novinarstvo) is a Sarajevo-based nonprofit investigative group specializing in organized crime and corruption cases in the Balkan region. It is a founding member of the
Organized Crime and Corruption Reporting Project
, a regional grouping of journalists and media specialists focusing on transnational organized crime.