Belarusian Opposition Youth Activist Reported Missing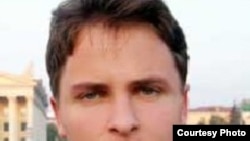 Belarusian opposition leader Franak Vyachorka has gone missing after being detained by the police today, RFE/RL's Belarus Service reports.

Vyachorka, an active member of Belarusian Popular Front's youth movement, managed a call to colleagues explaining that he was being forced into a police car.

Vyachroka has been detained and tried in court for his political activities in the past.


About This Blog
"Watchdog" is a blog with a singular mission -- to monitor the latest developments concerning human rights, civil society, and press freedom. We'll pay particular attention to reports concerning countries in RFE/RL's broadcast region.
Journalists In Trouble
RFE/RL journalists take risks, face threats, and make sacrifices every day in an effort to gather the news. Our "Journalists In Trouble" page recognizes their courage and conviction, and documents the high price that many have paid simply for doing their jobs. More