He came. He reassured. And he left.
U.S. Vice President Joe Biden's whirlwind trip through Warsaw, Bucharest, and Prague last week came with a strong whiff of déjà vu.
It was, after all, just three months ago that Biden was in Kyiv and Tbilisi on a similar mission, promising the Ukrainians and Georgians that their security interests would not be sacrificed on the altar of better relations between Washington and Moscow.
Speaking to RFE/RL in Prague at the conclusion of his Eastern European trip, Biden said the region's concerns about President Barack Obama's desire to reset relations with Russia were "understandable."
But, the U.S. vice president added, he believed he had successfully "settled" such fears, and hoped "that the reassurance is understood and is taking hold."
So, mission accomplished? To a point, according to most analysts.
"The vice president is senior enough to deliver a message that is credible. This is the most important thing. It has to be credible, and it was credible, because he is credible," says Eugeniusz Smolar of the Center for International Relations in Warsaw. "So I think he did a good job on behalf of the Obama administration."
The immediate impetus for Biden's trip was Obama's decision last month to reconfigure U.S. plans to deploy components of a missile-defense system in Poland and the Czech Republic. The project was ostensibly aimed against Iran but was staunchly opposed by Moscow and had been a thorn in U.S.-Russia relations for years.
The White House says its new missile-defense blueprint, which relies initially on mobile sea-based interceptors, makes more sense militarily and is less politically provocative vis-a-vis Moscow.
Many in Eastern Europe interpreted the changes as a dangerous capitulation to the Kremlin. Biden nevertheless won commitments from the Poles and the Czechs to participate in the revamped plan.
But analysts on both sides of the Atlantic say the tensions over the reset and missile defense are just outward manifestations of a deeper and rapidly growing sense of insecurity in the post-Soviet neighborhood as Russia seeks to regain its lost influence among its former satellites.
"Biden's visit could be the beginning of a recovery. But it will require a lot of deeds, rather than words, to follow it up," says Edward Lucas, the Central and Eastern European correspondent for the British weekly "The Economist" and the author of the book "The New Cold War."
NATO Blues
Lucas and other analysts say one of the root causes of Eastern Europe's fears is a growing sense that NATO no longer provides its members the ironclad security guarantees they need and deserve.
Specifically, many officials in the region are concerned that Article 5 of the alliance charter, which obligates the entire alliance to come to the defense of a member who is attacked, would not be honored should Russia move against one of its former Warsaw Pact vassals.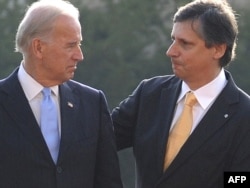 Czech Prime Minister Jan Fischer (right) greets Biden in Prague.
Steven Pifer, a former State Department official who is now a senior fellow at the Brookings Institution, says this lack of trust in NATO is causing many in the region to look to Washington for additional security.
"In Poland, and perhaps in the Baltics and other Central European states, there is a certain lack of confidence in Article 5," Pifer says. "This is why the Poles have been so eager over the last couple of years to get an American unit in Poland. It doesn't seem that they care whether it is a ground-based interceptor missile unit, or a [mobile] standard missile unit, or a Patriot. They want American troops there."
Likewise, Frantisek Sulc, a national security reporter for the Czech weekly "Tyden" and the co-author of a book on missile defense, stresses that many in his country craved the additional security of having U.S. forces present.
"The physical presence [of U.S. forces], for a portion of the population of the Czech Republic, is really important," Sulc says.
In July, a group of prominent Eastern European intellectuals and former officials -- including former Czech and Polish presidents Vaclav Havel and Lech Walesa -- published an open letter to the Obama administration expressing their fears.
"NATO today seems weaker than when we joined. In many of our countries it is perceived as less and less relevant -- and we feel it," they wrote. "Although we are full members, people question whether NATO would be willing and able to come to our defense in some future crises."
Since then, those fears have appeared increasingly valid.
Speaking at a security conference in Riga on October 24, Luxembourg's Foreign Minister Jean Asselborn said that had Georgia been an alliance member in August 2008 when Russia attacked, it "would have been the end of Article 5 as we know it," because the "allies would not have been able to agree" on assisting Tbilisi militarily.
Eastern Exposure
Eastern Europe's NATO members also worry that the alliance's new focus on "out of area" missions, like the one in Afghanistan, mean there are too few resources left to fulfill the alliance's core task of protecting its members.
And moreover, analysts point out that NATO's eastern borders remain largely unprotected.
"NATO has never made plans to defend the east of NATO," Lucas says. "When NATO expanded, Russia wasn't seen as any kind of threat, so no NATO forces were positioned in Eastern Europe. The threat assessment explicitly discounted Russia as a threat."
At a NATO defense ministers' meeting in Bratislava last week, Secretary-General Anders Fogh Rasmussen sought to allay those fears, saying that "NATO's core task was, is, and will remain the defense of our territory and our populations. For our alliance to endure, all members must feel that they are safe and secure."
At the same meeting, U.S. Assistant Secretary of Defense Alexander Vershbow said NATO's new strategic concept, which is currently being drafted, will need to "strike the right balance among old and new missions."
It is not the Eastern Europeans who are going to sort out Iran. It is not the Eastern Europeans who are going to sort out Afghanistan.
In addition to concerns about NATO's effectiveness, Eastern Europeans are troubled that they are not getting nearly as much attention from the Obama administration as they received from former U.S. Presidents Bill Clinton and George W. Bush.
"I think the problem is that the Eastern Europeans are not as high up on the American agenda as they like to think they are. And they are not able to deliver the things the Americans need right now," says Lucas.
"It is not the Eastern Europeans who are going to sort out Iran. It is not the Eastern Europeans who are going to sort out Afghanistan. It's hard for them to get the attention in Washington that they need, that would produce the reassurances they need," he says. "So there is a bit of a vicious circle developing."
Officials in Eastern Europe also believe they have been snubbed repeatedly by the Obama White House.
Although Obama traveled to Prague in April for an EU summit, he drew criticism for failing to attend ceremonies in Poland on September 1 marking the 70th anniversary of World War II.
The announcement that the White House was abandoning the Bush administration's concept of missile defense came on the symbolically important day of September 17 -- the 70th anniversary of the Soviet invasion of Poland in 1939.
Some in the region even claim that the fact that Polish Foreign Minister Radoslaw Sikorski, a favorite of the Bush administration, was passed over for NATO secretary-general in favor of Rasmussen was a sign of Warsaw's diminished importance in Washington.
Biden's visit has gone a long way toward soothing many of the fears in the region, but it hasn't eradicated them entirely.
"At the level of government-to-government and leaders-to-leaders, we are back on track, working together on one of the most important issues of common defense against some future threats," Smolar says, referring to the Obama administration's retooled missile-defense plan.
"As far as politics is concerned, I don't think that all anxieties have been eliminated. They have a lot to do with the situation in Central Europe, in the South Caucasus, [and with] what will happen to Georgia and Ukraine," he says.