KYIV -- U.S. Vice President Joe Biden delivered a tough message to Ukraine's political leaders in Kyiv today, urging them to display political maturity and live up to the promise of the 2004 Orange Revolution.
In a speech billed by the White House as an address to the Ukrainian people, Biden reiterated that Washington's policy of resetting relations with Russia would not come at Ukraine's expense.
Speaking before approximately 400 Ukrainians and Americans at the Ukraine House exhibition center, the vice president praised the vibrant civil society and free press that has developed here since the 2004 Orange Revolution swept pro-Western forces into power.
But he also chastised Ukraine's political elite, suggesting that politicians are putting personal ambition ahead of the good of the nation.
'Political Posturing'
To make his point, Biden speculated that 19th-century Ukrainian poet and humanist Taras Shevchenko -- whom Ukrainians revere as a national icon -- would take pride in Ukraine's "openness and pluralism," but would also condemn the government's political immaturity.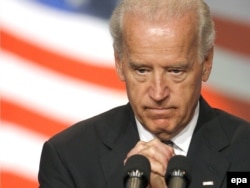 "Ukraine, in my humble opinion, must heed the lesson of history," said Biden.
"I think he would also be wondering why the government wasn't exhibiting the same political maturity as the people, why communication among leaders has broken down to such an extent that political posturing appears to prevent progress, especially now, in especially difficult economic times," Biden said.
"Ukraine, in my humble opinion, must heed the lesson of history. Effective, accountable government is the only way to provide a stable, predictable, and transparent environment that attracts investment, which is the economic engine of development," he said.
On July 21, Biden met with each of the five politicians expected to run for president in next year's elections: President Viktor Yushchenko, Prime Minister Yulia Tymoshenko, Parliamentary Speaker Volodymyr Lytvyn, Party of Regions leader Viktor Yanukovych, and Arseniy Yatsenyuk, a former parliamentary speaker and foreign minister turned opposition figure.
'Immeasurable Enhancement'
Biden also stressed that Ukraine's independence and economic freedom are dependent on its ability to boost energy efficiency, saying that Ukraine uses energy only one-third as efficiently as the European Union.
If Ukraine could reach the energy efficiency similar to nearby European countries like Poland, Biden said, "your need for energy imports would dramatically decline."
Such a development, Biden said, would be "a boon" to Ukraine's economy and "an immeasurable enhancement" to its national security.
Biden leaves Ukraine later today for Georgia, another post-Soviet country with strong NATO ambitions, where he is expected to deliver a similar speech.
RFE/RL correspondent Claire Bigg contributed to this report from Prague.