Sacha Baron Cohen's hit film "Borat" -- in which Cohen plays a goofy Kazakh journalist bumbling around the United States -- dealt quite a blow to Kazakh national pride.
"Yes, we know Borat's movie," says 31-year-old Kazakh journalist Rysbek Darei. "He shot it to insult Kazakhs."
Now, four years later, one Kazakh filmmaker says his new movie will put Borat in his place.
Erkin Rakishev, an excitable, dark-haired Kazakh filmmaker, remembers being incensed by "Borat: Cultural Learnings of America For Make Benefit Glorious Nation of Kazakhstan" when he saw it in 2006.
Waving his arms emphatically as he sits on a hospital bed for a quick break during shooting at an Almaty hospital, Rakishev explains that he's waging an "information war" against Cohen's blockbuster.
In fact, the Kazakh filmmaker says he was surprised something like "Borat" could come from the righteous West. "They might call it a democracy, and there this concept of freedom of expression, I understand that, too," he says. "But to insult an entire nation? Nobody gave them the right to do that."
Of course, Rakishev wasn't the only one upset by Cohen's "Borat." Kazakh authorities blocked Cohen's website soon after the film's release, and distributors declined to show the movie in the country on grounds of taste. The film was also banned from Russian cinemas. (Oddly, the British arm of the online retailer Amazon later reported that "Borat's" DVD release was Kazakhstan's most-ordered product.)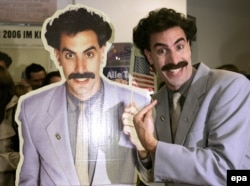 How many other relatives does Borat have in Kazakhstan?
After seeing Cohen's "Borat," Rakishev immediately started working on a sequel, but lacked funding until he teamed up with legislator Bekbolat Tleukhan. Tleukhan, once a popular singer who combined traditional Kazakh melodies with more contemporary musical elements, is known for his nationalism and support of the arts.
The result is "My Brother, Borat," set for release next year. Rakishev's film features a comically dense American named John who decides to visit Kazakhstan after seeing "Borat." Once he gets there, however, John is shocked to find a developed, progressive country.
Obsessed with meeting Borat, he finds the character's brother and the two race around the country trying to track down the elusive Kazakh journalist. The final twist has John (spoiler alert!) discover that Borat is, in fact, a British citizen and not Kazakh at all.
'The Real Kazakhstan'
Then again, not all Kazakhs took "Borat" so hard. Baltabai Zhumanov, a first-year student at Kazakhstan's Art Academy, says her opinion of Cohen's film is generally "positive."
"Kazakhstan still needs to develop itself in order to show something," she says. "For example, because of this movie people around the world learned about Kazakhstan. Maybe in our country people think foreigners see Kazakhstan as undeveloped, but foreigners don't see it like that."
Rakishev disagrees. "When 'Borat' was released four years ago, people who watched it probably started to think that everyone in Kazakhstan is as stupid as Borat. They probably started thinking that this is an undeveloped, primitive society," he says. "In other words, we are going to show the real Kazakhstan, not the Kazakhstan shown by 'Borat,' which is a fake country."
But in order for "My Brother, Borat" to introduce the real Kazakhstan to the world, the film needs an international release. Rakishev says he approached a couple of Hollywood studios about distribution for the Russian-language film, but discussions were suspended amid concerns over the legality of using the word "Borat."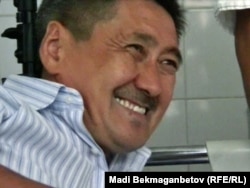 Director Erkin Rakishev hopes to turn the tables on Borat.
Rakishev thinks he can turn the turn the tables on Cohen's "Borat," but young Kazakh journalist Ainara Ashanova says she isn't sure the director is the right man for the job.
"Of course, it might a good idea to answer Borat's movie," she says. "But I don't think Erkin Rakishev can do a similar movie that could stand up to the original 'Borat' and reflect Kazakhstan well. But the idea is good. I think instead of him our government or the Kazakh Cinema Corporation should do it on a high level."
Foolish, But Clever
Roman Khikalov, who plays John in "My Brother, Borat," admits he had mixed feelings about the original film, but was impressed with Sacha Baron Cohen's creativity.
"The thing is, it's amazing how he did things so foolishly on the one hand and so cleverly on the other by using somebody, something -- in this case the whole country -- for his own promotion. And it was really funny, too," Khikalov says (read
full interview here
).
"But many people here in Kazakhstan took it personally and became angry, saying, 'It's not true, it's not the real Kazakhstan.' I don't think that's the right attitude," he continues. "He did what he wanted, and it's good. And he became world-famous. I would do the same if I had such a great idea."
It remains to be seen how the Kazakh public will react to the film, which, as an unauthorized sequel, should cleave stylistically to Cohen's "Borat." Khikalov says they shot some scenes using a hidden camera to capture ordinary Kazakhs on the street reacting to his American character -- a move suggestive of the so-called mockumentary style used in "Borat."
The 25-year-old Kazakh actor says that if the shooting is any indication, everyone's in for a laugh when they see the film. He describes one of his favorite scenes so far, one reminiscent of the notorious naked bed-fight scene in "Borat."
"I lie in bed, take off a towel, and scratch my ass," he says. "I don't know if they're going to use it [in the final film], but it was so funny that everyone was laughing, even the cameramen," he says.
If nothing else, it seems to be in true "Borat" form.
with contributions from RFE/RL Kazakh Service correspondent Madi Bekmaganbetov in Almaty and Merhat Sharipzhanov in Prague