The United Nations refugee agency on August 29 said thousands of people living near the administrative border dividing Georgia and its breakaway region of South Ossetia are fleeing towns and villages amid reports of incursions by Ossetian militias.
One such town is Akhalgori, a quiet town located on the Ksani River within South Ossetia, where Ossetians and Georgians had cohabitated peacefully for decades.
The town -- known as "Leningori" during the Soviet era, when it was part of the former South Ossetian Autonomous District -- has remained under Georgian control since South Ossetia's de facto partition in the early 1990s.
Its residents, an integrated blend of Ossetians and Georgians, have traditionally lived in peace. In the past, no one in Akhalgori even thought to distinguish between Georgians and Ossetians.
'Bombs Poured Down'
Now, suddenly, the picture is radically different. While Akhalgori remained largely untouched during the worst of the fighting between Russian and Georgian troops in early August, residents recall the terror of the nearby fighting.
"We were in church. I was with my child, and while we were praying bombs started dropping on the cement plant in [the nearby town of] Kaspi, just after midday," says one woman, who asked that her name not be used.
"That night, bombs poured down. There was a chilling noise in the air as everything on the ground started to shake. We all stretched out flat on the floor. Somehow, we survived."
The following morning, Akhalgori residents learned Russian troops had neared the village of Orchosani -- just an hour by foot from their town. Frantically, the woman says, people collected their belongings and fled.
"One woman went back to retrieve a cane, because she has a prosthetic leg. Another woman returned because she had left her dentures. Imagine -- these were the most valuable items people had with them," she says. "Then we ran; we spent the whole night in the woods. You should have seen how far we traveled, out of fear alone. We were racing. We had the feeling they were running after us."
By the next day, armored vehicles had approached the entry to Akhalgori and Russian troops had replaced Georgian flags with the Russian tricolor. In the end, however, the first forces to enter the town were not Russian soldiers, but Ossetian separatists driving Russian vehicles and armed with Russian weaponry.
The Ossetians expelled Georgian forces and seized control of the town, patrolling the streets, calling on local residents for cooperation. Russian regular forces, and additional supplies of weaponry and military hardware, soon followed.
Separatist Base
On August 22, when Russia withdrew the bulk of its forces from Georgia, several tanks pulled out of Akhalgori as well. But even as the Russians left, new vehicles arrived carrying more Ossetian fighters, all heavily armed. The Alkhalgori woman, speaking at the time, fearfully described the separatists.
"There are about 150 of them in Akhalgori. They are armed with grenades they keep around their waists and in their pockets. They all have machine guns and wear bulletproof vests; some have helmets," she said.
"Their base is said to be in one of the villages, along with the Russians. A women's monastery is there. Today, I heard they set fire to haystacks, thinking there were people hiding in them. They're committing one crime after another, every single day."
Even more alarming for residents is the separatists' drive to force Russian passports on the town's Georgian population.
"They offered us Russian passports and peace if we were to keep living quietly. If we accepted Russian passports we would become their citizens," one man says.
The vast majority of residents in South Ossetia already hold Russian citizenship, as part of Moscow's steady campaign to gain influence over the region.
Akhalgori, until now, had been an exception. But now residents say they are tempted with higher wages in return for accepting a Russian passport -- or worse, being threatened with expulsion if they do not.
Similar passport campaigns have cropped up throughout South Ossetia and the border zone that currently extends to Georgia proper, drawing sharp criticism from Western officials. Britain's UN envoy warned Security Council members on August 27 that vast numbers of residents of traditionally Georgian villages were facing displacement if they refuse to accept new documents.
As with many villages caught in the midst of the fighting, it is mainly the elderly -- like this woman -- who remain in Akhalgori, unable or unwilling to leave.
"What can I say? Everyone here is scared. Ossetians, Georgians -- no one will be able to escape trouble. We are all petrified," she says. "We take care of each other -- local Ossetians and Georgians. We cheer each other up.... We bake bread in the furnace and share...some bake bread at home and stay alive that way."
On August 26, Russia took the unprecedented step of recognizing the independence of both South Ossetia and Georgia's second breakaway republic, Abkhazia. In Akhalgori, one local resident reported by text message: "The newcomers are celebrating independence in Akhalgori. There's no end to the shooting."
And the ancient town of Akhalgori -- which dates back to the 2nd century BC --- is suddenly being called "Leningori" once again.
Crisis In Georgia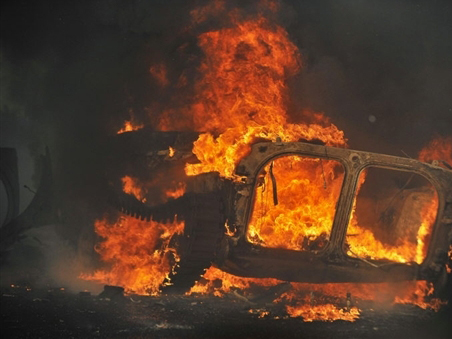 For RFE/RL's full coverage of the conflict that began in Georgia's breakway region of South Ossetia,
click here
.