The leader of Britain's opposition Conservative Party has asked the smaller Liberal Democrats to help him form a government -- after the Conservatives emerged from a general election as the biggest party but without an outright majority.
The statement by David Cameron came after a closely fought election that produced the country's first Parliament in decades where no party has an overall majority.
The center-right Conservatives are on course to have 306 seats in parliament, about 50 more than Prime Minister Gordon Brown's ruling center-left Labour Party -- but short of the 326 needed for a majority.
Cameron said today he would explore the idea of forming a minority government.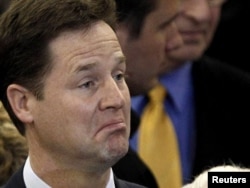 Nick Clegg -- the kingmaker?
But after listing the problems Britain faced -- war in Afghanistan, a record deficit -- Cameron said it may be possible to have a "stronger, more collaborative government." And he extended this offer to the third-placed Liberal Democrats.
Cameron said that he wanted to "make a big, open, and comprehensive offer to the Liberal Democrats. I want us to work together in tackling our country's big and urgent problems: the debt crisis, our deep social problems, and our broken political system."
Cameron said there were areas of common ground between the parties. But he also listed areas where the parties are far apart -- such as immigration, where the Conservatives take a tougher line.
Still, Cameron said it was important to get a stable government quickly and that he hoped there would be an agreement soon.
The inconclusive election result has put the third-placed Liberal Democrats in the position of "kingmaker" -- crucial to deciding whether the Conservatives can form a government, or whether Labour can try to cling to power.
Cameron's statement came hours after Liberal Democrat leader Nick Clegg said that the Conservatives had won the right to try and form a government.
"Whichever party gets the most votes and the most seats, if not an absolute majority, has the first right to seek to govern either on its own or by reaching out to other parties, and I stick to that view," Clegg said.
Prime Minister Gordon Brown at 10 Downing Street, in central London, on May 7
"It seems this morning that it is the Conservative Party that has more votes and more seats though not an absolute majority. That is why I think it is now for the Conservative Party to prove that it is capable of seeking to govern in the national interest."
Turned Out?
As sitting prime minister, convention holds that Brown will get the first chance to try to form a government, even if Labour has fewer seats than the Conservatives.
Today, Brown showed no intention of resigning. But he did say he would give his rivals time for their discussions.
"Mr. Cameron and Mr. Clegg should clearly be entitled to take as much time as they feel necessary. For my part, I should make clear that I would be willing to see any of the party leaders," Brown said.
"Clearly, should the discussions between Mr. Cameron and Mr. Clegg come to nothing, then I would of course be prepared to discuss with Mr. Clegg the areas where there may be a measure of some agreement between our two parties."
Another key question is how the parties could reach an accommodation -- which raises the prospect of a "bidding war" for Liberal Democrat support.
The Liberal Democrats are likely to demand a promise to act on electoral reform, changing the voting system that favors the big parties at the Liberal Democrats' expense.
Brown already promised this, saying changes to the voting system were necessary to improve trust in politics.
But the issue would likely be a major sticking point in any deal with the Conservatives. And it's not clear that Clegg or Cameron could secure their parties' backing on any deal.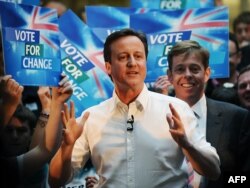 Conservative leader David Cameron during campaigning
"Given the narrowness of the situation, the great difficulty, the economic crisis in the world and in the country facing Britain, there will be a sense of responsibility in all parties that we really have to have some sort of stable government," says John O'Sullivan, RFE/RL's executive editor and a longtime observer of the British political scene.
"So my bet is that some kind of agreement will emerge here, but it will be an agreement with time limits, rather than an open-ended one," he adds. "Or, if it is open-ended, then everyone will realize it can't be depended on for anything like a full term of five years."
Labour's Chance?
If a Liberal-Conservative agreement does not work out, then Labour would get its chance.
Tim Bale, a senior lecturer in politics at the University of Sussex, says the Liberal Democrats would seek to extract two promises from Labour.
"One, that they will move forward on electoral reform and two, that they will replace Brown as leader and prime minister," Bale says.
"If that happens, and if the Labour Party can also talk to the nationalist parties in Wales, Scotland, and Northern Ireland, it may be possible for Labour to put together some kind of coalition. It might be a minority [one], but it could possibly survive."
With everything still in the balance, comparisons abound with the last time Britain had a hung parliament, in 1974.
Then, the incumbent, Conservative Edward Heath, also headed the party that came in second. But his attempt to form a coalition government with the Liberals failed, and a second election followed within months.
with agency reports