STEPANAKERT -- Campaigning officially began today for the May 23 parliamentary elections in the disputed Nagorno-Karabakh region, RFE/RL's Armenian Service reports.
Four political parties and 45 candidates are vying for 33 seats in the parliament of the unrecognized Nagorno-Karabakh Republic.
The Nagorno-Karabakh region and much of the adjoining territory was taken by Armenian forces after a war with Azerbaijan that ended in 1994. The territory is recognized internationally as belonging to Azerbaijan.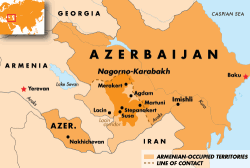 The main contenders are the three parties that make up Karabakh's governing coalition. One of them, Free Fatherland, is led by Karabakh's de facto prime minister, Ara Harutiunian, and has the largest faction in the current Karabakh legislature.
Also running for seats are the Democratic Artsakh Party of parliament speaker Ashot Ghulian and the Karabakh branch of the Armenian Revolutionary Federation (Dashnaktsutyun).
Dashnaktsutyun and another party were the main opposition in the 2005 parliamentary elections. But Dashnaktsutyun supported the current president of the self-proclaimed Nagorno-Karabakh Republic, Bako Sahakian, when he was elected in 2007 and has been in his coalition government since then.
Karabakh's Central Election Commission chairman, Sergey Nasibian, told RFE/RL that he has pledged to ensure equal campaigning opportunities and rules for all candidates.
Gegham Baghdasarian, a member of the Karabakh parliament who is critical of the Sahakian administration, said the virtual absence of vocal government critics in the race makes officials in Stepanakert interested in holding a free and fair election.
"They face no rival or unfriendly political force or even an individual," he told RFE/RL. "And in these circumstances, the authorities can allow a fair competition among their allies and cronies."
Elections held in the Armenian-controlled disputed region have always been condemned by Azerbaijan. Major foreign powers have also criticized the polls, saying their results cannot be deemed legitimate by the international community as long as the Karabakh conflict remains unresolved.