While out campaigning, Akmina, a woman from the deeply conservative and volatile Khost Province, wears men's clothing and carries a Kalashnikov.
She is one of 323 women throughout Afghanistan defying Taliban threats and challenging tradition by running for seats on provincial councils. Elections for the councils are being held alongside the presidential poll on August 20.
As a resident of the village of Durmuni -- situated not far from Pakistan's Waziristan region, home to hard-line Taliban militants -- she is aware that women risk their honor or even their lives by merely talking to men outside their family.
But that isn't preventing the 42-year-old Pashtun from seeking a seat on Khost's provincial council, or shura.
Her goal is clear and simple. If elected, she wants to help create job opportunities for war widows and to open daycare centers for impoverished and orphaned children.
"I want to bring change," Akmina says. "I want to improve people's lives."
The provincial council elections, last held in 2005, have been largely overshadowed by the presidential race taking place the same day.
But more than 3,300 candidates will join Akmina on election day to compete for seats on the provincial councils, advisory bodies intended to carry out state objectives and to provide advice to local administrations.
I feel much more secure and more confident when I wear men's outfits
The number of council seats allotted to provinces are dependent on population. Provinces with fewer than 500,000 residents, for example, have nine seats. A province with a population of more than 3 million would have 29 seats.
The Afghan Constitution stipulates that at least 25 percent of 420 shura seats nationwide should be reserved for women. In each of the country's 34 provinces, two seats are guaranteed for women, although in theory all seats could be occupied by women if they were voted in.
In Khost Province, Akmina and five other women are competing for three seats reserved for female candidates.
'Feeling Safe'
Security represents the main challenge for candidates -- women and men alike.
The Taliban has repeatedly vowed to disrupt the elections, threatening to attack polling stations and warning people against casting their votes.
And in restive provinces such as Khost, where Akmina is running, the risk is even higher. In May, a male candidate campaigning for a shura seat in the province was killed by militants.
Aware of this, Akmina carries a Kalashnikov rifle and wears traditional Afghan men's clothing -- a long gray shirt and trousers complete with a black turban -- while meeting with potential voters.
"I feel much more secure and more confident when I wear men's outfits," she says.
Women candidates like Akmina -- a former mujahedin commander who cannot read, has never been married, and lives with her brother's family -- face immense challenges.
For many Afghans, especially in remote areas, women's traditional role is childbearing and housework.
Afghan women can put their families' honor in jeopardy for merely speaking with men outside their family, let alone meeting and greeting with voters and discussing their needs and problems.
Female candidates are not allowed to hang campaign posters in many villages, usually because local religious leaders have deemed it provocative and un-Islamic.
As a precaution, Akmina's nephews accompany her when she travels to neighboring villages to campaign.
"There are two major security threats for female candidates. One is the lack of security in general; the second threat comes from their own families," explains Jamila Mojahed, a Kabul-based women's rights activist.
"When their area is not safe, families put more pressure on women. For example, husbands won't allow their wives to leave the house when there's no security outside."
A female candidate from northern Baghlan Province recently halted her election campaign altogether after a grenade was thrown into her home.
In Kandahar, Oruzgan, and Zabul provinces there were not enough women candidates to fill their guaranteed seats, posing election officials with a dilemma over how to make up the shortfall.
No Clear Role For Councils
While such uncertainties accompany the provincial elections, it is clear that the presidential poll will steal the spotlight on election day.
Provincial councils suffer from the lack of a clearly defined role, have little authority, and citizens often place little faith in them.
Ahmad Saeedi, an independent political expert in Kabul, says that the outgoing councils have failed to demonstrate over the past four years that they had any "capability or usefulness."
Saeedi also blames provincial governors for undermining local shuras.
"Provincial shura members have been marginalized in decision-makings. They have no real power and not capable of doing anything. People are not interested in them," Saeedi says.
"Also, provincial governors are not elected by local councils, they are appointed by the central government. Provincial governors have usurped shuras' authority. The law gives shura members the power to help people, but in reality the government has not given any authority to the councils."
Akmina appears unbowed by the political challenges she faces, and insists that the lack of clear authority for provincial councils does not bother her.
Akmina, whose until the election campaign held the prestigious position of a village elder -- a role rarely given to women -- is confident that "it's up to an individual to bring power and authority to any job.
"People are tired with officials and all other leaders who have failed to improve their lives," she says. "I will be different."
RFE/RL's Radio Free Afghanistan correspondent in Khost Province, Amir Bahir, contributed to this report
Afghan Presidential Campaign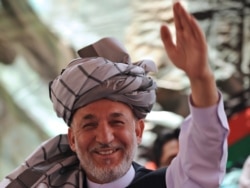 On The Campaign Trail
Afghan President Hamid Karzai and presidential challenger Abdullah Abdullah campaigned in early August at separate rallies in Kabul. Play