Antigovernment rioters have set buildings aflame in the Thai capital, ignoring calls from some of the "Red Shirts" protest leaders to disperse peacefully and return home.
Among the objects destroyed by fire was one of Asia's biggest department stores, Central World, plus a television station, the city's stock exchange, a cinema, and bank branches.
A curfew has been imposed on more than 20 provinces across the country.
At least six people have been killed, including an Italian photojournalist, and scores injured in the latest violence, which began when security forces with armored vehicles smashed through protesters' barricades in the center of the city.
Thai government spokesman Panitan Wattanayagorn, speaking on television, said the assault had been successful.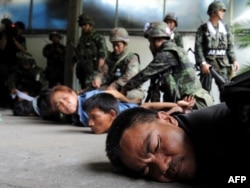 Antigovernment protesters are detained by soldiers inside their camp in Bangkok on May 19.
"Our security operations to secure the perimeter around Bangkok, especially in Lumpini Park, have been successful," Panitan said. "The security forces at the moment are able to control the area around Lumpini."
He said operations would continue throughout the day.
But it's not yet clear how much of the 3-square-kilometer area occupied by the "Red Shirts" is back under government control.
Earlier, five leaders of the movement surrendered to the authorities, calling on their supporters to end their six-week occupation of central Bangkok, and to go home.
One of the leaders, Jatuporn Prompan, said they wanted to stop the protests -- now into their third month -- before there were more deaths.
Another leader, Nattawut Saikuar, appealed in a television interview to the thousands of protesters to disperse peacefully and go to where the authorities had assembled buses to take them out of the capital.
As the group of leaders offered their surrender, Reuters reported that three grenades exploded, seriously wounding two soldiers and a Canadian journalist. The dead from various shooting incidents include an Italian journalist.
'Terrorists' Under Control
Thai Army spokesman Sansern Kaewkamnerd, speaking to the media, referred to the leaders of the Red Shirts as "terrorists."
"At 13:45 [local time], we placed pressure on [the protesters], which made the leaders, the terrorists, end their rallies and surrender," Sansern said. "The general situation is under control."
Government buildings were also said to have been set on fire in at least two northeastern provinces.
The Red Shirt demonstrators marched into Bangkok in mid-March to demand the resignation of Prime Minister Abhisit Vejjajiva, the dissolution of parliament, and immediate elections.
The protesters say Abhisit's government came to power illegitimately and represents a Bangkok elite indifferent to the plight of the rural and urban poor.
Many of the protesters support former Prime Minister Thaksin Shinawatra, the populist politician ousted in a military coup in 2006.
U.S. State Department spokesman Gordon Duguid said Washington was "deeply concerned" about the violence and called for a peaceful resolution to the conflict.
compiled from agency reports