Turkmenistan celebrated its annual Turkmen Carpet Day on May 31, with many traditional handmade carpets put on display in an Ashgabat exhibition. And the largest and most colorful of all featured the country's president, Gurbanguly Berdymukhammedov.
Turkmen citizens were long used to seeing the image of their previous leader, Saparmurat Niyazov (Turkmenbashi, or "the father of all Turkmens," who actively cultivated a personality cult) nearly everywhere. And little has changed since Berdymukhammedov came to power.
Turkmen newspapers and magazines regularly feature Berdymukhammedov's image on their front-page covers. All state-owned transportation -- buses, trolleys, and trucks -- feature a portrait of the president behind their windshield.
Such presidential tributes are a traditional elsewhere in Central Asia as well.
The region's presidents traditionally enjoy astonishing political longevity, and the boundless number of photographs, statues, and books promoting their image only seems to reinforce their staying power.
Has the presidential personality cult become an integral part of political culture in Central Asia?
Here, There, And Everywhere
Throughout the region, news bulletins on state-run channels begin with reports on the latest meetings, trips, or speeches of that country's president.
Placards bearing presidential quotes hang everywhere from hospital wards to bus stops in remote villages.
Government officials -- from rural community leaders to high-ranking executives -- place presidents' portraits on office walls and fill their bookshelves with presidential books, most of them published in expensive hardback.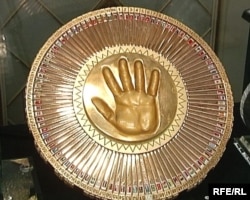 A gilded imprint of Kazakh President Nursultan Nazarbaev's hand at a handcraft museum in Astana
Residents of the Kazakh capital Astana say they feel as through President Nursultan Nazarbaev looks down at you from every corner of the city.
Residents of the capital might be excused for thinking that every other billboard features Nazarbaev's image or excerpts from his books and speeches.
In Tajikistan, an excess of presidential appreciation seemed to overwhelm even the president himself. Emomali Rahmon -- whom Tajik officials refer to as "His Excellency" -- recently ordered all government officials to strip their offices of his portraits and carpets bearing his image.
A mass of empty billboards were seen throughout the capital Dushanbe as officials raced to enact the president's order.
Neither Here 'Nur' There
Kironshoh Sharif, a journalist based in the Tajik capital, believes that it won't be long until the presidential images stage a return. This, he explains, is how ministers and officials "try to demonstrate their loyalty" to Rahmon.
"It's not the first time the Tajik president has addressed this issue," Sharif says. "He's officially called on people not to misuse the president's name, images, and quotes in the past. I'm afraid the president's latest order will be forgotten again within the next five years."
Nazarbaev's first name has taken on brand status in Kazakhstan, where banks, businesses and clubs have begun to add the "Nur" prefix to their name. According to fergana.ru, a regional news website, more than 2,000 businesses have adopted the trend, with names like the Nur-gul Cafe, Nur-Basa, and the Nur-Doorphone Company.
The fad -- dubbed "Nurization" -- seems to follow in the footsteps of the presidential political party, Nur-Otan.
With so many gestures of presidential respect in Kazakhstan, it now takes extra effort to stand out from the crowd of ordinary admirers.
In an attempt to go the extra mile, a group of Kazakh officials and businessmen have proposed to name an airport after the sitting president. A privately run foundation called Kazakh Khanate is planning to erect a $330,000 monument in honor of Nazarbaev's 70th birthday next year.
Kinda Bookish
In Uzbekistan, President Islam Karimov is known for his literary ambition, and has more than 30 million copies of his books in circulation.
The presidential books are compulsory reading for students and professors. But among ordinary people, they are better known as "books that won't be read."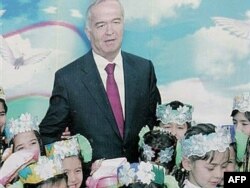 A giant poster of President Islam Karimov in Tashkent
Hikmatulloh Saifullozoda, a Tajik political expert, said the Central Asian presidential personality cults have become a permanent part of the region's political culture, and that the presidents themselves are to blame for "tolerating these undue commendations and flattering remarks."
Still, Saifullozoda concedes it isn't clear that the extravagant billboards, books, and media coverage have helped improve the reputations of Central Asian presidents among their electorate.
"When I travel with colleagues and parliamentarians to the provinces, people frequently mention this issue," Saifullozoda says. "People say the message has to be passed to the leader of the country that this trend doesn't boost his image. On the contrary, it damages his reputation among certain parts of society."
"Presidents have to stop this frenzy if they want any genuine admiration from people," he says. "It is going out of proportion, and people simply make fun of them."
RFE/RL's Kazakh and Turkmen services contributed to this report