A Russian rebel website has posted a statement by a Chechen Islamist group declaring "economic war" on Russia and claiming responsibility for the recent explosion at a hydroelectric plant in Siberia and a suicide bombing in Ingushetia.
A massive blast at the Sayano-Shushenskaya power station in southern Siberia on August 17 blew out the plant's walls and caused the turbine room to flood and killing at least 26 people. Dozens more are missing and presumed dead. On the same day, a suicide car bomber attacked a police headquarters in the Ingushetian city of Nazran, killing at least 25.
In a statement posted on the website kavkazcenter.org, the militant group Riyad-us Salihiin (Gardens of the Righteous) said it was responsible for both catastrophes and claimed it had sent fighters across Russia to stage assaults on gas and oil pipelines, power plants, and electricity lines.
It said militants had carried out an attack at Sayano-Shushenskaya by placing an antitank grenade in the turbine hall and later detonating it using a timer.
The statement came as Russian Prime Minister Vladimir Putin was visiting the plant.
No Evidence
Chechen militants have carried out a number of terrorist attacks within Russia. Moscow blamed rebels for a series of apartment block bombings in Moscow and other cities in 1999, and used them as a precedent in launching a second military campaign in the North Caucasus republic.
This time, however, Moscow dismissed out of hand Riyad-us Salihiin's reported claim of responsibility for the blast at the hydroelectric plant.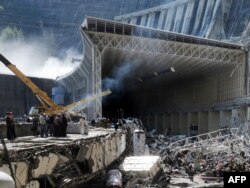 Russian officials ruled out foul play early in their investigation of the plant explosion.
Russian media quoted Vladimir Markin, a spokesman for the Prosecutor-General's Office, as saying that "no trace of explosive material at the site of the accident" had been detected, and that there was no evidence that the blast was caused by terrorism.
Investigative journalist Andrei Soldatov, editor of agentura.ru, an online publication focusing on terrorism and security services, is skeptical of Riyad-us Salihiin's claim regarding Sayano-Shushenskaya.
"There is a 90 percent chance that this is a false claim and is simply an attempt to gain publicity," Soldatov says. "On the other hand, [Riyad-us Salihiin] has shown that they can do what they say they will do. In this case, however, there is no evidence to support their claim."
Coming Out Of North Caucasus
Riyad-us Salihiin, which the U.S. State Department classifies as a terrorist organization, was previously led by Shamil Basayev, the Chechen rebel leader who masterminded the Beslan school siege in 2004 and was killed in 2006.
The group was revived by Chechen guerrilla leader Doku Umarov, who seeks to establish an Islamic state across Russia's North Caucasus region.
Riyad-us Salihiin claimed responsibility for a bomb attack on June 22 that badly injured Ingushetian President Yunus-Bek Yevkurov.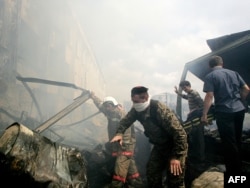 Riyad-us Salihiin is seen as quite capable of the Nazran bombing.
Umarov was reported to have been killed or seriously injured in a special operation by Russian forces in June. But he contacted RFE/RL by telephone from an undisclosed location in Chechnya in July and said he was alive and moving freely within Chechnya and Daghestan.
Violence in the North Caucasus continues unabated, with near-daily attacks on law enforcement personnel and public officials. Riyad-us Salihiin's announcement came as four suicide bombers on bicycles killed four police officers and a female pedestrian in the Chechen capital, Grozny.
"We knew that four people riding bicycles were going to blow themselves up in Grozny," Chechen Interior Minister Ruslan Alkhanov told journalists in Grozny.
"After we received that information, police officers were working in all districts of Grozny, when one bandit blew himself up on Mayakovsky Street, killing two police officers and injuring one [officer] and another one blew himself up on Pervomaiskaya Street killing two police officers and one civilian woman."
It remains to be seen whether Riyad-us Salihiin will claim responsibility for the Grozny attacks. But Soldatov says the group is developing the ability to carry out attacks outside the Caucasus region in addition to stirring unrest within it.
"Among those in Chechnya in Umarov's group, there are people who are not from the Caucasus. There are some ethnic Russians who came to participate in the jihad," Soldatov says.
"So you cannot completely rule out the possibility that they can carry out such attacks far from the Caucasus."