U.S. Vice President Dick Cheney, on a visit to Tbilisi, condemned Russia's invasion of Georgia and said the United States is fully committed to its eventual membership in NATO.
"The United States is very pleased with the recent establishment of the NATO-Georgia Commission," Cheney said in brief remarks to reporters after meeting with President Mikheil Saakashvili. "As the current members of NATO declared at the summit in Bucharest, Georgia will be in our alliance. NATO is a defensive alliance."
Cheney said the United States stands in solidarity with the people of Georgia and that the country can count on continued U.S. assistance.
"Georgia's independence and sovereignty have been very important, obviously, and Georgians have sacrificed for freedom and served freedom's cause in other lands," he said. "All Georgians deserve to live as free men and women. And this, I believe, is their destiny. In their hearts, the Georgian people have great courage. And in America, they have a sturdy and faithful friend."
'Illegitimate And Unilateral'
Russia's military offensive in Georgia, he said, was an "illegitimate and unilateral" attempt to change Georgia's borders and cast doubt on its reliability as an international partner.
Cheney is the highest-ranking U.S. official to visit the country since the fighting in mid-August over Georgia's breakaway region of South Ossetia.
Russia has withdrawn some forces from Georgia but others are still inside Georgian territory proper as part of what Moscow says is a peacekeeping mission, but which Tbilisi has called an occupying force.
Washington has considered moves to punish Moscow, such as canceling a civil nuclear cooperation deal, but it has not announced any sanctions.
Cheney's visit comes a day after
Washington announced
a planned extra $1 billion in aid to help Georgia rebuild its economy and infrastructure from war damage.


'Deep Interest'
The vice president's regional trip began September 3 in Azerbaijan, where he met President Ilham Aliyev and other top officials in a country that is home to some of the region's largest oil and gas reserves.
In Baku, Cheney said he wants to assure regional leaders of the United States ' concern for stability.
Appearing in a joint press briefing with Aliyev, Cheney said, "Mr. President, although we decided on this visit months ago, we met this evening in the shadow of the recent Russian invasion of Georgia, an act that has been clearly condemned by the international community. President [George W.] Bush has sent me here with a clear and a simple message to the people of Azerbaijan and the entire region -- the United States has a deep and abiding interest in your well-being and security."
A major issue that makes both Georgia and Azerbaijan a security priority for Washington is the Baku-Tbilisi-Ceyhan pipeline. The pipeline is a conduit for Caspian energy to the Western market via Turkey's Mediterranean port of Ceyhan.
During the Russia-Georgia war, Russian forces bombed near the pipeline, demonstrating its vulnerability. Many in the West saw the action as a clear message that Moscow, not Washington, determines whether the pipeline operates or not.
While in Baku, Cheney also restated Washington's commitment to the territorial integrity and independence of the three Caucasus states as the key to regional stability.
He affirmed Azerbaijan's territorial integrity in the crisis over Nagorno-Karabakh, and he called for a negotiated settlement to the dispute over that enclave.
Next To Ukraine
Cheney has now arrived in Ukraine, another former Soviet republic seeking NATO membership, where he will meet President Viktor Viktor Yushchenko and Prime Minister Yulia Tymoshenko.
The visit to Kyiv comes as the country has been plunged into a new political crisis after the ruling coalition collapsed on September 3.
Washington is concerned that Moscow will follow up its intervention in Georgia, and exploit the crisis in Kyiv, to increase its efforts to keep Ukraine from forming closer ties with the West.
compiled from agency reports
Crisis In Georgia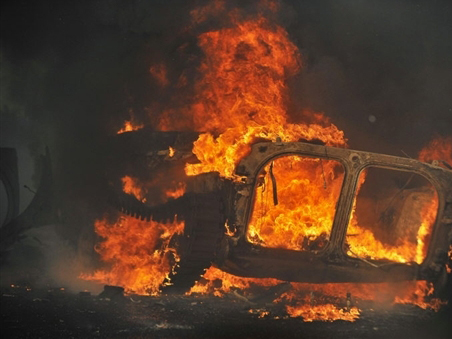 For RFE/RL's full coverage of the conflict that began in Georgia's breakway region of South Ossetia,
click here
.