An 8.8-magnitude earthquake has struck central Chile, flattening buildings, tearing down power lines, and sending scores of panicked residents into the street.
Officials have put the confirmed death toll so far at 147 and said the figure could rise. But emergency officials suggested that the number of fatalities was unlikely to rise sharply.
President Michele Bachelet declared a "state of catastrophe" following the quake and called on Chileans to remain calm. In a televised address, she said authorities were doing their best to assess the damage.
"We are gathering all pertinent information regarding the state of roads, hospitals, infrastructure, houses, damages and, of course, the existence of victims and injured," Bachelet said.
Chilean television ran footage of collapsed buildings and dazed residents sifting through rubble in the morning darkness.
In the central city of Temuco, Reuters quoted a television journalist who said the quake had forced staff to evacuate a regional hospital.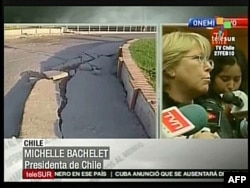 TV grab from Telesur shows Chilean President Michelle Bachelet and damage from the quake.
The reporter described "many children who are now in the streets [and] many people who are trying to contact their families by telephone," Reuters reported.
The quake's epicenter was some 100 kilometers from Concepcion, Chile's second-largest city, home to more than 670,000 people.
A number of cities sustained heavy damage, including the capital of Santiago, where the quake caused a highway bridge to collapse and damaged the international airport, which was closed to traffic.
Chile has a long history of major quakes. In 1960, it was hit by a massive 9.5-magnitude quake that devastated the south-central city of Valdivia, killing 1,655 people and sending a tsunami which struck regions as far as Hawaii, Japan, and the Philippines.
Bracing For Tsunami
Today's earthquake triggered a powerful tsunami that, according to the Pacific Tsunami Warning Center, may have been destructive along the Chilean coast near the epicenter "and could also be a threat to more distant coasts [across the Pacific]."
"Urgent action should be taken to protect lives and property," the center said in a bulletin, according to Reuters. "All shores are at risk no matter which direction they face."
The same agency quoted geophysicist Victor Sardina as saying the Hawaii-based Pacific Tsunami Warning Center was urging all countries included the warning to take the threat very seriously. He added that "the wave, we know, is on its way."
The center estimated the first tsunami, which is a series of several waves in succession, would hit Hawaii around 11:00 a.m. local time (2100 UTC).
In Hawaii, evacuations from low-lying areas had begun and lines were already forming before sunrise at gas stations as residents prepared to flee.