China, Russia Line Up To Buy IMF's First Bonds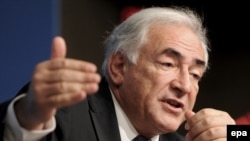 The International Monetary Fund's resources have been depleted as countries from Latvia to Pakistan have lined up for emergency loans to help them weather the economic crisis.
So in April, G20 leaders meeting in London promised to replenish the war chest by tripling the fund's resources to $750 billion.
Much of that is meant to come through loans from member countries, with Japan, Europe and the United States each pledging $100 billion.
But big emerging countries have wanted to contribute in a different way. So, for the first time, the International Monetary Fund (IMF) is planning to issue bonds.
IMF spokeswoman Caroline Atkinson said last week the fund was finalizing details of the bond issue to put before the board soon.
"We are working on how to draw up the terms and conditions of the bonds that we are able to issue under powers we have had for a long time, but which we now have a number of countries expressing interest in," she said.
Chief among those potential buyers is China, which said in recent days it was considering buying up to $50 billion worth.
Indian officials have also expressed interest in buying around $10 billion of the notes.
And late last month Russia's Finance Minister Aleksei Kudrin said preliminary discussions are being held in the government about the possibility of investing up to $10 billion in IMF bonds "in the near future."
Russian President Dmitry Medvedev said he hopes the money will go "toward helping [countries] overcome the effects of the crisis and will support countries, including those close to us, that are suffering the most from the global financial crisis."

Growing Clout Not Reflected
Experts say there are reasons, other than altruism, why big emerging countries might want to line up to buy IMF bonds.
That's because they feel their share of voting power at the IMF does not reflect their growing clout in the world economy.
Any reform is likely to take some time. So in the meantime, the bonds will allow them to make a short-term contribution while they continue to lobby for greater representation.
"So what the emerging markets are doing by using the bonds is basically saying, 'We understand this is a very difficult time for the world economy, that we need to provide resources to the IMF," says Eswar Prasad, a professor of economics at Cornell University. "But we are not willing to provide resources on a permanent basis unless it is accompanied by a governance reform at the IMF which would give emerging markets more say at the IMF."
Prasad says buying IMF bonds fits in, too, with the search for alternatives to the dollar by countries like Russia and China.
Both have recently called for a move away from the dollar as the world's chief reserve currency.
One suggestion has been for an expanded role for the SDR, or "special drawing right." The SDR is a kind of artificial currency created by the IMF 40 years ago but used only as a unit of accounting between member states and the fund.
A bond issued in SDRs would mean greater use of that quasi-currency -- though the bonds would only be sold to member countries' central banks.
"Given the amounts involved -- for instance, China has committed to buying about $50 billion of IMF bonds -- in a pool of $2 trillion of reserves, this is not going to make a big difference," Prasad says. "But symbolically it's still very important that these emerging markets are looking for an alternative to the dollar in the short turn, and this might be a viable option."

Increase Legitimacy
The bonds are also an easier way to contribute for countries where direct loans might require legislative approval and be politically unpalatable.
Mark Weisbrot of Washington's Center for Economic and Policy Research says the chief attraction for the IMF, therefore, is to increase its legitimacy.
"So [the IMF] can say, 'We're the global crisis fighting machine and we've got support not just from the rich countries that run the organization, but also from developing countries.' That's where the bonds come in," Weisbrot says.
Not everyone sees the IMF bonds as a significant development.
Edwin Truman of the Petersen Institute for International Economics in Washington describes the exercise as "cosmetic" -- whether countries lend through buying bonds, or other ways, makes no real difference.
"It's certainly a way of making a point that, 'We want to participate on our terms rather than the standard terms.' But the truth of the matter is the substance is no different," Truman says.

RFE/RL's Russian Service contributed to this report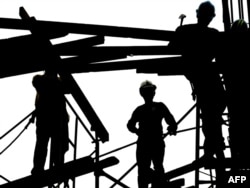 Multimedia coverage on the impact of the global financial crisis on markets and individuals across RFE/RL's broadcast region. More