Not so long ago it was the fastest growing economy in the European Union.
But boom turned to spectacular bust last year as the global financial crisis swept across Eastern Europe, popping Latvia's real-estate bubble.
That put Latvia at the top of a new list -- the EU country with the sharpest annual contraction in the first three months of this year, at more than 18 percent.
In recent weeks there's been renewed speculation the country will have to devalue its currency, which has been pegged to the euro since 2005.
On June 3 there was a sign of trouble brewing when a government debt auction failed to attract enough bidders.
But the main trigger was news coming out of Stockholm, not Riga, says Lars Christensen, a senior emerging-markets analyst with Danske Bank in Copenhagen.
"The Swedish central bank last week went out and said it was going to increase its foreign exchange reserves," Christensen says. "Everybody in the market read that as a buffer against Baltic problems and I think that's really what has triggered these concerns."
Adding fuel to the fire were comments this week by a former Swedish central bank chief, now an adviser to Latvia's government.
Bengt Dennis uttered the "D-word" openly, saying a devaluation was all but inevitable.
Regional Concerns
There's concern in Sweden because its banks have a big presence to Latvia and a devaluation could hit them hard if loan defaults rise.
That's because so many people borrowed in foreign currency to buy their homes. A devalued lat would make it harder to meet those payments.
And so while a devaluation could give a boost to exporters and help the economy rebalance, Latvia's authorities have ruled it out, saying it would also cause a lot of pain in the form of loan defaults and higher inflation, among other things.
Other countries, too, could feel the knock-on effects if Latvia devalued. Prime candidates would be neighboring Lithuania and Estonia, which also peg their currencies to the euro. Analysts say they might have to devalue, too, to remain competitive.
And Christensen says the ripples could reach countries further away, such as Bulgaria, which also has a currency peg.
"No doubt Latvia is in the worst shape but other countries in the region are also struggling with large funding needs, large imbalances, a boom-bust economy. Of course the market would likely begin to focus on those countries once again and one would fear we could revisit the problems we saw back in March, April," Christensen says.
"It's important to stress the Baltic states do not have a direct link to for example Bulgaria, Romania. But there is a 'look-alike issue' here, the countries in Southeast Europe to a large extent share some of the imbalances you have in the Baltic states and therefore the market would zoom in on these countries in the event of a devaluation in Latvia."

Threat To Euro?
Economics commentator Anatole Kaletsky of "The Times" wrote on June 4 that the contagion could spread to countries already using Europe's singe currency -- at least, some of its weaker members like Ireland and Greece -- and that the EU would likely step in with some sort of bailout to prevent the breakup of the eurozone.
What analysts say will be key here is whether Latvia can reach agreement with the International Monetary Fund (IMF) and EU so it can get the second part of the loan agreed last December.
This 1.2-billion-euro tranche is due in July, but lenders want Latvia first to rein in its yawning budget gap.
"We believe that they won't need to devalue -- in our baseline scenario -- but that would probably require them to get the IMF loan, or fulfill those criteria whatever they are that the IMF will require for the next tranche," says Annika Lindblad, a senior analyst at Nordea Bank in Finland.
"But if they fail to agree on those conditions and fail to get the loan, then [discussion of] devaluation will probably resurface, and they might have to turn to that alternative. But for now we don't believe they will devalue."
Still, as a senior analyst with Moody's was quoted as saying by Bloomberg: "expectations of a devaluation can sometimes be self-fulfilling."
Little wonder, then, that Latvia's central bank appealed on June 4 for officials and others to be "responsible" when they discuss the topic.
World Economic Crisis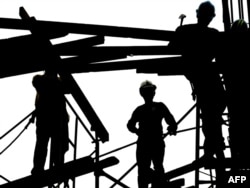 Multimedia coverage on the impact of the global financial crisis on markets and individuals across RFE/RL's broadcast region. More