ST. PETERSBURG, Russia (Reuters) -- Russian President Dmitry Medvedev, opening the country's top business forum, has said the global economy had avoided worst-case scenarios, but warned participants it was too early to celebrate recovery.
"In my view, it is too early to crack open the champagne," Medvedev said in opening remarks to the St. Petersburg International Economic Forum attended by chief executives and officials.
"Nonetheless I think we have avoided the worst-case scenario."
The global financial crisis has hit Russia harder than any other big emerging market, but Medvedev said in generally sober remarks that the country had stabilized its financial system. Major challenges still remained.
"In the short term, it is key for Russia, as well as for other countries, to clear bad assets from the banking system," Medvedev said.
But he ruled out following the example of some other major economies in parking bad assets in a single state-controlled institution.
"I do not think the creation of a bad bank is needed in Russia...," Medvedev said.
"We will use other instruments to solve this problem including...investing state funds into their capital if needed."
Medvedev said that despite the crisis Russia still wanted to make Moscow a major international financial centre and give the ruble a bigger role as a regional reserve currency.
The Kremlin chief said the crisis had shown Russia's excessive dependency on the exports of oil and other raw materials and its underdeveloped financial system.
As a result, the country urgently needed to step up efforts to diversify, otherwise it could face a worse crisis in future.
World Economic Crisis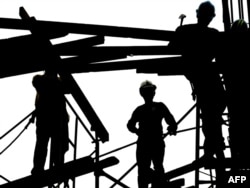 Multimedia coverage on the impact of the global financial crisis on markets and individuals across RFE/RL's broadcast region. More