Ceremonies were held today in Ukraine, Belarus, and Russia to commemorate the 24th anniversary of the Chornobyl nuclear accident.
The April 26, 1986, explosion at Chornobyl caused severe radioactive contamination of some 145 square kilometers in Europe, mostly in Belarus and Ukraine.
The total number of people killed by the explosion and exposure to radiation afterward during the cleanup is controversial.
A United Nations report released in 2005 said that some 4,000 people could eventually die from radiation exposure as a result of the Chornobyl disaster. But it said the accident had been responsible for the deaths of about 50 people by 2005.
Other organizations claim that many thousands of people have died from radiation exposure at Chornobyl.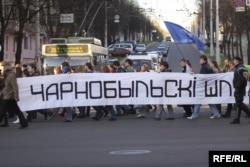 Marchers in Minsk
Ukrainian President Viktor Yanukovych said in a nationwide address today that more than 2 million people -- at least one-quarter of whom are children -- are suffering from radiation-caused diseases in areas that were affected by the Chornobyl accident. He pledged to provide better care for victims and those who still suffer from related diseases.
He said the Chornobyl nuclear reactor remains a serious threat to Europe.
In Belarus, a commemoration march took place in the capital, Minsk. Reports say that in the city's heavily policed central square, about 2,000 demonstrators held aloft opposition flags bearing slogans such as "Dictatorship is like another Chornobyl."
In previous years, opposition groups had used commemoration gatherings as a venue for protesting against the government of President Alyaksandr Lukashenka.
Vyacheslav Grishin, the leader of the nongovernmental organization Russian Chornobyl Union, said at a commemoration today at Moscow's Mitin cemetery that some 250,000 people from Russia took part in the cleanup effort at Chornobyl and that about 30,000 of them have since died.
Grishin said the Russian government does not pay enough attention to the needs of the Chornobyl veterans and those who still live in the affected territories.
In St. Petersburg, activists and Chornobyl veterans laid flowers at a monument to the disaster on the Chornobyl Veterans Alley. A special concert called "Though the Ashes of Chornobyl" was held in the town of Kronstadt near St. Petersburg.
There are an estimated 9,000 Chornobyl veterans living in St. Petersburg.
Veteran Vladislav Golovko told RFE/RL that remembering the event is not enough. He said almost half of the veterans in St. Petersburg are disabled and need special attention and government support.
with agency reports