(RFE/RL) -- Kyrgyzstan's fledgling interim government struggled to maintain order amid an eruption today of fresh violence coming nearly two weeks after massive political unrest forced the ouster of the country's president, Kurmanbek Bakiev.
The government of interim leader Roza Otunbaeva was forced to call out troops and armored vehicles after clashes over land rights broke out in a suburb of the capital, Bishkek.
At least two people were reported dead and more than a dozen injured in the violence, in which hundreds of young men carrying sticks and metal bars attacked landowners and set houses alight in the village of Maevka before moving on to the capital to confront city officials.
An interim government official, Edil Baisalov, told Reuters a total of five people had been killed in the attacks.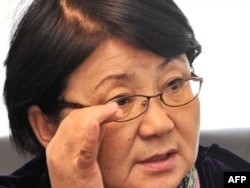 Interim Kyrgyz leader Roza Otunbaeva
In southern Kyrgyzstan, some 1,000 supporters of Bakiev rallied in his native city of Jalal-Abad to denounce the interim government and call for the ousted leader to be returned to power.
Reuters reports that loyalists of the ousted president have installed a pro-Bakiev regional governor, Faizulla Rakhmanov, after seizing a local government office.
In a televized address, Otunbaeva pledged to preserve stability."We will do everything to preserve interethnic tolerance and integrity in Kyrgyzstan," she said. "Those who break laws and regulations will be severely punished. Everyone involved in organization of disorder in the country will be held accountable."
Location Unknown
The rallies came as Bakiev, who had spent the past several days sheltering in neighboring Kazakhstan, departed for an unknown location, prompting speculation he might be attempting to stage a return to Kyrgyz soil.
Belarusian President Alyaksandr Lukashenka also reiterated an offer to provide haven for Bakiev and his family in Belarus.
Bakiev was flown to Kazakhstan on April 16 after an agreement for his departure was brokered jointly by the Organization for Security and Cooperation in Europe, the United States, and Russia.
In an interview today with RFE/RL's Kazakh Service, a spokesman for the Kazakh Foreign Ministry, Ilyas Omarov, confirmed Bakiev had left Kazakhstan.
"Yes, as you know, [Bakiev] arrived in Kazakhstan some time ago and stayed here, in the city of Taraz [in southern Kazakhstan]," Omarov said. "He has now left the territory of our country. I cannot say where he left for, because he didn't reveal that information. It is believed that he left the country this past weekend."
The fresh clashes in Kyrgyzstan may dash hopes that the course of the Central Asian nation's latest political transition will flow smoothly.
The interim government -- which seized power after a bloody uprising in early April overthrew Bakiev and left more than 80 people dead -- has promised fresh elections and reforms.
WATCH:
As people hold signs reading "Land for the people," squatters in the Kyrgyz capital, Bishkek, mark off plots where they want to build houses, even though they don't own the land:
But incidents like the latest wave of clashes and rallies suggest Otunbaeva and her aides may need to spend more time wrestling with public unrest than pursuing political reforms.
The Interior Ministry today reported its forces had arrested dozens of people following today's clashes outside Bishkek. Police reported they were deploying additional manpower overnight.
Witnesses said the clashes were instigated by ethnic Kyrgyz, who attacked and looted the homes of ethnic Russian and Meskhetian Turks living in Mayevka.
The report has stirred concerns of ethnic unrest in a country that is predominantly Kyrgyz, but which has a large Russian population as well as Uzbeks, Kazakhs, and other minority residents.
Call For Calm
The interim government today called for calm and urged citizens to avoid displays of violent unrest.
In a statement, it said, "We will do everything to preserve interethnic tolerance and integrity in Kyrgyzstan," adding "those who break laws and regulations will be severely punished."
RFE/RL's Kyrgyz Service reported from Bishkek that many of the Maevka rioters were people with no access to homes or property of their own. Clashes over land occur frequently in mountainous Kyrgyzstan, where land available for settlement and home-building is in short supply.
Hundreds of law enforcement personnel rallied in Osh, demanding independence from politicians' agendas and protesting against the new interior minister.
The protesters briefly surrounded the office of Bishkek's acting mayor, Isa Omurkulov. In an interview with RFE/RL, he referred to the rioters as "provocateurs" attempting to seize land in a bid to destabilize the country.
"There are some four or five places in Bishkek where people, under pressure by organized groups, are trying to seize land," Omurkulov said. "Two other places around Bishkek belong to local communities. There is land in Bishkek seized by squatters that is meant for building schools or kindergartens."
Southern Resistance
Resistance to the interim government remains high in southern Kyrgyzstan, considered a stronghold of ousted leader Bakiev. Today's rallies in Jalal-Abad came after Bakiev supporters this weekend seized control of the regional government office and named their own governor and provincial interior affairs head.
RFE/RL's correspondent in Jalal-Abad reported protesters today still had the regional government office under their control and had also seized the interior affairs headquarters. Sporadic gunfire could be heard in the area.
Ousted President Kurmanbek Bakiev
Additional rallies also took place today in neighboring Osh and Batken provinces, with demonstrators protesting the interim government's choice of several regional officials.
Several hundred law-enforcement workers in Osh protested the appointment of Bolot Sherniazov as interior minister, echoing similar protests in Bishkek. Sherniazov was a leader of the antigovernment protests in Talas on April 6 that led to larger demonstrations in Bishkek that eventually forced Bakiev to leave the capital.
Within hours, officials in the capital had dismissed Sherniazov, fearing a mass walkout by ministry forces, replacing him with Bakyt Alymbekov, a former deputy minister under Bakiev. Police workers pronounced themselves "satisfied" with the change.
Otunbaeva said she was making the change in order "to protect citizens' rights and the rule of law in the country." She also announced the establishment of a so-called Assistance Council consisting of some former interior ministers to help coordinate the activities of the Interior Ministry.
The interim government's appointment of a new mayor of Kyzyl-Kya in Batken Province also sparked protests in that town. The demonstrations prevented the mayor, Elmira Arapova, from entering her office building today.
The unrest has forced the suspension of flights from the air base the United States maintains in Kyrgyzstan to support the war in Afghanistan and has resurrected the competition for influence in the Central Asian nation between Washington and Moscow.
The United States has offered support to Otunbaeva but has not formally recognized the interim government. Russia, which opposed Bakiev's rule since his rise to power in the Tulip Revolution in 2005, has offered Kyrgyzstan $50 million in aid since his ouster.
Kyrgyzstan also received a pledge of support from the Shanghai Cooperation Organization (SCO), the regional body grouping Russia, China, Kazakhstan, Kyrgyzstan, Tajikistan, and Uzbekistan. Meeting today with Otunbaeva in Bishkek, SCO Secretary-General Muratbek Imanaliev said the organization was ready to offer economic help to Kyrgyzstan.

RFE/RL's Kyrgyz and Kazakh services contributed to this report, with agency reports