(RFE/RL) -- The UN conference on climate change in Copenhagen opened today with the sound of children singing.
It was a hopeful sound as delegates from 192 countries begin talks on how to curb global warming.
The talks, which run 12 days, are the most important yet to address the question of how to reduce mankind's emissions of greenhouse gases into the atmosphere.
Underlining the significance, at least 100 world leaders plan to join the final days of the conference next week.
At the same time, some 15,000 observers from scientific organizations, NGOs, and interest groups are also participating, either directly or on the sidelines.
The task before the conference is enormous.
"Welcome to two weeks where we are to perform what is the most difficult [thing] in politics," the host of the conference, Danish Prime Minister Lars Lokke Rassmussen, told delegates. "To make difficult but necessary decisions now, in order to address mounting problems of the future."
World leaders generally agree on the goal: to limit the rise in the average global temperature over the next decades to 2 degrees Celsius.
That is to avoid what many scientists warn would be a catastrophic scenario if the rise in the average temperature were to go 1 degree higher -- to 3 degrees Celsius.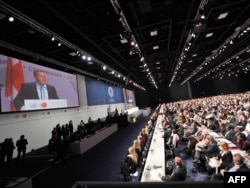 Danish Prime Minister Lokke Rasmussen delivers a speech at the opening ceremony of the climate-change talks today.
A UN scientific panel says that an average global temperature rise of 3 degrees would cause such severe melting of glaciers and polar ice that sea levels would rise and coastal cities would be flooded.
Elsewhere, the scenario would include severe storms and droughts.
But agreeing on how the world should reduce its carbon emissions is not easy.
The carbon emissions -- which trap solar heat and disrupt the climate -- come in large part from industrial activity. And that is the same activity which drives economic growth.
Ahead of the conference many countries have pledged voluntary reductions.
But the countries have used a variety of baselines for calculating their reductions, and many refuse any suggestions of setting binding targets.
'So Many Firm Pledges'
At the same time, poor countries demand that rich countries help them pay for costly changes to greener technology that could help reduce their emissions.
Still, conference organizers are encouraged by the readiness of many countries, including the world's biggest carbon emitters, China and the United States, to control or cut emissions growth.
Yvo de Boer, the UN's top climate official, said on December 6 that "never in 17 years of climate negotiations have so many different nations made so many firm pledges together."
Public interest is equally high.
Across the globe today, 56 newspapers published the same editorial telling their leaders to agree on action to limit temperature rises to 2 degrees Celsius. The editorial warned that failure to do so would risk seeing climate change "ravage our planet."
The editorial comes as the Copenhagen conference has come under fire even before it began by critics who say fears of global warming are exaggerated.
The criticism claims gained wide press attention in recent weeks after private e-mails from a leading British climate-research center, the University of East Anglia, were posted on the Internet.
Skeptics of global warming said the purloined messages showed that researchers convinced of global warming hid evidence that doesn't fit their theories.
That charge was specifically rejected today at the conference by Rajendra Pachauri, the head of the Intergovernmental Panel on Climate Change (IPCC).
"The evidence is now overwhelming that the world would benefit greatly from early action and that delay would only lead to costs in economic and human terms that would become progressively high," Pachauri said.
The IPCC was instrumental in convincing many world leaders of the dangers of global warning when it concluded in 2007 that climate change is clearly linked to human activities.
Many ordinary people are also voicing their concerns over atmospheric pollution and hopes that the Copenhagen conference will help to curb it.
"I hope through this summit, they can raise some more substantial proposals that can be implemented," Beijing resident Bai Xiaohui told Reuters today. "It shouldn't be like having a lot of meetings and making a lot of proposals, but in the end nothing concrete comes out of it. I think that would be a waste of time and energy."
As some delegates traveled to Copenhagen over the weekend, they sought to highlight the need for concrete action by opting themselves for low-emissions transportation.
Some 450 UN officials, delegates, climate activists and journalists arrived by train from Brussels, noting that was more energy efficient than coming by car.
Still, many other delegates are moving around Copenhagen today by rented limousines. That may be a sign of how difficult it yet may be to change old habits, and much tough bargaining lies ahead.
The climate change conference ends on December 18.