U.S. Secretary of State Hillary Clinton received a warm welcome from cheering and flag-waving crowds today as she arrived in Kosovo's capital, Pristina.
Correspondents say thousands of people lined the route of her motorcade from the airport to the parliament building.
On the way, her car stopped and she emerged to inspect the 3-meter-high bronze statue of her husband, former U.S. President Bill Clinton.
Bill Clinton is immensely popular in Kosovo because he ordered U.S. forces in 1999 to lead the NATO bombing campaign against the Serbian authorities, which eventually led to independence for the breakaway province.
On arrival at the parliament, she immediately went into talks with Prime Minister Hashim Thaci and urged the Kosovars to open a direct dialogue with Belgrade soon. Pristina wants to delay such a dialogue until a new president is elected early next year.
Former President Fatmir Sejdiu stepped down in late September after a court ruled that he was in violation of the constitution by serving as head of state while also leading his political party, the Democratic League of Kosovo.
"Some matters, like the status, sovereignty, and territorial integrity of Kosovo, are not up for discussion," Clinton told journalists after meeting Thaci.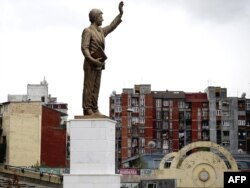 Former U.S. President Bill Clinton is very popular in Pristina.
"But the leaders of both countries [Serbia and Kosovo] must approach the dialogue in good faith and with respect for each other's concerns."
'Mutually Beneficial Goals'
Clinton delivered the same message today as
she gave on October 12
to Serbian President Boris Tadic in Belgrade, when she said that dialogue would benefit both sides by addressing "practical, day-to-day issues," such as transport, trade, telecommunications, and energy.
"These [Serbia-Kosovo] talks represent an opportunity to address immediate and practical needs while making progress toward mutually beneficial goals, for example, increasing travel and trade," she continued.
Belgrade in September signaled its readiness to engage in dialogue with Kosovo, but Tadic told Clinton that Serbia would never recognize Kosovo's independence.
The United States and most European Union countries have recognized Kosovo's independence since it seceded from Serbia in 2008. A July advisory opinion by the International Court of Justice (ICJ) ruled that Pristina's declaration of independence did not violate international law.
Today, Thaci expressed optimism about the eventual outcome of a dialogue with the Serbs.
"The time has come for finishing a century-old conflict between Kosovo and Serbia. Kosovo is ready," he said.
Thaci also predicted that communication between the two countries would facilitate European integration for both.
"I am convinced that the dialogue between Kosovo and Serbia will result in the integration of Kosovo and Serbia within NATO, and EU structures," Thaci said.
'Clock Starts Ticking Now'

The topic came up again later in the day as Clinton participated in a question-and-answer session with students and representatives of civil society at Pristina's National and University Library.
Clinton was asked if she felt that Kosovo was being left behind as regional neighbors move closer to Brussels. In response, she pointed to the ICJ ruling as the real start of the integration push.
"I think that until the International Court of Justice advisory opinion was rendered just a few [months] ago, there were those -- not us in the United States -- but, you know, there were those who had some questions about Kosovo's independence," Clinton said. "So I think the clock starts ticking -- even though you may feel the pressure to [have things] move more quickly -- I think the clock starts ticking now."
She said Kosovo's planned reforms and preparations for the upcoming presidential election will "get a lot of attention." Overall, Clinton said Kosovo is "on the right track."
The U.S. secretary of state also voiced support for visa liberalization for Kosovars, which she said would allow them to "tell the story of Kosovo" abroad.
Another member of the audience asked Clinton to explain why, despite a prominent "extreme" vein in Serbian politics and society, she believed Belgrade could become a European leader.
Clinton replied that she thought closer European integration for Serbia would have a moderating effect on the more nationalistic elements in Serbia.
"If Serbia remains out of the European Union -- not integrated -- then the positive trends could be overwhelmed by the negative, by the extremist voices," she said.
In the evening, Clinton left Pristina and headed to Brussels, where she met with EU foreign policy chief Catherine Ashton and EU President Herman Van Rompuy.
She said she would tell EU leaders "the process of European integration is not complete without the Balkans."
written by Breffni O'Rourke and Richard Solash, with contributions from RFE/RL's Balkan Service and news agency material