(RFE/RL) -- U.S. Secretary of State Hillary Clinton and Russian Foreign Minister Sergei Lavrov say Washington and Moscow are very close to reaching an agreement on a new strategic arms pact.
But differences on another key issue -- preventing Iran from acquiring nuclear weapons -- remained as Russia announced plans to start up the reactor it is building for Iran's first atomic power plant.
Speaking at a joint press conference with Clinton in Moscow, Lavrov said Russian and American negotiators had almost completed their work in their efforts to hammer out a successor to the 1991 Strategic Arms Reduction Treaty (START), which expired at the end of last year.
"We are happy with the way our negotiators are fulfilling the instructions of the presidents. This work is under the personal control of the presidents and there is every reason to believe that we are now close to the finish line," Lavrov said.
Clinton expressed similar optimism, saying negotiators in Geneva had made "substantial progress" on the pact. She added that the two sides "will be reaching a final agreement soon."
"We are beginning our discussions about where and when our two presidents will sign the START agreement, but we don't want to get ahead of ourselves," Clinton said.
Russia Reset
U.S. President Barack Obama has made a new START agreement the cornerstone of his policy of resetting relations with Moscow, which fell to a post-Cold War low in recent years.
During a visit to Moscow last July, Obama and Russian President Dmitry Medvedev each pledged to cut their deployed nuclear warheads to between 1,500 and 1,675. Both presidents had called for a quick signing of a new treaty, but negotiations stalled over counting methods, verification procedures, and U.S. plans for a missile defense system in Europe.
The talks with Lavrov kicked off Clinton's two-day visit to Moscow, where, in addition to START, she is expected to discuss U.S. efforts to impose sanctions on Iran and the peace process in the Middle East.
On March 19, she is due to meet with members of the Mideast Quartet -- the European Union, Russia, the United Nations, as well as the United States -- to discuss the latest developments in the Middle East peace process. Clinton is also scheduled to hold separate talks with President Dmitry Medvedev and Prime Minister Vladimir Putin.
Clinton said the Obama administration's reset policy was producing positive results that were enhancing both countries' security.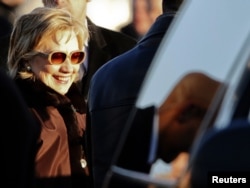 Clinton arrives in Moscow
"We believe that this reset of the relationship has led to much greater cooperation, coordination, and a constructive ongoing consultation on numerous issues that are important to our bilateral relationship and to the global issues that we both are facing," Clinton said.
Prior to talks with Clinton, Lavrov said the United States was "no longer an enemy, but also not yet a friend," Interfax reported. Lavrov described his relationship with Clinton as "constructive and solution-oriented." He added that Obama and Medvedev shared a relationship of "trust."

Reactor Start-Up
Despite the improved climate and the progress on the START treaty, lingering tension remained over efforts to curb Iran's nuclear program.
Putin announced today that Russia plans to start up the reactor it is building at Iran's atomic power plant at Bushehr in mid-2010.
The announcement drew immediate criticism from Clinton, who said such a move would be "premature" without Iranian assurances on its nuclear program, which the West fears is aimed at producing atomic weapons.
Lavrov responded by saying that the Bushehr plant is key to the IAEA maintaining its presence in Iran.
Russia has made it clear that it does not want Iran to obtain a nuclear weapon and that the time for sanctions is fast approaching.
But three times previously, Moscow has successfully removed the teeth from Iran sanctions at the UN Security Council. This time, Russian officials sound considerably more convinced of the U.S. position -- which is that a package of tough, targeted, and painful sanctions aimed at Iran's leaders is justified after months of failed diplomacy with Tehran.
Clinton suggested that Washington is growing increasingly impatient and wants the issue resolved soon.
"We are still committed, as we have been, to a diplomatic solution, but there must be a solution. Iran is not living up to its international obligations," Clinton said.
with contributions from RFE/RL's Brian Whitmore in Prague and Heather Maher in Washington