U.S. Secretary of State Hillary Clinton says "NATO's door remains open to Ukraine," despite the country's retreat from pursuing membership in the bloc under President Viktor Yanukoych. She also said that the notion of a Western-aligned Ukraine versus a Russian-aligned Ukraine was a "false choice."
Clinton made the remarks today in Kyiv, where she met with her Ukrainian counterpart, Kostyantyn Hryshchenko, before meeting with Yanukovych. She is also scheduled to meet with opposition leader Yulia Tymoshenko and representatives of civil society on what is the first stop of the secretary's five-capital tour of Eastern Europe and the Caucasus.
"Ukraine is a sovereign and independent country that has the right to choose your own alliances," said Clinton, speaking alongside Hryshchenko. "And NATO's door remains open, but it's up to Ukraine to decide whether or not you wish to pursue that or any other course for your own security interest."
Since the election in February of Yanukoych, the reincarnated villain of the Orange Revolution, Ukraine has sought to repair severely strained ties with Russia. Yanukovych's predecessor, Viktor Yushchenko, had infuriated Moscow by pushing for NATO membership. But in April, the new government scrapped a state body set up to oversee the country's eventual accession to the U.S.-led military alliance. On July 1, on the eve of Clinton's arrival, Ukraine's parliament passed in the final reading a law formally establishing a non-aligned status for the country.
East-West Interests

Speaking alongside Yanukovych, Clinton said that the U.S. does not believe in the concept of spheres of influence. She expressed hope that Ukraine would continue pursue constructive relations with the EU and the United States, along with a relationship with Russia that is "in Ukraine's interest."
"Some have tried to force Ukrainians into a choice between aligning your country with Russia or with the West," she said. "We believe that is a false choice."
Yanukovych called the United States a "reliable strategic partner" and pledged to "make every effort to strengthen our partnership."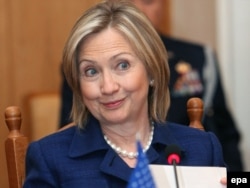 U.S. Secretary of State Hillary Clinton argued against the idea of eastern and western spheres of influence.
Analysts say that one of the goals for Clinton's visit – the first by a senior U.S. official to Kyiv since Yanukovych was elected – was to help ensure that Ukraine's interests do remained balanced.
Along with scrapping NATO accession plans, the Yanukovych government has speedily pursued other means of rebuilding ties with Moscow. In a decision that sparked a brawl in the country's parliament, a measure was passed in April to prolong the lease of the Russian Black Sea Fleet in Ukraine until 2042.
Although Yanukovych specifically referred to his country a "nonbloc European nation," the official line is that the country will continue to pursue a "constructive partnership" with NATO, and aims to participate in military exercises with European members of the bloc.
Yanukovych's interest in a different Western-led bloc were clearer. "Ukraine's path towards European integration has no alternative and that has never been in doubt," he said.
In a reference to the election of Yanukovych, deemed fair by international observers, Clinton said, "Ukraine has already done a great deal to show that you belong in the European Union by setting a democratic example for the region."
Pipeline and Press

Yanukovych used the occasion to propose a new pipeline project to transport Russian gas to the EU through Ukraine, potentially allaying Western European fears about the reliability of Ukrainian gas shipments. A dispute last year between Kyiv and Moscow led to several countries being deprived of energy supplies.
"We have our own Ukrainian concept [of a gas transit system] that we have proposed to our partners, our colleagues from the European Union and from Russia," said Yanukovych. "This concept proposes the establishment of a joint company, with the participation of EU nations, Russia, and Ukraine, with the idea of building a gas pipeline through Ukrainian territory that would provide additional gas supplies to Europe."
Clinton also expressed U.S. support for Ukraine's stalled bid to secure a loan from the International Monetary Fund (IMF).
Last year, the international financial overseer halted its $16.4 billion loan package to Ukraine after the previous government violated the IMF's austerity rules. Ukraine, attempting to recover from a more than 15-percent shrinkage of the economy in the wake of the recent financial crisis, has been pushing to restart the flow of loan money.
Clinton also said the United States was "encouraged" by the Ukrainian government's "commitment to support freedom of the media" and for ensuring media independence.
She added, however, that Kyiv now needs to turn those commitments into action to ensure press freedoms and other democratic rights.
Since the election of Yanukovych, rights watchdogs and international observers have expressed growing concern over reports of increased pressure on journalists and a clampdown on the media.
Private television companies have recently issued petitions complaining of censorship in news programs, and the U.S. ambassador to Ukraine last month warned there should be no going back to the "old system" of government pressure.
Clinton will conclude her visit with a speech at Kyiv Polytechnic Institute. Next on her itinerary is Krakow, followed by Baku, Yerevan, and Tbilisi.
written by Richard Solash, with agency reports