WASHINGTON (RFE/RL) -- The United States and Pakistan will hold a round of strategic talks next week in the U.S. capital, with top government ministers from both countries participating for the first time.
Richard Holbrooke, the U.S. special envoy to Afghanistan and Pakistan, told reporters in Washington on March 19 that the talks mark a "major intensification" of the U.S.-Pakistani partnership.
The United States delegation will be led by Secretary of State Hillary Clinton and include Secretary of Defense Robert Gates, Chairman of the Joint Chiefs of Staff Admiral Mike Mullen, as well as top officials from the government's economic, agriculture, and trade sectors.
The Pakistani delegation will be led by Clinton's counterpart, Shah Mehmood Qureshi. It will also include army chief Ashfaq Kayani, as well as high-ranking defense, finance, and agriculture officials.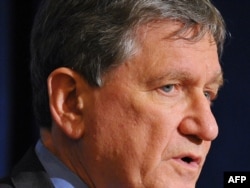 Richard Holbrooke
Holbrooke said the discussions on March 24 would cover several areas of cooperation between the two countries.
"The United States is supporting Pakistan," he said, "as it seeks to strengthen democratic institutions, as it seeks to foster more economic development, expand opportunities, deal with its energy and water problems and defeat the extremist groups who threaten both Pakistan's security and stability in the larger region and American national security as well."
On March 18, Pakistani Foreign Minister Qureshi said he would propose "10 tracks of sectoral engagements" at the meeting, dealing with economy, energy, education, and technology among other spheres.
Pakistan is expected to inquire about the status of promised U.S. aid money and to press for recognition of its nuclear program.
Analysts expect counterterrorism to be at the top of the agenda.
Pakistan is a key United States ally in combating the Taliban insurgency in neighboring Afghanistan and in battling Al-Qaeda.
In the past, the United States has pressed Pakistan to intensify its efforts to root out terrorists on its own soil and Pakistan has pushed back against U.S. pressure to launch offensives against Afghan Taliban factions.
In recent months, however, Pakistan has stepped up its pursuit of militants in recent months, arresting several senior members of the Afghan Taliban, including a top military commander, Mullah Abdul Ghani Baradar.
Holbrooke praised the capture, saying, "We are extremely gratified that the Pakistani government has apprehended the No. 2 person in the Taliban. And he is where he belongs. And many other people have been picked up or eliminated and this is putting much more pressure on the Taliban. And this is a good thing for the simplest of reasons: It is good for the military efforts that are under way in Afghanistan."
In January, Clinton unveiled a long-term strategy to stabilize both Pakistan and Afghanistan. The U.S. plan aims to improve Pakistan's ability to fight its Islamist insurgency and pledges support for political and economic reforms.
The U.S. military announced earlier this month that it is sending 1,000 laser-guided bomb kits to Pakistan to help the country's air force defeat insurgents operating in the Afghan border region.
Congress has also approved a $7.5 billion aid package to Pakistan over the next five years.
Next week's talks will be the fourth in a series of strategic dialogues that the two countries began in 2006.

written by Richard Solash