DONETSK, Ukraine -- A journalist says he was severely beaten up by police in the city of Donetsk, fueling concerns about press freedom in Ukraine under President Viktor Yanukovych.
Journalist Artyom Furmanyuk says the incident took place on the night of September 17 outside his home following a dispute with a group of strangers. Police deny the allegation, saying Furmanyuk's injuries resulted from a street brawl.
According to Furmanyuk, who runs a news website devoted to exposing crime and corruption in the Donetsk region, police arrived at the scene after one of the strangers telephoned friends working in the police force.
He says the police immediately handcuffed him, his brother Anton Furmanyuk, and their two friends, Yevgenny Demchenko and Roman Samoylov.
"They came up and immediately began handcuffing us, they said they were going to take us to the Kalininskyy district police station," Furmanyuk says. "They put handcuffs on Yevgenny and on my brother, but Roman and I resisted, we asked on what grounds this was happening."
Furmanyuk says the officers pinned him to the ground before kicking him and beating him with truncheons. "I was beaten by three men," he says. "I saw only two, but my brother says there were three. In the end I was screaming with agony, I could no longer bear it."
The journalist claims he was beaten a second time inside the police station.
He suffered broken ribs, a severe eye injury, cuts, and numerous bruises.
His friend Samoylov says police sprayed tear gas into his eyes.
"It all happened very quickly, without any warning. They didn't introduce themselves and didn't show any documents," Samoylov says.
"They immediately put handcuffs on Anton, and Artyom and I protested. I was immediately sprayed with gas. After this I could only hear shouting and swearing, then they started beating us." Samoylov claims the officers also ripped a gold chain off his neck and stole the contents of his wallet.
Furmanyuk and his friends were released without charges.

Police Reject Allegations
The case has set Ukraine's Internet abuzz, with readers leaving angry comments accusing the police of abuse and corruption.
The Donetsk police have firmly denied any wrongdoing and held a news conference today to reject the accusations.
Donetsk police chief Viktor Dubovyk said Furmanyuk sustained his injuries during a street brawl with the group of strangers prior to the police's arrival, and that the officers "resorted to weapons to stop the fight and because people were unlawfully refusing to obey the police officers."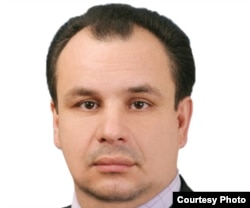 The head of the local Union of Professional Journalists, Hennady Berezovskyy, was assaulted last week.
The head of the local police station, Vasyl Horyachev, also told the conference that Furmanyuk was drunk and denied he mentioned being a journalist, sparking a furious reaction from Furmanyuk and his supporters.
Fears For Journalistic Freedom
Although it remains unclear whether the incident was linked to Furmanyuk's journalistic activities, it has raised fresh concerns about media freedom in Ukraine.
Media watchdogs say attacks and pressure on journalists have increased since the February election of Yanukovych as president.
Furmanyuk's alleged beating by the police took place just hours after RFE/RL's Ukrainian Service published an article in which he accused the local authorities and police of widespread corruption.
It is the second attack on a Donetsk journalist in less than a week; the head of the local Union of Professional Journalists, Hennady Berezovskyy, was assaulted on September 12.
"Over the five years of Viktor Yushchenko's tenure, we've lowered our guard. We forgot that the state machine cannot be on the side of journalists and will not defend journalists," says publicist Stanislav Fedorchuk.
"For the authorities, journalists are enemies because they cover public issues and they do so in a professional manner. Journalists are clearly a threat to the regime."
The incident also comes amid mounting concern over the disappearance last month of Vasyl Klymentyev, the editor in chief of the newspaper "Novyy Styl," which focuses on corruption in the country's eastern Kharkiv region.
His deputy editor says Klymentyev, who is now presumed dead, had received threats after refusing to take money to halt the publication of an article accusing a prosecutor of bribe-taking.
The European Union has expressed "deep concern" over his disappearance and urged Yanukovych not to renege on his pledge to uphold media pluralism and protect journalists.