In recent years Georgia has won international praise for its efforts to turn around the economy.
Reforms to speed up privatization and create an environment friendly to business have spurred an influx of foreign investment that the government says reached some $2 billion last year -- nearly 20 percent of its gross domestic product.
In a notable deal this year, a United Arab Emirates investment fund bought a majority stake in the Black Sea port of Poti with the aim of developing an industrial zone.
It's all helped drive enviable annual growth figures of 10 percent and above, and earned Georgia the label "No. 1 reformer" in a 2006 World Bank survey.
But the conflict with Russia has inflicted heavy damage on Georgia's economy, with factories bombed in Russian air strikes and key infrastructure such as transport links cut.
Russia has denied targeting civilian infrastructure. But Georgia and correspondents in the region say evidence on the ground does not bear this out.
The European Bank for Reconstruction and Development says the economy is likely to slow this year and Georgian Deputy Economy Minister Vakhtang Lejava says the damage will cost "billions" of dollars to fix.
And while the United States says it will work with its allies to help in reconstruction, the damage to investment confidence may be harder to repair.
"The Russians seem to have targeted in particular the railway line, a couple of bridges have been blown up and there are reports still coming in of bridges being mined," says Rob Parsons, international affairs editor at France 24, who is in Georgia.
"But apart from the railway line -- which has crucial strategic significance not just for Georgia for Armenia and Azerbaijan, particularly for Armenia, which is virtually dependent on it -- the Russians have also been targeting the port of Poti, again a strategic outlet for all three trans-Caucasian states," Parsons adds. "Today [August 19] the Russians have been in Poti port having withdrawn for a brief while yesterday. They went back in today with armored vehicles and a Russian boat came in and they started removing equipment from the port and destroying Georgian vessels there."
RFE/RL:
And if you look at the picture of damage in the country overall?
Parsons:
So massive damage being done in key installations and also great damage to the efforts to build up Georgian strategic defense forces around the country and particularly the base at Senaki, but also police stations in the places that have been occupied by the Russians, like Gori, Zugdidi, Senaki, Akhalgori to the northwest of Tbilisi. And also in the early days of the conflict damage done in and around Gori in particular to cement factories in Gori and to the nearby town of Kaspi.
In general a lot of infrastructure damage that the Europeans and the Americans are promising to provide assistance for, but in the meantime before that assistance can arrive, before that assistance can start to take effect, the Georgian economy is going to suffer greatly.
RFE/RL:
What about the damage in terms of putting off foreign investment, which has been such an important driver of growth?
Parsons:
It's absolutely critical to Georgia's growth. Georgia's economy has just begun to pick up, they've got some of the most liberal tax legislation and investment legislation in the world and they were hoping they would benefit from the signs of recovery, that international investment had started to grow, as indeed it had been doing.
But there's no doubt now that Georgia's rating for investment will start to fall, at least in the immediate term, perhaps in the medium-term future, things will start to pick up again, particularly if it's backed by the weight of the U.S. and the EU, but in the immediate term there's no doubt there will be enormous damage done to business confidence.
RFE/RL:
What are Georgian officials saying about this -- do they see it as a deliberate attempt to strangle the economy?
Parsons:
I was talking to Georgia's deputy defense minister today and I asked him what he thought the Russian strategy in Georgia was. He said there seemed to be a twofold strategy: on the one hand, the aim was regime change and to get rid of President [Mikheil] Saakashvili, but the second aim was to smash the Georgian economy, to damage it so badly that it would take years to get back on its feet again. [He said] that had been what the Russians had been trying to do in the last few days as they drew out the process of withdrawal and prevaricated on the various points they'd been asked to sign by the EU on the terms of the cease-fire.
RFE/RL:
The U.S. has said it will help in reconstruction -- Georgia will be looking, presumably, for large amounts of outside assistance once this is all over?
Parsons:
There's no question that Georgia will be looking for enormous international financial assistance when this is over. It has been promised by the United States and the European Union.
Clearly there will have to be some assessment made of just how extensive the damage is and that can only take place once the Russians have fully withdrawn from the country and once there are guarantees in place of course that the sane thing can't happen all over again.
So a lot has to happen before the aid process gets into play but there's no doubt the Georgians will be dependent on outside aid and extensive outside aid if they're going to get the economy back onto the tracks it appeared to be getting onto before all this started just over a week ago.
Crisis In Georgia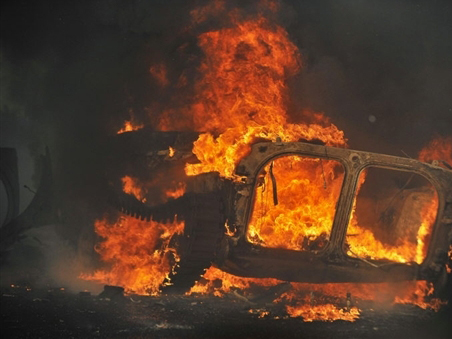 For RFE/RL's full coverage of the conflict that began in Georgia's breakway region of South Ossetia,
click here
.