Iran's parliament is preparing to discuss a bill this week that would allow men to marry additional wives without the consent of their first wife, and would tax dowries.
It is called the Family Protection Bill, but it is better known as the antifamily bill.
Women's rights activists say the bill, first proposed by President Mahmud Ahmadinejad's cabinet in 2007, would pave the way for polygamy, harm the family structure, and set back the battle against discriminatory laws in the Islamic republic, where women have second-class legal status.
Activists say the bill gives men a free hand to abuse the system and deprive women from any right within the family.
Supporters say the bill is intended to reinforce Islamic principles, with legislator Mohammad Dehghan arguing that it would defend the rights of women and girls who for some reason cannot have an exclusive marriage.
Under Islamic law as applied in Iran, men can take up to four wives. However, polygamy is not widespread in Iran, and many citizens condemn the practice.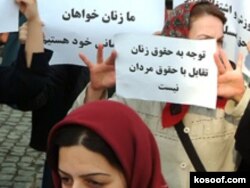 Will Iranian women dare take to the streets in protest this time around?
In 2008, parliament was due to vote on the bill, but following widespread protests and criticism by a large coalition of activists, it was sent to the parliament's legal committee for more work.
Victory Becomes Defeat
This was seen as a victory for Iranian women's rights activists, but one that may prove to be short-lived. This time around, the conservative-dominated parliament may face much less opposition -- many of the bill's most ardent critics are now in jail or out of the country -- and activists say few changes have been made to the original legislation, and that on some points it has been made more discriminatory.
On August 19 opposition figure Zahra Rahnavard called on parliament to scrap the bill from its agenda for the sake of "families' durability." Rahnavard, the wife of opposition leader Mir Hossein Musavi, has said that Koranic references to polygamy have been misinterpreted in the bill.
One of the bill's most contested articles, Article 23,
states
: "Marriage to a subsequent permanent wife should depend on court authorization upon ascertainment of the man's financial capability and commitment to uphold justice among his wives."
Increasing Discrimination
Norway-based Iranian women's rights activist Asieh Amini says that some 10 conditions have been added to Article 23, which she says makes the legislation even more discriminatory.
Under the changes, a man would be able to take a new wife if his first wife were to become addicted to something to the point that it would harm her family, if she were to contract a terminal disease, if she were away from home for six months, or if she were to become sterile.
Amini says all the articles in the bill reinforce legal inequalities that effectively discriminate against women in Iran.
"The question is, what if a man is addicted, what happens then to the family? Why is the law silent about that?" Amini asks. "What if a man is sterile or doesn't have sexual ability and desire and if a man leaves his house -- what happens to his wife and children?"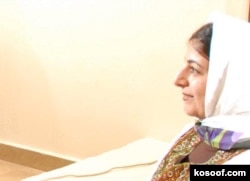 Asieh Amini
In fact, she says all the bill's articles are written in favor of "sexual and moral submissiveness to the family's man."
Iranian Nobel Peace Prize winner and lawyer Shirin Ebadi, who along with other activists fought against the bill in 2008, says it reinforces unequal divorce law and encourages polygamy.
"It forces a woman to share her marriage and her feelings with another woman and she is not even being given the possibility to divorce her husband. This was one of the aspects that Iranian women united opposed," Ebadi says.
Activists have opposed other aspects of the bill, too, including the suggestion that women's dowries would be taxed and removing conditions for the registration of temporary marriages, instead of banning those types of marriages.
Opposition Brushed Aside
The bill has been reintroduced as a number of activists who opposed the bill are now either in jail, free on bail, or in exile, including Ebadi and Amini.
Tehran-based women's rights activist Fatemeh Govarayi believes that's exactly why the bill is again on the parliament's agenda.
She says that a year after the highly disputed presidential election, "a very harsh repression" is ruling over Iranian society.
"Blood has been spilled and washed away," Govarayi says, and that parliament and the Iranian establishment as a whole have seen it as an opportunity, "judging that the opposition to the bill will not be as widespread and organized as it was in 2008, they're aiming at passing the bill with maybe [some minor changes]."
Human rights lawyer Nasrin Sotoudeh, who is also based in Tehran, says Iranian women inside the country and also those outside will not remain silent about the bill, which she says will take them many steps back.
She believes that in the past year the presence of women in demonstrations, particularly the postelection street protests, has been even more pronounced than men's.
"If Iranian officials use intelligence, they would never not add up the anger that has been accumulated in Iranian women's hearts for years," Sotoudeh says.
Tehran sociologist Shala Ezazi, who describes the bill as an attempt by the authorities to have greater control over Iranian women, believes that in practice it will be rejected by women, but also men.
"I predict that it cannot be applied in practice, the conditions are such that even such threats will not force women to sit at home and accept a series of inopportune demands," Ezazi says.
Activists have called on men and women who seek justice to oppose the bill.
RFE/RL's Radio Farda broadcasters Roya Karimi and Fahimeh Heydari contributed to this report