Pope Benedict XVI has celebrated an open-air Mass in the Scottish city of Glasgow, attended by tens of thousands of people.
About 65,000 people cheered and waved flags as the pope arrived to organ music and hymns at Bellahouston Park.
"There are some who now seek to exclude religious belief from public discourse, to privatize it, or even to paint it as a threat to equality and liberty," the pope said. "Yet religion is in fact a guarantee of authentic liberty and respect leading us to look upon every person as a brother or a sister."
The pope said the "evangelization of culture was all the more important in our times."
The pontiff arrived in Edinburgh earlier in the day for the start of a historic four-day visit to the United Kingdom that he hopes will improve relations between Roman Catholics and Anglicans.
The pope was received by Queen Elizabeth II at Edinburgh's Holyrood Palace as a welcoming parade marched through the city.
"In recent times you have said that religions can never become vehicles of hatred, that never by invoking the name of God can evil and violence be justified," said the monarch. "Today, in this country, we stand united in that conviction. We hold that freedom to worship is at the core of our tolerant and democratic society."
In thanking the queen for the official invitation, the pope extended his own greetings to all the people of the United Kingdom, saying that he was holding out "the hand of friendship to each one."
"The Christian message has been an integral part of the language, thought, and culture of the people of this island for more than 1,000 years," said the pontiff. "Your forefathers' respect for truth and justice, for mercy and charity, come to you from a faith that remains a mighty force for good in your kingdom to the great benefit of Christians and non-Christians alike."
Sex-Abuse Scandals
But the pope's visit is being overshadowed by sex-abuse scandals that have shaken confidence in the church and by protests against the pope's policies against homosexuality, abortion, and the use of condoms to prevent the spread of AIDS.
Critics also are attacking the estimated $18 million cost to British taxpayers for the pope's visit, not including security -- at a time when Britain faces deep budget cuts.
Pope Benedict XVI addresses a crowd in the gardens at the Palace of Holyroodhouse in Edinburgh.
Fresh controversy erupted overnight when Cardinal Walter Kasper -- the pope's senior adviser on the Vatican's relations with Britain -- resigned after telling a German news magazine that multiculturalism made the United Kingdom like a "Third World Country" with a "new and aggressive atheism."
Pope Benedict referred to that controversy in his first speech today -- urging Britain to maintain its respect for religious traditions and warning against "aggressive forms of secularism."
"Today's United Kingdom strives to be a modern and multicultural society. In this challenging enterprise, may it always maintain its respect for those traditional values and cultural expressions that more aggressive forms of secularism no longer value or even tolerate," he said. "Let it not obscure the Christian foundations that underpin its freedoms."
The pontiff's four-day trip is the first official state visit to Britain ever by a pope -- and only the second papal visit since King Henry VIII established the Church of England in 1534 over of the Vatican's refusal to annul his marriage to Catherine of Aragon.
As a state visit, pope's itinerary comes with full ceremonial trappings that include a meeting with Queen Elizabeth II in Edinburgh, a speech at the 11th-century Westminster Hall, and a celebration of Evening Prayer at Westminster Abbey with the Archbishop of Canterbury Rowan Williams -- the spiritual leader of the world's 77 million Anglicans.
Monsignor Paul Watson, the director of a Catholic theology and education center near Birmingham called the Maryvale Institute, told RFE/RL that the pope's visit has important legal implications for relations between Britain and the Vatican.
"I suppose most Catholics don't think of it as a first [papal] visit, because we had the visit [in 1982] of John Paul II -- which was a pastoral visit rather than a state visit," Watson explained. "Nevertheless, I think Catholics are very excited by the forthcoming visit. As a state visit, of course, it represents the acknowledgement by our own country of the 'state' status, as it were, of the Vatican."
Birmingham Centerpiece
On September 19, the pope travels to Birmingham where he is to beatify the 19th century Cardinal John Henry Newman.
Watson considers the open-air beatification Mass in Birmingham's Cofton Park to be the centerpiece of the pope's visit.
"John Henry Newman, who was formerly an Anglican clergyman, in 1846 became a Roman Catholic," Watson said. "Actually, when he first became a Catholic, he lived in the very institute or building in which I work here in Birmingham. It was from here at Maryvale -- a name that Newman actually gave to this site -- that Newman founded the Birmingham Oratory and eventually moved from here into Birmingham. So it is exciting for us to have a saint here in Birmingham -- and particularly for us here at Maryvale."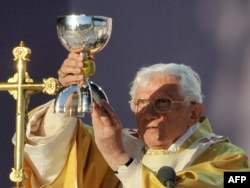 Pope Benedict XVI presides over a Mass in Glasgow's Bellahouston Park.
Watson noted that the pope's visit also comes amid years of growth for the number of Catholics in Britain -- a result more from the immigration of Catholics than conversions within the U.K.
"It's certainly the case that the number of Catholic immigrants has increased the Catholic population in England," he told RFE/RL. "I suppose, at the same time, England -- like a number of other western European countries -- is experiencing a loss of practice among Catholics of their faith."
"Perhaps that has been somewhat reduced by the fact of the immigration of Catholics -- especially those from Poland," Watson said. "In one sense, it's a kind of a balancing effect. There has been a reduction of practice nationally but then there is a bit of an increase because of immigration."
Roman Catholic and Anglican leaders plan to highlight similarities between their churches after a year of heightened tensions.
In November, the pope introduced a new method to quickly bring into the Catholic Church disgruntled former Anglicans who oppose the likely ordination of women bishops in the United Kingdom.
Sex-Abuse Cloud
The archbishop of Canterbury contributed to tensions by saying publicly that the Catholic Church in Ireland was "losing all credibility" over child abuse scandals involving clergy. He later retracted those remarks.
But the church's credibility also has been damaged by a series of other child abuse scandals -- from covered-up sex-abuse cases in Boston to a report in Belgium this week revealing hundreds of victims' accounts of molestation by priests and laymen that led to at least 13 suicides.
The pontiff told journalists aboard his plane today as he traveled to Scotland that the revelations were "a shock" and "a great sadness," adding that he found it "difficult to understand how this perversion of the priestly ministry was possible."
"It is also a great sadness that the authorities of the church were not sufficiently vigilant and insufficiently quick and decisive in taking the necessary measures," he said.
Victims of child abuse by Catholic clergy and laymen have been protesting against Pope Benedict's visit. Some were particularly incensed by reports that the pope would meet privately with 10 abuse victims.
Sue Cox says the church took away her childhood 50 years ago when she was molested by a Catholic priest at the age of 10 and raped by the same priest three years later. The priest she accuses has since died. But his order -- the Sacred Heart Fathers -- recently paid her 25,000 pounds as an out-of-court compensation settlement to avoid litigation.
Now, Cox rejects the idea of meeting with Pope Benedict unless the pontiff is ready to hand over to secular authorities all information the Vatican holds on misbehaving priests.
"Why on Earth would abuse victims want to be part of this [public relations] stunt?" Cox asked. "I've no desire to meet [the pope], either in public or in private, unless he's got something to say. Saying 'sorry' is easy. It is offensive and it is inadequate. What he needs to do is make amends."
Chris Daly, a 45-year-old from Glasgow who says he was a victim of physical abuse by nuns during the 1970s, is calling on the pope to publicly acknowledge abuse by clergy.
Daly told a press conference on September 15 that many Catholics in Scotland who attend church are appalled at stories of abuse that have recently emerged and think the way the Catholic Church has dealt with the scandals has been terrible for victims.
"Instead of the church and the pope saying, 'We understand your pain. We understand your suffering and your anger,' the church is on the defensive," Daly said. "It's about the image of the church. It's not about survivors. It's not about compassion. It's not about care. It's not a Christ-like love coming from the church. We, the survivors, are seen as enemies of the church."
Daly also said he thinks attitudes toward the pope's visit this week are dramatically different than when Pope John Paul II arrived in Scotland in 1982. Daly said more victims of physical and sexual abuse are now are willing to speak out.
Watson told RFE/RL the abuse scandals have "rocked the church and shocked everybody -- creating a lot of difficulties and sadness" that he hopes the pope can help set right.
"It's an important moment in the church's life," Watson said. "In some ways, it is a difficult time -- with the various scandals, which obviously has an impact on the faith of all members of the church. I think we are looking to the visit as an opportunity for encouragement. At this moment of time in history, as it were, we need a bit of renewed confidence -- and renewed enthusiasm and energy. So we are looking forward to it as a time of grace and blessing."
with additional wire reporting