(RFE/RL) -- It's been more than a week since protesters last took to the streets of Tehran in their tens of thousands.
The protesters have been driven away by the violence (at least 20 people have been killed in the protests) and by the frequent appearance of baton-wielding police and militiamen. Meanwhile, hundreds -- some say thousands -- of opposition supporters and reformist figures have been arrested.
Adding to the atmosphere of intimidation are the published
"confessions"
of skullduggery by some of those detained, including, most recently, that of "Newsweek" correspondent Maziar Bahari.
It's all limited the options of those who believe the June 12 vote was rigged in favor of President Mahmud Ahmadinejad.
His victory now has the official stamp of approval after the country's top legislative body, the Guardians Council, confirmed the result on June 29.
But that does not mean the protest movement is over. Instead, it has turned more subtle, with people finding creative ways to express their dissent and continued protest.
Rooftop Calls
One now familiar expression is the cries of "God is great" from Tehran's rooftops at night, in an echo of one of the slogans of the Islamic Revolution 30 years ago.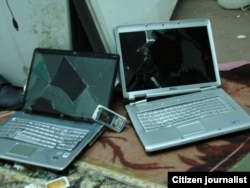 Protesters are getting around the authorities' clampdown on the Internet and social-networking sites by having information compiled and posted by colleagues abroad.
These days, "Death to the dictator," is often added, too.
Protesters are finding other ways to air their views, even amid a clampdown on the media. They include turning on car headlights or honking horns. Or releasing homemade green balloons from rooftops.
And there are new underground newspapers being passed among protesters and cropping up on the Internet.
"Simply, there is no space for independent journalism," Iranian journalist Hossein Bastani, who's based outside the country, tells RFE/RL's Radio Farda. "If you put the previous pressures and the new pressures and censorship together, you see that they have made independent journalism impossible."
Among this new crop of underground papers are:
-- "Sabz" (Green)
-- "Kalameh Sabz"
(Green Word, apparently unrelated to its Musavi-owned namesake, which was shut down last month)
--
"Khiyaban"
(Street)

They appear to be getting round a tightening media clampdown at home by having news and information sent from Iran compiled and posted by journalists abroad.

Inside The Establishment
And there's continued resistance, too, from those inside the establishment.
A growing number of clerics have been critical of the elections results and the ensuing crackdown, including, most recently, Ayatollah Jalaledin Taheri, the former Friday Prayers leader of Isfahan.
One pro-reform senior cleric, Mohammad Ali Ayazi, told RFE/RL's Golnaz Esfandiari that a number of clerics share his concerns.
"[A number of clerics] in Qom believe that the way the election was conducted was not correct and healthy," said Ayazi, a senior member of the Qom Seminary Society of Theologians. "Therefore, they had called for an investigation by an independent group, many believed, because of the evidence, that there had been massive manipulation in the June 12 vote.
"Therefore, the statement by Ayatollah Taheri, who is one of the Isfahan's most prominent clerics, is also in the same line, and I think it was natural for the clerics to defend people's rights."
Support From Outside
There's also continued support from outside Iran.
On June 30, human rights groups in the United States
called on
the international community to keep up criticism of Iranian authorities in a bid to end the crackdown on protesters.
An
online petition
drawn up by human rights lawyers urges the prosecutor at the International Criminal Court to "strongly consider speaking out publicly regarding the ongoing situation in Iran."
And a number of groups are keeping tabs on the number of people arrested or killed.
One is the New York- and Vienna-based International Campaign for Human Rights in Iran,
It names more than 200 people
who have been arrested since June 12 and says the total number could be up to 2,000, double the figure given by Iran's police chief.
Radio Farda reports that those who've been detained fall into four main groups – well-known figures associated with the opposition campaigns; other well-known figures; people arrested on the streets; and foreign correspondents.