LAHORE, Pakistan (Reuters) -- Pakistani police are hunting for the dozen gunmen who mounted a bold attack on Sri Lanka's cricket team in Lahore, and officials groped for clues to who controlled them.
Prayers were offered at police headquarters late on March 3 for the seven people killed in the attack -- six Pakistani police and the other the driver of a bus carrying match officials.
Relatives then took the bodies to buried near their homes. A statement from the prime minister's office had earlier put the dead at eight, but police in Lahore said the toll was seven.
Pakistan has reeled under a wave of bomb and gun attacks in recent years, mostly carried out by Islamist militants linked to the Taliban or Al-Qaeda, but arch nationalists would relish a link being found between rival India and the Lahore attack.
Pakistan's pro-West President Asif Ali Zardari wrote in a column for "The Wall Street Journal" on March 4 that the "terrorist attack against the Sri Lankan cricket team in Lahore shows once again the evil we are confronting."
The targeting of a visiting cricket team from a friendly country stunned Pakistanis, whose love of the sport only comes second to religion in terms of forging a spirit of unity.
"Terrorism has hit at the core of what Pakistanis across class, ethnic and political divide love -- the game of cricket," wrote security analyst Nasim Zehra in the "News" daily.
The reverberations were felt across the cricketing world and beyond, with U.S. President Barack Obama expressing deep concern.
Engulfed By Crises
The United States wants Pakistan focused on fighting terrorism, but there are worries Zardari's civilian government could be engulfed by multiple crises less than a year after taking power.
Elections to parliament's upper house, the Senate, will be held on March 4 under the shadow of a crisis that gripped Pakistan for the past week and sent share prices tumbling.
The Karachi index bounced 2 percent on the morning of March 4 thanks to support buying from state-run institutions.
Zardari dismissed the provincial government in Punjab led by his arch rival, former Prime Minister Nawaz Sharif, after the Supreme Court decided Sharif and his younger brother Shahbaz Sharif were disqualified from holding elective office.
The Sharifs say Zardari was behind the court decision and their party has begun street agitation in cities across Punjab.
Aside from militancy radiating across the northwest from the borders with Afghanistan, Pakistan desperately needs billions of dollars of aid to supplement a bailout by the International Monetary Fund last November.
'Existential Threat'
The attack proved Pakistan faced a militant threat to its very existence and not just along its troubled Afghanistan border, Australia's Foreign Minister Stephen Smith said.
"This was very much an existentialist threat to Pakistan itself," Smith told reporters on March 4, adding that the international community needs to recognize the problem.
Six members of the Sri Lankan team and a British coach were wounded in the daylight attack as their bus approached the cricket stadium. None was so seriously hurt as to be left behind when the squad departed for Colombo on the evening of March 3.
The incident had echoes of an attack on the Indian city of Mumbai last November in which around 170 people were killed and which led to the Indian cricket team canceling its planned tour of Pakistan, and a Sri Lankan team taking its place.
The group India blames for the Mumbai attack, Lashkar-e-Taiba (LeT), is based in Punjab Province and was formerly headquartered near provincial capital, Lahore.
The police chief in Punjab announced some arrests, without saying if any gunmen were among those picked up.
Journalists were shown weapons found at the scene and at other locations, including 10 AK-47 rifles, two rocket grenade launchers, 32 hand grenades, and plastic explosives.
Television footage showed gunmen wearing track suits and trainers and shalwar kameez, the traditional long shirt and baggy pants. Some appeared to be barely 20 years old.
The Punjab government has offered a reward of around $125,000 for information about the culprits.

Prime Suspect
Salman Taseer, the governor of Punjab Province, initially said on March 3 that the same people who carried out the Mumbai attack were responsible in Lahore, but later backtracked and said it would take 48 hours to come to any conclusions.
A "Daily Times" editorial made not LeT, but another Punjabi-based group, Lashkar-e-Jhangvi, its prime suspect, because of a long track record of ties with Al-Qaeda.
The Sri Lanka cricketers were reunited with their families early on March 4.
"It's great to be back in Sri Lanka with our families and loved ones," Sri Lanka captain Mahela Jayawardene told Reuters after the team's arrival home.
In New Zealand, cricket officials expected to cancel a tour of Pakistan and play the series in a neutral venue.
Former Pakistan cricket skipper Inzamam-ul Haq feared the sport could face financial ruin in the country.
"Such an attack on a subcontinent team means other teams will simply refuse to come," Inzamam told a television channel.
Journalists In Trouble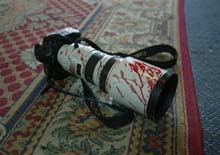 RFE/RL journalists take risks, face threats, and make sacrifices every day in an effort to gather the news. Our new "Journalists In Trouble" web page recognizes their courage and conviction, and documents the high price that many have paid simply for doing their jobs. More