MOSCOW -- Sofia, an 89-year-old pensioner, lives in Moscow's historic Chistye Prudy neighborhood in the center of the capital. It's one of the best-preserved quarters in the city.
But Sofia, who asked not to give her last name, said she's seen much of the city change in the course of her lifetime, as generations of leaders sought to leave their imprint on Moscow.
Most memorable for her was the destruction of the tsarist-era Christ the Savior Cathedral in 1931. The new cathedral consecrated on the site in 2000 has done little to soften the sting.
"I cry for the buildings that were knocked down by Stalin, for the monasteries and the churches. I nearly fainted when Christ the Savior Cathedral was knocked down [in 1931]. Of course, this Christ the Savior Cathedral we have now is beautiful, but for me it's not the same," she said.
Many Muscovites were experiencing similar anxiety as city officials prepared to approve a
long-term development plan
for Moscow that critics claim will spell the death of the capital's historic neighborhoods and put an untenable strain on existing infrastructure.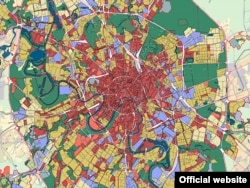 The "GenPlan" maps out a massive construction boom until 2025.
Deputies in the city duma
today approved in a third reading
the General Plan for Development of Moscow Until 2025, or "Genplan." The plan could set in motion a massive 15-year construction boom that will see 5 million square meters of property destroyed and another 200 million square meters rise in its place.
If and when the plan is completed, Moscow will have more than 2 million new parking spaces and five dozen buildings more than 70 meters high. The Genplan has drawn howls from city preservationists like Aleksei Klimenko, who says it sets a course for architectural destruction without addressing any of the growing city's needs.
"The present Genplan is a death sentence for Moscow. This document doesn't have the moral right to be called a General Plan, because it's not strategic -- it's not a way out of the crisis Moscow is in at the moment," Klimenko said.
'Luzhkov Architecture'
Moscow officials are unapologetic, saying the plan went through a scrupulous review process, with Muscovites themselves given a chance to comment on the project. The city's chief architect, Aleksandr Kuzmin, says authorities received tens of thousands of suggestions last summer, when more than 160,000 residents visited displays on the plan throughout the capital.
But many critics say such gestures do nothing to change a plan that will simply continue the city's rapid-fire pace of development set under Mayor Yury Luzhkov, whose nearly 20-year rule over the capital has witnessed unprecedented levels of demolition and construction.
Grigory Revzin, the architecture critic at Russia's "Kommersant" newspaper, told RFE/RL's Russian Service the mayor's impact on the city landscape has been immense.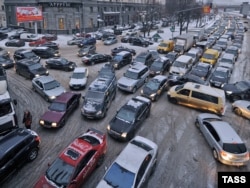 Moscow already suffers regular traffic gridlock.
"It's quite a unique situation. We have, as you know, Brezhnev-era architecture, Khrushchev architecture, Stalin architecture -- and then Luzhkov architecture. Not Yeltsin, not Putin, but Luzhkov. It's the first case of its kind, where a mayor is such a defining figure," Revzin said.
First among Luzhkov's assumed contacts is his wife, Yelena Baturina, a powerful construction boss who is Russia's richest woman and its only female billionaire. Luzhkov has been frequently accused of feeding Baturina city construction contracts, a charge he fervently denies.
A chronic dilemma facing Moscow planners and the city's nearly 9 million residents is gridlock. Cars in another chronically clogged city, New York, travel at an average speed of 38 kilometers an hour. In Moscow, the number is just 21, and it's only set to get worse -- Russia's Transportation Ministry predicts the number of cars in Moscow is set to double to 8 million by 2015.
The Genplan includes numerous plans for parking garages and improved traffic flow. But critics like transport expert Mikhail Blinkin say that for now, the city's mania for knocking down buildings and constructing bigger ones in their place outpaces any practical strategy on traffic management, and that there is simply no room for the capital's cars and trucks.
"I'll give you the simplest example. We demolish five-story buildings from the Soviet times and put up a 30-story building in their place. The surrounding transport network, for cars and public transportation, we leave unchanged," Blinkin said.
"I always make this comparison: If we try to pour five liters of water into a three-liter jar, it will overflow. But that's what we do every day."
The Genplan last month prompted a rare confrontation between city officials and the Public Chamber, a state oversight body. City officials walked out of a Public Chamber debate on the Genplan after chamber members attacked the plan.
Speaking at the meeting, Marat Gelman, an influential gallery owner and former assistant director at Russia's Channel One broadcaster, said the plan was motivated by greed and indifference.
"For us, Moscow is love," he said. "But for Luzhkov, it's a vegetable plot to harvest from."

Legacy Threatened
Critics of the plan have called on fellow opponents to attend a flash mob outside the City Duma on the morning of May 5. But the Genplan is expected to pass easily through the Duma, where most deputies are from United Russia, the same party as Luzhkov. For many residents, the most distressing aspect of the plan is that it will put some of the city's quaintest historical neighborhoods in its crosshairs.
Archnadzor, an independent architectural watchdog, has worked with the city in amending the Genplan to be sensitive to the city's historical legacy. But its members say the plan remains a document that will leave hundreds of valuable buildings at risk.
One example is the Khitrovka quarter, one of the last remaining islands of central Moscow untouched by the two-decade wave of construction.
Old builldings have been demolished at a rapid rate in Khitrovka.
The neighborhood, located near the city's Kitai-Gorod metro station, enjoys a lively reputation as the erstwhile home of roughnecks and thieves in 19th-century Moscow and has been immortalized in Vladimir Gilyarovsky's 1887 book "The Stories of the Slums," and the historic detective fiction of Boris Akunin.
That reputation helped stave off development for many years, and the neighborhood retains an old Moscow charm, with low-rise houses and winding lanes. But that may change. One of the few Soviet-era buildings in the area, an unremarkable college facility, was recently torn down to make way for an eight-story office building. Protests from local residents succeeded in blocking the plan -- but if the Genplan passes, construction will proceed.
Sofia, the pensioner in Chistye Prudy, said she had not heard of the city's General Plan. But she spoke regretfully of the potential fate awaiting many of the city's historic structures.
"I feel sorry for the old buildings, because I'm used to them. This old Moscow is my Moscow," she said.