PRAGUE -- Czechs and Slovaks are celebrating the 20th anniversary of the student protest that ignited the Velvet Revolution -- the nonviolent revolt that toppled the Czechoslovak communist regime during the wave of revolutions that swept through Eastern and Central Europe at the end of 1989.
On November 17, 1989, police suppressed a peaceful student demonstration in Prague -- triggering a series of mass demonstrations that eventually brought down the regime and ended 40 years of communist rule in Czechoslovakia before the end of the year.
Vaclav Havel, the dissident playwright who became the country's first democratic president, political leaders, and hundreds of people lay flowers and lit candles at a memorial at the site of the police crackdown.
"We cannot be indifferent, especially in this globally interconnected world, to those who are oppressed," Havel said in a video statement broadcast on Czech television. "Nor can we fail to support those who seek freedom. We cannot preach freedom of the individual while showing no solidarity with those who are not free. We cannot keep silent about violations of human rights just because we're concerned about some contracts."
Havel warned: "As long as we view human freedom and human rights as a mere superstructure to the material base, we are not a healthy society. This will change, because it must change."
Several thousand people participated in a march in downtown Prague to reenact the peaceful student protest in 1989 that police brutally dispersed.
The resulting outrage fed weeks of demonstrations and strikes that crippled the communist government and forced Czechoslovakia's Soviet-backed leaders to abandon the one-party system.
from RFE/RL and wire reports
Revolutions Of '89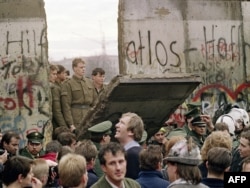 Revolutions Of '89
In the fall of 1989, a singular wind of change swept across the continent, blowing down the Iron Curtain and revealing the public's yearning for freedom.
Click here
for RFE/RL's look back at the year communism collapsed.