The Danish cartoonist who triggered protests for drawing the Prophet Muhammad wearing a bomb in his turban has been honored in Germany as a defender of free speech.

Kurt Westergaard described himself as "only a simple cartoonist" and said the day he drew the incendiary cartoon was "just another day at the office" at his newspaper, Denmark's "Jyllands-Posten."

He said neither he nor his editors foresaw the worldwide anger that would greet the publication of the cartoon, which he said has now taken on a life of its own.

'No Regrets'

In 2005, a series of major terrorist attacks around the world by Islamic extremists focused public debate in Europe on whether Islam encourages deadly violence. It was in this atmosphere that Westergaard drew a caricature of the Prophet Muhammad wearing a bomb with a lit fuse as a turban -- the most controversial of 12 portrayals of Muhammad by various editorial cartoonists.

Considered offensive by many Muslims, the drawings sparked protests in January and February 2006 that culminated with the torching of Danish diplomatic offices in Damascus and Beirut and the death of dozens of people in Nigeria. Demonstrations in Afghanistan also turned violent and deadly.

In 2008, about 20 Danish newspapers reproduced the drawings -- triggering further protests in Muslim countries like Sudan, Egypt, Pakistan, Indonesia, and Afghanistan.

Despite receiving death threats, Westergaard said he doesn't regret drawing the cartoon. "I don't regret it because I'm quite sure that this clash or friction between two cultures would have occurred sooner or later," he said at the ceremony. "The cartoons became some kind of a catalyst."

The 75-year-old Westergaard was given the M100 Sanssouci Colloquium international media conference's 2010 prize by German Chancellor Angela Merkel at gathering of European media executives in Potsdam, near Berlin.

Merkel, who grew up in communist East Germany, was quoted in a statement by the organizers as saying that she remembers the repressions against free speech under East Germany's communist dictatorship -- and that Germans "should never forget how valuable liberty is."

A Symbol Of Press Freedom

Sabine Sasse, project manager of the event, told RFE/RL that the free speech prize was given to Westergaard because of his "unbending engagement for freedom of the press and freedom of opinion" and because of his courage in defending those democratic values despite threats of death and violence against him by Islamic extremists.

"Kurt Westergaard is a symbol for press freedom and freedom of opinion because he stands for what he is doing -- and it's not right that some people want to kill him," Sasse said. "Death threats are not our culture. So we fight for these rights. In a good democracy, it must be possible to have different opinions and discuss things."

He said the prize "is a sign from leading persons of our society that freedom of speech and of the press is very, very important for us. Whatever happens, we will fight for this -- - not with weapons, but with the weapon of language and awards."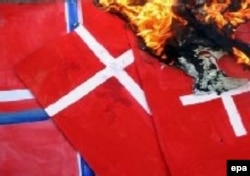 Pakistanis in Karachi burned Norweigan, Danish and Swedish flags in a protest against the publication of the cartoon
The Muhammad cartoon scandal has come to represent a struggle between the values of press freedom and respect for religion.

Conservative Muslims consider the depiction of the Prophet Muhammad to be blasphemy -- a crime punishable under Sharia law by death.

But critics of Islam say the violent backlash against Westergaard's cartoons, as well as the death threats issued against the cartoonist by Islamic extremists, prove that Westergaard spoke the truth by suggesting that Islam is inherently a violent religion.

In June, Westergaard announced that he was retiring from Denmark's "Jyllands-Posten" newspaper in the hope of damping down the danger to himself and fellow journalists.

Westergaard had been on leave since November 2009 after two men were arrested in Chicago with plans to attack the newspaper. In January, a 28-year-old Somali man allegedly broke into Westergaard's home and threatened to kill him with an axe and a knife. The cartoonist locked himself in his bathroom behind a reinforced door.

The M100 Sanssouci Colloquium calls itself a "unique forum" bringing together leading media and public figures to discuss media's role in European and international affairs.

Koran Burning Condemned

Merkel, whose appearance at the event brought criticism from some Muslim groups in Germany, also described as "abhorrent" a plan by a headline-seeking church leader in Florida to burn copies of the Koran on September 11.

The bonfire plan has also been condemned by U.S. military and civilian leaders, including U.S. Secretary of State Hillary Clinton.

with agency reports