Tens of thousands of supporters of Iran's presidential challenger Mir Hossein Musavi have taken to the streets of the capital, Tehran, to mourn the deaths of at least seven protesters killed in postelection violence.
Musavi himself joined the rally, the latest protest against the results of last week's election that gave incumbent Mahmud Ahmadinejad an overwhelming victory. It came as the country's electoral watchdog said it had invited Ahmadinejad's three challengers to a meeting in the next few days to discuss their complaints.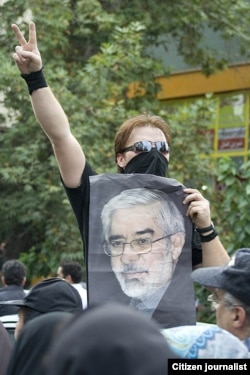 A supporter of main reformist candidate Mir Hossein Musavi marches to remember those killed in the opposition protests.
Many of the protesters were dressed in black and carried candles or flowers. Some held photographs of the victims, others signs reading, "My martyred brother, I will get back your vote."
One caller to RFE/RL's Radio Farda described the scene this way:
"When Mr. Musavi joined the rally, the people, because they were happy to see him, started to shout, 'Musavi we will support you!' and, 'God is great!' But when Mr. Musavi got into a car, and because it had been arranged in advance that people should cooperate and be very peaceful, today was like other days and everybody encouraged each other to be silent. So they only held up placards with their demands written on them."
Another caller to RFE/RL explained why he had joined the crowds dressed in black:
"Our main demand is the establishment of democracy in our country and the taking back of our rights, even as regards the smallest things called ballot papers," he said.
Up to five students are also believed to have died in a raid by pro-Ahmadinejad and Basij militia forces on a Tehran university earlier this week.
It's the sixth straight day of protests against an election Musavi and his supporters say was rigged in favor of Ahmadinejad.
The protests are the biggest since the 1979 Islamic Revolution.
Authorities have responded by arresting scores of protesters and reformist figures and tightening restrictions on media, including a ban on foreign journalists reporting in the street.
Reporters Without Borders has posted a
growing list
of journalists who have allegedly been harassed or arrested.
The country's election watchdog, the powerful Guardians Council, has ruled out a re-run of the vote as Musavi has demanded.
Instead, it has said it's ready only to recount votes challenged by the opposition.
But in a statement, it said it had invited the three main challengers to Ahmadinejad to meet in the coming days to discuss their complaints, which number more than 600.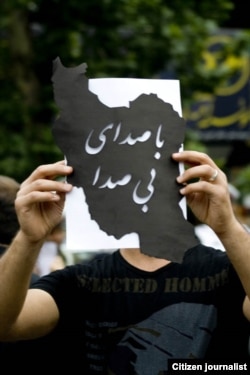 One mourning protester holds a sign that reads: "We express ourselves by remaining silent."
The alleged violations include shortages of ballot papers and barring candidates' representatives from polling stations.
"This will enable them to raise issues and points they wish to discuss with the members of the council, and also provide a direct contact with the candidates," said Guardians Council spokesman Abbas-ali Kadkhodaie.
There is no word yet on whether Musavi or the other candidates -- reformist Mehdi Karrubi and Mohsen Rezaie -- have accepted the invitation.
Meanwhile, another key body -- the Assembly of Experts -- praised the high turnout in the June 12 poll, but said nothing about the disputed results.
The assembly's head -- influential former President Akbar Hashemi Rafsanjani -- has also said nothing publicly since last week's vote.
However, his daughter Faezeh was shown on television this week attending a pro-Musavi rally. The Fars news agency reports that she and her brother have been barred from leaving the country.
On June 19, attention will turn to Friday Prayers due to be led in Tehran by Iran's
Supreme Leader Ayatollah Ali Khamenei
, in the presence of the Basij militia. The powerful pro-regime militia has been at the forefront of the crackdown against the protesters and is accused of nighttime attacks on Musavi supporters heading home after rallies.
Some banners at today's gathering told protesters to stay home on June 19 and to prepare instead for a march on June 20.
Compiled by RFE/RL's Central Newsroom from Radio Farda and agency reports
Iran Election Special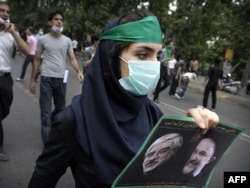 RFE/RL's Full Coverage
Following the disputed reelection of Iranian President Mahmud Ahmadinejad, supporters of Mir Hossein Musavi have taken to the streets to protest.
Click here
for news, blogs, and analysis of the presidential election and aftermath.
Iran Election Diary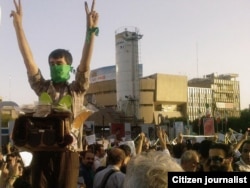 Disputed Presidential Vote
There have been protests and clashes with police on the streets of Tehran following the disputed reelection of Mahmud Ahmadinejad. RFE/RL collects videos, photos, and messages on social-networking sites coming out of Iran to attempt to get a picture of what is happening inside the country.
Click here