In a repeat of past brazen attacks, Taliban guerillas carrying rocket-propelled grenades and wearing suicide vests have attacked the major U.S. base at Bagram, north of Kabul.
The ensuing predawn gun battle left 10 Taliban fighters dead while at least five U.S. soldiers were wounded. U.S. officials said the attack was over by mid-morning.
"We've had a few service members that were wounded and one building that received minor damages," U.S. military spokeswoman Major Virginia McCabe told RFE/RL's Radio Free Afghanistan, "but our security forces responded quickly and no insurgents got on the post."
McCabe added, "There were multiple attacks in a small area, and it has continued on and there are sporadic attacks of small-arms fire."
The attack on Bagram -- NATO's biggest base in Afghanistan -- began before dawn when Taliban insurgents blew themselves up near the base's gates.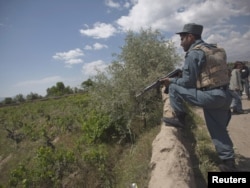 An Afghan policeman keeps watch near the site where a suicide bomber blew himself up.
It continued with sporadic fire of rockets and small arms outside the base, which is about 50 kilometers north of Kabul and is used mainly by U.S. troops.
NATO said one rocket landed inside the base, causing minor damage, but no insurgents managed to get inside Bagram.
Mounting Violence
The attack came a day after a suicide bomber targeted a NATO-led military convoy in Kabul, killing 12 Afghan civilians and six foreign troops.
Such attacks, experts suggest, herald the start of an announced Taliban spring offensive against high-profile foreign targets before the onset of a large-scale NATO operation against the insurgent stronghold in the southern Kandahar Province this summer.
Violence in Afghanistan is on the rise as U.S. combat deaths reached the grim milestone of 1,000.
The attacks could also seriously undermine Afghan President Hamid Karzai's plan to reconcile with insurgent leaders while reintegrating their foot soldiers.
Observers suggest that high-profile attacks in Kabul might endanger a planned consultative loya jirga or peace council later this month and a major donors conference this summer.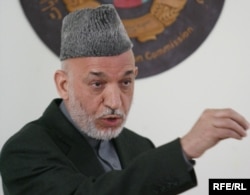 President Hamid Karzai condemned the violence (file photo).
"We denounce these attacks with the strongest possible terms," Karzai told journalists on May 18. "We hope that Afghanistan will soon get rid of this suffering."
Resurgent Taliban
The Taliban had announced an offensive from May 20 against the government, foreign forces, and diplomats in Afghanistan in response to NATO plans for an operation against the group's southern stronghold of Kandahar.
The group is also seen as keen to show its strength after the arrest of its key leaders in neighboring Pakistan this spring.
"The Taliban are trying to show their reaction to the expected plan of NATO's operation in Kandahar in coming weeks," Nur ul-Haq Ulomi, a former general during the communist regime in the 1980s, told Reuters.
The Taliban "want to show ahead of it that they are strong as before and even getting stronger," he said. "They want to show that with their small groups they are able to conduct organized attacks on NATO forces in Kabul and on their base in Bagram."
Removed from power in a U.S.-led invasion in 2001, the Taliban has made a comeback in recent years despite the growing number of foreign troops, now standing at some 140,000.
Thousands of extra U.S. troops have been arriving in Afghanistan as part of President Barack Obama's strategy for turning the tide against the militants for winning the Afghan war, which he has termed a high foreign-policy priority.
written by Abubakar Siddique, with reporting contributed by RFE/RL's Radio Free Afghanistan correspondent Hamid Mohmand from Kabul and news agencies