WATCH: The scene after the suicide bombing in Kabul on May 18, which killed and wounded dozens. (RFE/RL video)
At least 18 people have been killed in a suicide car bombing in the capital, Kabul, including 12 civilians and six international troops.
The morning attack took place during the busy rush hour in a heavily guarded area in western Kabul, near parliament, a foreign-run hospital, an Afghan National Army recruitment center, and other government buildings.
Most of the victims were riding in this bus.
The Interior Ministry said women and children were among the dead, and that 47 other civilians were wounded. Most had been traveling in a bus that passed when the suicide bomber blew up a car packed with explosives.
"I saw many martyrs, many wounded people. They were civilians," a witness told RFE/RL's Radio Free Afghanistan. "I also saw foreigners. Americans [were killed]. Also, I saw women and children on the scene. Some lost their hands, some their heads, and some were there with no legs."
NATO's International Security Assistance Force (ISAF) said six of its soldiers died and several were wounded when the bomb exploded near a convoy. Spokesman Colonel Wayne Shanks confirmed that five of the dead are American, while Canada's Defense Ministry announced that the sixth victim was a Canadian.
ISAF also said the explosion damaged five of its vehicles and more than a dozen civilian vehicles.
The attack drew condemnation from President Hamid Karzai, who was speaking at his first scheduled press conference since he returned from a visit to the United States.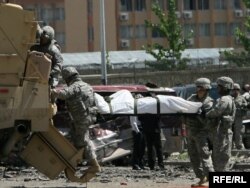 U.S. soldiers load a body into a military truck at the bomb site.
"We had another sad incident this morning. A suicide attack on NATO forces in Kabul in which both NATO [soldiers] and our [civilian] people, including women and schoolchildren, were killed," Karzai said. "We denounce these attacks with the strongest possible terms. We hope that Afghanistan will soon get rid of this suffering."
NATO Secretary-General Anders Fogh Rasmussen "strongly" condemned the attack but said the alliance remains "committed to its mission to protect the Afghan people and to strengthen Afghanistan's ability to resist terrorism."
A Taliban spokesman claimed responsibility for the attack, saying the group used a van packed with 750 kilograms of explosives.
Despite tight security in Kabul, the city has seen some high-profile attacks by Taliban militants in recent months.
Today's bombing was the first major attack in Kabul since February 26, when Taliban suicide bombers targeted guest houses, killing 16 people, including Westerners and Indians. In September 2009, six Italian soldiers died in a car-bomb blast in the capital.
The Taliban had announced a spring offensive against diplomats, members of the Afghan parliament, and foreign contractors, as well as foreign forces in Afghanistan.
So far this year, more than 200 NATO soldiers have been reported killed in Afghanistan.
with agency reports