Before the guns of August, there were the maneuvers of July.
Less than one month before Russia's armed forces entered Georgia on August 8, they held massive military training exercises in the North Caucasus involving 8,000 servicemen and 700 pieces of military hardware.
At center stage in those maneuvers -- which took place in the second half of July, not far from Georgia's border -- was Russia's 58th Army, the very unit that would later play a key role in the incursion.
Those exercises are just one link in a chain of incidents suggesting that Russia's military action in Georgia was planned months in advance, awaiting only an appropriate pretext to act.
Military analyst Pavel Felgenhauer says the aim, from the start, was to overthrow Georgian President Mikheil Saakashvili and his pro-Western government.
"This was prepared long ago," Felgenhauer, a Moscow-based military analyst tells RFE/RL's North Caucasus Service, adding that according to his information, a decision to go to war was made back in April.
"A decision was made for the war to start in August. The war would have happened regardless of what the Georgians did. Whether they responded to the provocations or not, there would have been an invasion of Georgia," Felgenhauer says. "The goal was to destroy Georgia's central government, defeat the Georgian army, and prevent Georgia from joining NATO."
Planning Began In April

April -- the month in which Felgenhauer claims Russia made its decision to invade -- was also the month when the NATO military alliance declined to offer outright a Membership Action Plan (MAP) to Georgia and Ukraine at its annual summit in Bucharest.
In an August 14 article published in the "Novaya gazeta" weekly, Felgenhauer, who is credited with maintaining close sources in the Russian military, claims Moscow's plan began taking shape shortly after Georgia and Ukraine were denied a MAP.
The Kremlin, which has made no secret of its antipathy for Georgia's NATO aspirations, may have been emboldened by Georgia's failure to achieve a critical step forward in the membership process. Alternately, it may have been angered by NATO's conciliatory pledge to Tbilisi and Kyiv that they would receive a MAP in future -- a move seen by many as a strong gesture of support from the West.
Steven Pifer, a former U.S. ambassador to Ukraine who is a visiting fellow at the Brookings Institution in Washington, says NATO's decision may have encouraged Russia to play rough with Georgia.
"I think the Russians took the wrong lessons from Bucharest," Pifer says. "There was a lot of Russian pressure and rhetoric against both Georgia and [Ukraine] getting Membership Action Plans before Bucharest. I've heard that Russians regard Bucharest as a success. And what you saw after Bucharest was an increase in pressure."
'Long Prepared, Successfully Executed'

Felgenhauer is not the only expert in Russia to posit the Kremlin's August "surprise" was anything but.
Writing in the online newspaper "Yezhednevny zhurnal," Andrei Illarionov likewise argues that the invasion of Georgia "had been long prepared and successfully executed." Illarionov is a onetime adviser to former Russian president and current Prime Minister Vladimir Putin who has since emerged as a fierce Kremlin critic.
Such interpretations contradict the official narrative of the war promoted relentlessly by the Kremlin in the domestic and international media -- that Russian forces acted only in order to defend Russian citizens and peacekeeping forces in South Ossetia from Georgian soldiers intent on "ethnic cleansing" and "genocide" in the breakaway region.
For now, there is no smoking gun to prove Russia methodically plotted its incursion into Georgia. But the first sign that Russia might seek a military advance on Georgia came more than a year ago -- in July 2007, when Moscow withdrew from the Conventional Forces in Europe treaty, an amended Cold War-era document setting limitations on troops and military hardware between the Atlantic and the Ural Mountains.
Speaking to RFE/RL's Russian Service at the time of the withdrawal, Steven Blank, a professor of strategic studies at the U.S. Army War College, warned the move could allow Russia to threaten Georgia by freely moving substantial deployments of troops and equipment into the North Caucasus.
"What Russia really wants is essentially to be able to do as it pleases in world affairs and to answer to nobody," Blank said. "It wants a totally free hand, particularly in and around the CIS. It also needs to conjure up the idea of an enemy to justify its regime. The fact of the matter is that the most immediate threat here is to Georgia, because the Russian government could pack forces into the North Caucasus to threaten Georgia."
Strengthened Ties

Russia's provocations became more pronounced after the NATO summit, with Putin -- in the last month of his presidency -- signing on April 16 a decree authorizing the Russian government to strengthen diplomatic and aid links with Abkhazia and South Ossetia, Georgia's pro-Moscow separatist provinces.
Later that month, Russia deployed 1,500 additional troops, some heavily armed, to its "peacekeeping" contingent in Abkhazia without Georgia's consent. The move was an express violation of a 1994 cease-fire agreement ending a brief but grievous civil war between Abkhaz and Georgian fighters.
In the weeks that followed, Georgia accused Russia of shooting down unmanned drone aircraft conducting reconnaissance flights over Abkhazia. Russian military aircraft were also detected violating Georgian airspace near the separatist territory.
In June, Russia stoked tensions yet again by deploying unarmed troops to Abkhazia to rebuild a rail link between the cities of Sukhumi and Ochamchira. Moscow argued the move was a humanitarian gesture meant to improve the territory's decrepit transportation infrastructure.
But Matthew Bryza, the U.S. deputy assistant secretary of state for European and Eurasian affairs, now argues the move was used to move military supplies into Georgia.
"We heard statements that the Russian railroad troops that had entered Abkhazia a couple of months ago were there on a humanitarian mission. And now we know the truth about why those forces were there. It was to rebuild the railroad to allow ammunition and other military supplies to aid a Russian invasion," Bryza told reporters in Tbilisi on August 11.
Predicting An Invasion

And then came Russia's Kavkaz-2008 military exercises in the North Caucasus in late July. Speaking at the time, Felgenhauer suggested the maneuvers -- which coincided with U.S.-led training of forces in Georgia -- might forecast a Russian invasion of Georgia as soon as August.
"I am afraid that there is a very strong possibility that military activity will happen this year, probably in the next month," Felgenhauer told RFE/RL's North Caucasus Service. "We could have a full-scale military conflict."
But with all eyes on Abkhazia, the focus abruptly shifted to South Ossetia, where days of clashes across the de facto border with Georgia erupted in early August. Moscow accused Tbilisi of using excessive force; Georgia, meanwhile, accused Russian-backed separatists in the region of firing into Georgian-controlled villages. Each side accused the other of initiating the violence.
Blank, who predicted trouble for Georgia over a year ago, now says Moscow was confidently ramping up the level of provocations in South Ossetia. "This is a war that Russia wanted, and clearly had planned for," he added.
"The evidence I've seen indicates that the Russian Army was sitting there waiting for this, that this was essentially a provocation launched by the South Ossetians, who ratcheted up the level of violence in order to bring the Georgians -- who are easily provokable, obviously -- to attack," Blank said. "And the Russians were waiting there, ready with an operational plan and with forces in place -- land, sea and air -- to do what they have subsequently done."
After days of clashes, Georgia moved into South Ossetia on August 7 in a large-scale operation to regain control of the Moscow-backed separatist region. The offensive sparked a furious reaction from Russia, which sent in troops, military aircraft, and tanks to repel Georgian forces. (Russia assert that it entered South Ossetia nearly a day after Georgia's advance; officials in Tbilisi counter that Russian troops were already moving into South Ossetia before Georgian forces entered the province.)
'Difficult To Imagine'

Not everyone is prepared to endorse the notion of a premeditated, orchestrated war by Russia. Aleksandr Golts, a Moscow-based defense analyst, says the timing of the conflict, which came at a time when the country's leadership was absent from the capital -- President Dmitry Medvedev was in the Volga region and Putin was attending the Olympics in Beijing -- does not suggest the event was planned in advance.
"It is difficult to imagine that Russia prepared such a provocation while neither of the country's two leaders was in Moscow," Golts said. "It is [also] difficult to imagine that Russia prepared to go to war and then, when Saakashvili fell into the trap, waited 13 or 14 hours, by my count, before deploying forces."
But regardless of whether the war was prefabricated, says Golts, the blame remains squarely with the Kremlin. "Russia's policies over the past several years caused this war. And for this they bear responsibility."
RFE/RL's Georgian, Russian, North Caucasus, and Tatar-Bashkir services contributed to this report. RFE/RL correspondent Heather Maher contributed from Washington.
Leaders Rally In Tbilisi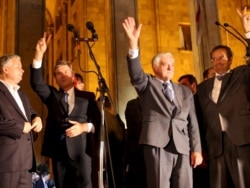 Rally In Tbilisi
Leaders from Georgia, Poland, Ukraine, Estonia, Latvia, and Lithuania speak to thousands in the Georgia capital on August 12 (Reuters video). Play


For RFE/RL's full coverage of the clashes in South Ossetia, Abkhazia, and Georgia proper,
click here
.
Clashes In Georgia: Chronology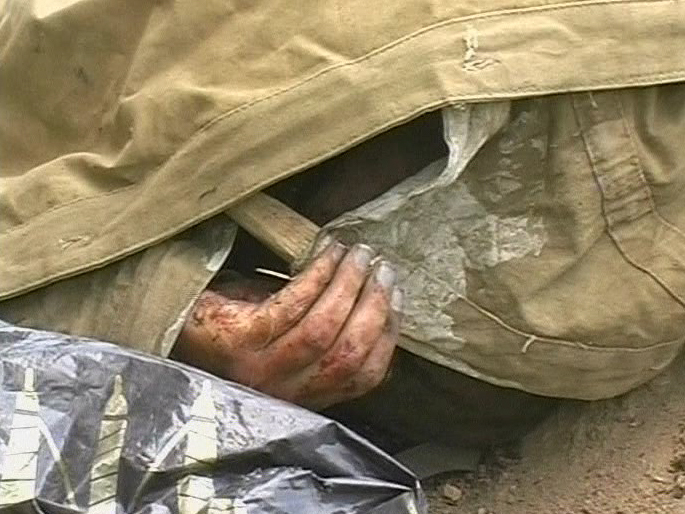 Clashes In Georgia: Chronology
Video of the fighting in Georgia's breakaway regions, and the latest efforts to end the conflict (Reuters video). Play


For full coverage of the clashes in South Ossetia, Abkhazia, and Georgia proper,
click here
.