U.S. Secretary of State Condoleezza Rice said in Tbilisi that now that Georgian President Mikheil Saakashvili has placed his signature on a cease-fire agreement, the time has come for Russia to pull its troops from Georgia.
"The Russian attack on Georgia had profound implications and will have profound implications for Russia's relations with its neighbors and with the world," Rice said.
"But our most urgent task today is the immediate and orderly withdrawal of Russian armed forces and the return of those forces to Russia."
The French-brokered cease-fire, drafted earlier this week, calls for Russian and Georgian forces to return to the positions they held before fighting broke out. Russian forces are continuing what Moscow considers "peacekeeping operations" in Georgia, and there were reports of military vehicles moving closer to the Georgian capital on August 15.
Rice said Russian President Dmitry Medvedev was not upholding his end of the bargain.
"The verbal assurance that President Medvedev gave that Russian military operations had stopped, or were going to stop, or were stopping, or whatever the tense was, clearly was not honored," she said.
"And so this is going to be a signed agreement, and I have to assume that the president of Russia, having given not just his word but his signature to the president of the EU, will honor it."
Standing alongside Rice in front of Georgia's new presidential palace, Saakashvili struck a defiant tone, characterizing the Russians as "barbarians" who had plotted for months to occupy his country.
"We are under a Russian invasion and Russian occupation right now. And we want to end the Russian invasion and occupation," Saakashvili said.
"This is a cease-fire agreement between us and Russia facilitated by France and the United States. And we certainly should move from this temporary arrangement to a genuine international peacekeeping force on the ground."
Contentious Issue Of Missile Defense
Earlier in the day, with Rice in Tbilisi to show the United States' support for Georgia, and the German chancellor in Russia to ease tensions, U.S. President George W. Bush added to the growing discord between Washington and Moscow by saying that "bullying and intimidation are not acceptable ways to conduct foreign policy in the 21st century."
Saying "the Cold War is over," the U.S. president said, "a contentious relationship with Russia is not in America's interest and a contentious relationship with America is not in Russia's interest."
Bush added: "Now, for the first time in memory, Europe is becoming a continent that is whole, free, and at peace. Unfortunately, Russia has tended to view the expansion of freedom and democracy as a threat to its interests. The opposite is true. Free and prosperous societies on Russia's borders will advance Russia's interests by serving as sources of stability and economic opportunity."
The relationship between the two powers has soured further with Poland's signing on August 14 of an agreement to host parts of a U.S. missile shield.
In the Black Sea resort of Sochi, where he hosted German Chancellor Angela Merkel, Russian President Dmitry Medvedev said the timing of the agreement shows that the antimissile system is intended to counter Russia's nuclear capabilities.
"And so the fairy tales about a deterrent against other countries, the fairy tales about these installations deterring some rogue countries, do not work."
The United States has argued that the missile-defense shield, part of which will be based in the Czech Republic, is to counter the threat of nuclear attack from "rogue states" such as Iran.
The Russian president also addressed the tough talk coming out of Washington following the outbreak of fighting between Russia and Georgia.
"Our partners should understand absolutely clearly what happened and what the consequences of these events are. They shouldn't look for only one side to blame, and they certainly shouldn't blame everything on Russia, but they should do everything to minimize the consequences of this tragic event," Medvedev said.
"On our part we are ready to work with everyone in an open and absolutely good-hearted manner and we do not want to scale back our relations with anybody."
Future Status Of Abkhazia, South Ossetia
On August 7, Georgia invaded its breakaway province of South Ossetia after days of exchanging mortar and gun fire with separatist forces. The attack prompted a furious counterattack by Russian troops, who didn't stop until they were deep inside Georgia proper. The fight also expanded to another breakaway region, Abkhazia, where 9,000 Russian troops were sent to support separatist forces.
Medvedev reiterated Moscow's position that Russia's military intervention was necessary to protect Russian citizens, saying the populations of Abkhazia and South Ossetia, the majority of whom hold Russian passports, should be allowed to determine their own future.
"No one is rejecting the principle of territorial integrity as one of the fundamental principles of international law," Medvedev said.
"The question is about a concrete situation in a concrete country, and here is where the main difficulties begin. Unfortunately, after what happened, the Ossetians and the Abkhaz will hardly want to live in the same state with Georgians."
Medvedev said Moscow is not against the presence of international peacekeepers in the two regions, but that "the Ossetians and the Abkhaz themselves trust nobody else but Russian peacekeepers."
However, in her comments later in the day in Tbilisi, Secretary Rice said that any durable resolution must be based on "Security Council resolutions that recognize Abkhazia and Ossetia as within the internationally recognized boundaries of Georgia."
"This isn't a matter of 'there is now some new political status for Abkhazia and South Ossetia.' That is absolutely not the case," she said. "The circumstances are those that are in the Security Council resolutions of the past."
In her comments, Chancellor Merkel described Russia's use of force in response to Georgia's military action as "slightly disproportionate," and stressed the need to allow access for humanitarian aid whether in the breakaway province of South Ossetia or Georgia proper.
"I have made it very clear that it is normal to protest when there are casualties [in a conflict], and unfortunately in this case, there are many, many [victims]," she said. "But even if you were to accept the Russian version of what the Georgians are [alleged] to have done [in South Ossetia], I must say that I consider some of the reactions by Russia to be disproportionate."
Situation In Gori
Meanwhile, reports indicate that Russian troops are no longer visible in the center of Gori, but that armored vehicles are concentrated outside the Georgian city, which is located near the de facto border with South Ossetia.
"[Russian forces] are not letting [Georgian] police in, so far, but we keep contact with them [and] try to convince them that that is the only way to restore order," Lomaia said.
Lomaia estimated that even if the Russian troops were to decide to leave, "it would take another week or so for them to completely pull out."
But the deputy governor of the surrounding Shida Kartli region, Zurab Chinchilakashvili, told RFE/RL's Georgian Service that things have improved.
He said that as of August 15, "every citizen has the opportunity to enter Gori even with their own cars -- which was virtually impossible yesterday. This has been agreed upon with the Russian peacekeepers. Gori is beginning to function in a normal way -- local administration and the governor's office have started to work. Shops will open today, which is very important for people. Bakeries will also start working again. Civilians face no threat."
The deputy chief of the Russian armed forces' General Staff, Colonel General Anatoly Nogovitsyn, said during a Moscow press conference on August 15 that there was "hardly any damage" in Gori, which was pounded by Russian air strikes for days before being occupied.
He also claimed that troops had seized a "large arsenal" of U.S.-made weapons in the Georgian city of Senaki. On August 14, after U.S. humanitarian aid began arriving in Georgia, Nogovitsyn expressed concern about the type of cargo being flown in.
Crisis In Georgia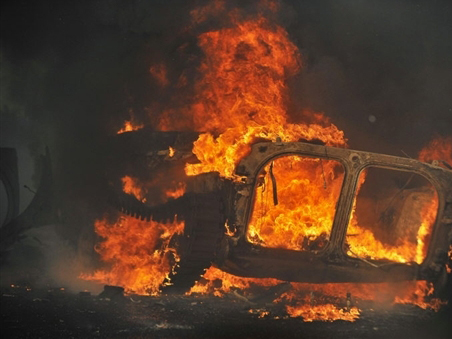 For RFE/RL's full coverage of the conflict that began in Georgia's breakway region of South Ossetia,
click here
.