SARAJEVO -- Vesna Bajkusa sums up the conundrum facing many athletes and sports fans in the Balkans.
Bajkusa was a member of the Yugoslav women's basketball team that took home the silver medal in the 1988 Seoul Olympics. Her team featured athletes from throughout the republic -- one country that has since split into seven frequently fractious parts.
Sarajevo-born Bajkusa now coaches the Bosnian women's basketball team. But for the next month, she says she'll put national loyalties aside and root for neighbors Serbia and Slovenia -- as well as other favorites -- in the World Cup soccer championships.
"I can be seen as Yugo-nostalgic," Bajkusa says. "My mother came from Serbia, so I'll support Serbia. But I'll support Slovenia as well, since we once shared the same country. And I support Italy because I lived there for seven years and I have good inside knowledge of Italian soccer."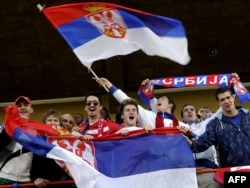 Serbia fans cheer for their team as they practice in Johannesburg on June 9.
Serbia and Slovenia are the only two countries from the former Yugoslavia to qualify for the 2010 FIFA World Cup, which kicked off on June 11 with an opening match between Mexico and host nation South Africa.
The former Yugoslavia advanced to the championship nine times, with players plucked from the cream of the crop in each of its constituent republics. But the region's reputation as a global soccer force has dimmed in the wake of the Yugoslav breakup.
New Rivalries, Old Ties
Nor is everyone in the Balkans likely to support those teams that do advance. Serbia, which lost 1-0 to Ghana in its World Cup opener today, has thorny ties with nearly all of its post-Yugoslav neighbors. Its team, the White Eagles, is proudly touted by many in the country as a symbol of Serbian independence.
Still, some in Bosnia say that's no reason to root against the team, whose players -- like Dejan Stankovic, an Inter Milan midfielder, and Manchester United defender Nemanja Vidic -- are revered by sports fans throughout the region and beyond.
"I'll be doing the same as any normal person in this region -- I'll be supporting our neighbors," says Bakir Tiro, the editor of a Sarajevo-based sports magazine. "I'll support Serbia, even if it may sound strange to some people in my country. I'm thinking only in terms of sports, and in the spirit of normal life and normal relations."
To be sure, Bosnia's spirit of bonhomie might be less in evidence if Serbia was facing, for example, a country like Turkey. Bosnia's large Bosniak population frequently sides with teams from Muslim nations in matches against Orthodox Serbia.
But in at least the opening round, there will be no such contests, with Serbia facing Group D rivals Germany and Australia, in addition to Ghana.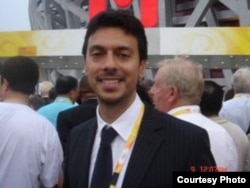 Montenegrin sports journalist Djordjije Kustudic
And for many Bosnians, old ties forged during the Yugoslav era are hard to break. Mirsad Fazlic, who led the Yugoslav soccer team to a second-place finish in the 1968 UEFA European championship, says despite the devastation of the 1990s Bosnian war and the antagonism with Belgrade that remains, his career as a Yugoslav athlete makes it impossible for him to turn his back on any Balkan team today.
"No matter what's happened in recent years, I was a captain of the Yugoslav soccer team," says 67-year-old Fazlic. "I'll always support the teams coming from the countries of the former Yugoslavia, whether it be Slovenia or Macedonia. I don't see a reason why I shouldn't support Serbia as a former part of my country."
On The Sidelines
In Montenegro, spectators could be forgiven for watching Serbia's advance with a tinge of regret.
When Belgrade qualified for the last World Cup, in 2006, Serbia and Montenegro were still a single country. (The memory, however, may be tainted by the notoriously poor showing of the team, which lost all three of its group-stage matches, including a humiliating 6-0 defeat against Argentina.)
But some in Montenegro still see the White Eagles as "their" team. This includes Brano
Montenegrin soccer coach Brano Milacic says he will root for Serbia wholeheartedly.
Milacic, the 60-year-old coach for the Lovcen football club, also known as the Eagles, based in the southern Montenegrin city of Cetinje.
"I'll root for Serbia with all my heart, and not only in the opening game, but in all games," says Milacic. "Serbia is the representative of the region and of course I am fully with them."
Others profess to see the matches purely in terms of sporting talent, before admitting to a slight local bias.
Ghana has experienced a rash of injuries but was still seen as the likely favorite in the match against Serbia. Djordjije Kustudic, a sports broadcaster in the Montenegrin capital Podgorica, says Serbia has his support -- if not his confidence.
"I'll support Serbia against Ghana," he says. "But I've watched Serbia in preparatory games against New Zealand, Poland, and Cameroon, and I'm not too optimistic that Serbia can do well at the World Cup. Qualifying for the Round of 16 [that follows the group matches] might be feasible for Serbia. But anything more than that would be a sensation."
Go Ghana!
Support for Serbia is hardly universal. In Kosovo, anti-Belgrade sentiment runs high, and sports are no exception.
The Albanian-majority country declared independence from Serbia two years ago, and tensions between the two sides remain high.
In the capital, Pristina, soccer fans were united in throwing their support behind the Ghanaians -- even if their coach, Milovan Rajevic, is himself a Serb. (Rajevic has described himself as "100 percent Ghanaian.")
"I'll watch this particular game and I'll be in favor of Ghana," says Ardian Lokaj, a 30-year-old sports fan. "Soccer is also politics, more or less. No matter who Serbia plays, my stance will be the same -- against Serbia."
"I'm for Ghana, even though otherwise I wouldn't be a fan," says 23-year-old Mentor Shala, a student. "In this particular instance, I'm rooting for Ghana, since it's playing against Serbia."
"It wouldn't be bad if Ghana could even win 7-0 against Serbia," chimes in Faruk Ibrahimi, 42.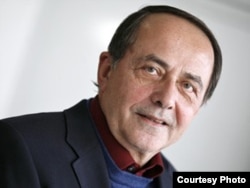 Croatian sports journalist Bozo Susec
On the Adriatic coast, Croatia -- which has sought to play the role of regional peacemaker and this week even resolved a long-standing debate with its neighbor to the north, Slovenia -- seems content to back its fellow Balkans.
One of Croatia's best-known sports commentators, Bozo Susec, says he's looking forward to watching the strategy of the Serbian team's coach, Radomir Antic, who returned home in 2008 after managing powerhouse teams like Real Madrid and FC Barcelona.
"I'll root for Serbia, because they're our neighbors and because I know some players there -- Stankovic, for example, who's the best," Susec says. "I know the coach, Antic, personally. He's one of the 10 greatest coaches in the world."
But not everyone was rooting for the neighbors. Pero Mocibob, a 57-year-old former player with the Croatian capital's two rival teams, Dinamo Zagreb and Zagreb, says when Serbia and Ghana meet on June 13, he'll be supporting the Africans.
"I'd like African football to make a breakthrough, so that the whole of Africa could celebrate," he says. "Unless they play against Croatia, I will always support them, even if they play against Slovenia or England."
Bekim Bislimi in Pristina, Ankica Barbir in Zagreb, Ivan Katavic in Sarajevo, and Predrag Tomovic in Podgorica contributed to this report