As the global recession deepens, some are seeing an opportunity for a new and expanded role for the International Monetary Fund (IMF) to help countries restore order to their economies. There's even an impetus for members of the IMF to double its resources, from $250 billion to $500 billion, to make it easier for the fund to make loans to needy countries.
Others see such a move as merely perpetuating the problems that created the current economic mess. One is Ian Vasquez, who studies international finance at the Cato Institute, a private policy-research center in Washington. In an interview with RFE/RL correspondent Andrew F. Tully, Vasquez questions the logic of an institution that pays its clients for taking its advice.
RFE/RL: There's been a lot of talk recently of an expanded role for the IMF now that so many countries are running into financial trouble in the current global economic downturn. Do you see a new role for the fund? Ian Vasquez:
The IMF has been in search [of] a role now for many years. This has been the case since the time of its failed big bailouts, which ended with the failed big bailout of Argentina during the early part of this decade. Since then, inside the IMF and outside the IMF, people have been wondering what its proper role is.
And with every crisis, the IMF has invented a new role for itself, which is exactly what it is trying to do right now. It is not clear that the IMF has any role at all in an increasingly liberal world economy, and that is the debate today.
RFE/RL: How would you describe the IMF's new role, at least as envisioned by itself and its supporters? Vasquez:
There are those who would like to expand its resources in order to spread money around in a way that is more politically feasible to politicians than is spending your own taxpayers' money. Of course, it is the same thing for rich countries to spend their money through the IMF or directly, which they seem to be reluctant to do. The proposal is to massively expand the IMF's role in bailing out countries today, but there's no reason to think that that's a good idea or that it would work any better today than it did 10 years ago.
RFE/RL: Is that it? Simply giving the IMF more money to use to help countries struggling in the global recession? Vasquez:
There are two big reform proposals, if you want to call them that, at the IMF. One is to massively increase the Fund's resources so that it would start bailing out more and more countries. Another is to increase the resources [contributed by] every country and rearrange the allocation of those resources, using the IMF's own accounting method, which is known as "special drawing rights."
It's in effect the IMF's own paper money, and that would change the percentage of voting that the different contributor and member countries have to the IMF, so that China -- which has a much bigger economy today than it did when the IMF was created -- would have a bigger role and a bigger vote within the IMF. The last proposal is to actually contribute dollars and euros to increase massively the IMF's resources.
RFE/RL: China, though, is said to have complained that it's been asked to increase its contributions to the IMF, without an increase in its voting influence in the IMF. Is this so? Vasquez:
The IMF is basically a political institution, not an economic institution, and so the interests of governments [are] always to see how they can influence that political institution, how they can determine its policies and its lending and so on. So if that's the main interest, then China does have legitimate concern that it would be contributing a lot of money but not having as much of a say as it should.
But if we are actually concerned about the effectiveness of the IMF, if we are actually concerned about how to correctly deal with issues of economic reform, or growth, or addressing this worldwide crisis, then the IMF is not the right vehicle, and it doesn't matter how many voting rights each country has. If the vehicle is wrong, the distribution of voting doesn't really make that much of a difference. And it seems like the debate is losing sight of the proper goal: how to address the global crisis, and evolving into a debate about political influence.
RFE/RL: It's clear from your comments that you don't agree with the new role that's being suggested for the IMF. What do you think that role should be? Vasquez:
It has been increasingly clear that the IMF has been irrelevant in a globalized economy. And that is because it doesn't have enough resources -- nor will it ever have enough resources -- to do what it claims it would like to do.
Its approach to development and reform, which is a top-down approach, is contrary to the way that countries actually do develop, and its interventions create all sorts of counterproductive incentives, including the creation of moral hazard -- pushing individual actors and governments to behave more recklessly than they otherwise would on the notion that they'll always be rescued.
It is not the right policy to be rescuing countries like Argentina or Ukraine that have created messes of their own. The best way to deal with that [is] for countries to start addressing their own policy flaws and introducing reforms in their own countries. And this is not going to be resolved until they fix their own problems at home. And for that, you don't need the IMF.
RFE/RL: You've just outlined what the IMF role shouldn't be. What should it be? Vasquez:
I think that the IMF would be much better for the world if it provided advice, not money. But then again, if we were to take that step, the IMF would then become one more agency, one more voice, providing advice, sometimes good, sometimes bad. And that would be a step forward, but of course it would show once again that the IMF really is a marginal player.
I don't think that the IMF actually has a role to play. I think that the world would be better off if we abolished the IMF. That doesn't mean that that army of economists and smart people who work there would suddenly disappear and we would lose that talent. It means that they would start working in other agencies, in some banks, and in other consulting agencies, and we would have a competitive situation where countries paid to get good advice, rather than the other way around, where the IMF pays its clients to take its advice. When you pay your clients to take your advice, you get perverse results.
World Economic Crisis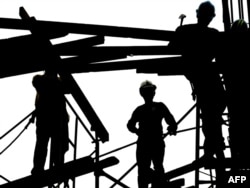 Multimedia coverage on the impact of the global financial crisis on markets and individuals across RFE/RL's broadcast region. More