The United States has been using drones to target militants in Pakistan for some six years now.
But there has never been a hale of drone attacks like the number so far this year.
According to one of the foremost groups tracking the number of reported strikes -- "
The Long War Journal
" -- there had been at least 85 strikes since January before
the latest incident
.
That compares to 53 strikes in 2009 and just 35 the year before.
The ever-increasing number of U.S. strikes is stoking an equally escalating debate in Pakistan over whether they hurt or help the country.
But, surprisingly, the tone of the debate varies depending on location.
Genuine Debate
On Pakistani television, talk shows tend to be dominated by speakers condemning the attacks as an assault on Pakistan's sovereignty.
"A clandestine deal [to carry out the attacks] was made between the United States and then government of Pervez Musharraf, but until now the government has never admitted that there is an agreement between them," Salim Safi, a critic of the drone attacks, says. "In a situation like this, when [attacks] happen, it is considered to be an action against the sovereignty of Pakistan. Because of this, the dignity of Pakistan is being destroyed and affected around the world, because with these actions the boundaries and airspace of Pakistan are being violated."
He also says that while the drone attacks have targeted Al-Qaeda and Taliban elements, "they also have killed innocent civilians, and that is increasing the anger against the [Pakistani] government and the United States."
Such concerns over violations of Pakistani sovereignty reached a high point this month after a U.S. helicopter fired across the border from Afghanistan into a group of Pakistani soldiers, killing two of them.
Immediately after the September 30 attack, Islamabad closed the key northern route used by NATO to bring supplies through Pakistan to Afghanistan. Officials said they were doing so due to public anger over NATO incursions and the route reopened again only after a formal U.S. expression of regret.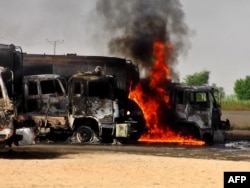 Trucks carrying fuel for NATO forces in Afghanistan burn following an attack by militants in Pakistan.
But if the almost 10-day closure of the route, and militant attacks on some 150 stranded trucks carrying NATO supplies, suggested universal anger in Pakistan over foreign military interventions, that may be only part of the story.
Elsewhere in Pakistan, and particularly in the tribal areas themselves, opinion is often less critical of drone strikes.
"I personally have met people from North and South Waziristan who told me that they are not against drone attacks," Abdul Latif Afridi, a key tribal figure as well as a lawyer and political leader in the Khyber tribal area, tells RFE/RL's Radio Mashaal. "The information we have so far about casualties is that very few innocent people have been killed in drone attacks. The drones mostly kill foreign militants and their local allies. So, the people especially in Waziristan are not against drone attacks."
Little Choice?
Over the past six years, the drone strikes have focused on two regions: North and South Waziristan. Both are the locations of ever shifting hideouts for both the Taliban and Al-Qaeda.
This year, some 89 percent of the reported drone strikes have taken place in North Waziristan as Washington focuses on one powerful Taliban group in particular, led by Hafiz Gul Bahadar.
Another 8 percent of the reported strikes have been in South Waziristan, where previous operations are believed to have weakened other groups, including that of former leader Betullah Mehsud. Mehsud, who has sought to build an umbrella organization for Taliban groups in Pakistan is believed to have been killed in a drone strike in August last year.
The reasons why people living in the tribal areas might support drone strikes are rarely heard on Pakistani television. But Safi says they include both dislike of militants and fear of what alternative counterterror strategies entail.
The fear is not abstract. The Pakistani military has launched ground campaigns against certain Taliban groups in recent years that have sparked full-scale battles. In Swat Valley, the operations returned the region to the government's control. Elsewhere, campaigns have been less conclusive, including a sweep in South Waziristan that began in October in 2009 and wound down in March.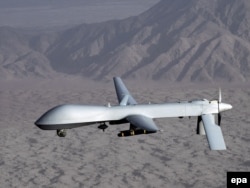 A U.S. MQ-1 Predator drone in flight (file photo)
All the ground operations have caused massive population displacements as people fled the conflict areas. Many refugees said they not only feared being caught in the crossfire but also becoming targets of retribution killings by either militants or troops as territory changed hands.
Safi says that he and many others in the tribal areas regard the drones as accurate and much less likely to kill civilians than is ground fighting. His conclusion seems to be supported by news reports.
According to "The Long War Journal," which tracks both Western and Pakistani media reports of drone strikes, more than 1,500 leaders and operatives from Taliban, Al-Qaeda, and allied extremist groups have been killed since 2006 along with more than 100 civilians. The number of civilians killed has declined over time, with 10 reported killed this year compared to 43 last year.
The debate in Pakistan over drone attacks is only likely to got hotter if Washington steps up the pace next year -- something very likely to happen.
The drones have become the U.S. weapon of choice for hitting militant leaders and even rank-and-file members in the tribal areas. But so far the militants appear adept at finding new recruits. It is a formula for a long war of attrition with, currently, no end in sight.
Radio Mashaal correspondents Daud Khattak and Abdul Hai Kakar contributed to this report