Although many parts of the world are seeing a return to growth after the global financial crisis, Central and Eastern Europe are seeing a much slower recovery.
That's the assessment of Erik Berglof, the chief economist of the European Bank for Reconstruction and Development (EBRD).
In an
exclusive interview with RFE/RL
, Berglof says international financial institutions are concerned that programs that have helped stabilize Western Europe and the United States may be prematurely withdrawn -- creating new impediments to recovery in Central and Eastern Europe.
Berglof was speaking, in particular, about large fiscal programs in Western Europe and the United States and support for the banking systems of Western Europe.
The EBRD, the World Bank, and the European Investment Bank have teamed together on a joint-action plan that complements International Monetary Fund (IMF) loan programs in Central and Eastern Europe.
Berglof says the most positive results from these efforts have been seen in Hungary, because they were combined with "decisive measures by the government" to deal with budgetary issues.
"Now we are seeing a clear turn around in Hungary," Berglof says. "That is something that shows these programs can be very helpful."
Berglof says that Ukraine is at the other end of the spectrum because "no one can be very confident about the political decision-making process" in Kyiv at the moment.
"It is a fair characterization that there is much political in-fighting and a lack of decision making [in Ukraine]," he says. "Some key institutions, like the Central Bank, are not functioning very well. It has been very difficult to implement the conditionalities of the IMF program."
Nevertheless, Berglof says international financial institutions are trying to stay engaged in Ukraine.
A team from the IMF is due in Kyiv in mid-October to assess Ukraine's progress on commitments under the IMF loan program -- and to decide whether the Ukrainian government should receive the next tranche of IMF funds.
For Ukraine's private sector, Berglof says the EBRD is continuing to try to work with the country's financial sector to ensure that funding is available for small and medium-sized businesses.
"It is a very difficult period now before their presidential elections. It's going to be several months of difficult time for Ukrainian companies and Ukrainian households," Berglof says.
It's difficult to disburse money into this political environment right now, where you can't get any credible commitments from their policymakers."
World Economic Crisis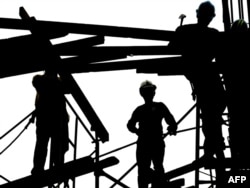 Multimedia coverage on the impact of the global financial crisis on markets and individuals across RFE/RL's broadcast region. More