EU Enlargement Commissioner Says Eastern Partnership 'Absolutely A Success'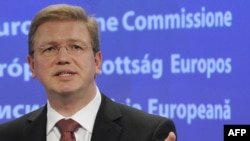 There are concerns the European Union's market crisis will dramatically scale back its ambitions for outreach programs with its neighbors -- including its Eastern Partnership.

The initiative was launched with fanfare just over a year ago to help bring six post-Soviet countries -- Armenia, Azerbaijan, Georgia, Moldova, Ukraine, and Belarus -- closer to the EU fold.

On the partnership's first anniversary on May 7, in fact, the EU kept celebrations muted -- to the point of silence. But Stefan Fuele, the EU's commissioner for enlargement and neighborhood policy, this week said the Eastern Partnership is alive and well.

"It has been absolutely a success," Fuele said. "If you take into account that it's been in existence only one year, and if you look at the relationship between the European Union and the six countries, you see that many of them are already using the potential of that Eastern Partnership."

Fuele, speaking on May 13 in Prague, the capital of his native Czech Republic, said the Eastern Partnership offered its six members a "unique structure" of bilateral ties that allows each of the countries to pursue closer EU ties at their own pace.

The enlargement commissioner said of the member countries, Ukraine and Moldova have proved the most eager to capitalize on the program, which facilitates trade and visa talks, among other issues. But Fuele said nearly all of the countries had shown progress in their relations with Brussels within the Eastern Partnership mandate.

Escaping Moscow's Orbit?

The one exception was Belarus, which under President Alyaksandr Lukashenka has continued a pattern of repressive policies. Fuele said the EU had no regrets about allowing Belarus to join the Eastern Partnership, but that ties between Brussels and Minsk would not progress until the Belarusian leadership defines "what kind of engagement they would like to have with the EU."

"On our part, we're ready. We're ready to help financially, we're ready to help also with the visa issues. We are ready to help modernize the economy, improve social development," Fuele said. "But that engagement very much depends on the Belarusian leadership's position on human rights and fundamental freedoms."

If membership in the Eastern Partnership was once seen as a positive "carrot" for wayward states like Belarus, there are creeping doubts as to whether the EU program can induce its members to embrace Western democratic standards.

Since joining the Eastern Partnership, Lukashenka's Belarus has thumbed his nose at the EU more than once, holding large-scale military exercises close to its NATO border and agreeing on a joint air-defense system with Moscow.

But Fuele said the partnership was not an "instrument" to tug its members further from Moscow, and that each was free to choose what kind of ties with Moscow best suits its interests.

"The Eastern Partnership is actually a kind of structure where even the Russians can participate, and to the benefit of our Eastern partners," Fuele said. "The level of involvement in the Eastern Partnership is not going to be judged on the basis of the relationship with Moscow. Actually, Brussels is the first to be keen on there being good relationships between these countries and Moscow, a very important neighbor."

Eyes On Ukraine

Between 2011-13, the EU is set to launch a new program specifically designed for the Eastern Partnership countries. The so-called "comprehensive institution-building" program is aimed at improving the administrative capacity of the participating states. Fuele said that half of the 350 million euros ($437 million) that have been earmarked for the Eastern Partnership will be used for the new program.

Whether such offers will be enough to keep the six partners on track toward closer EU ties remains to be seen. Many eyes are on Ukraine, which following a presidential election has seen a dramatic shift away from its pro-Western, Orange Revolution values.

But Fuele expressed hope that Ukraine under its new president, Viktor Yanukovych, had "every intention" of continuing its earlier path of reforms.

"Words are important. Deeds are even more important," Fuele said. "I want to believe that President Yanukovych knows that in his determination to move Ukraine closer to the EU, he has all the support from Brussels."