CHISINAU -- The EU's special representative in Moldova, Malman Mizsei, has urged that country's main political parties to form a government and elect a new president as soon as possible, RFE/RL's Moldovan Service reports.
Mizsei told RFE/RL it is important for Moldova, one of Europe's poorest countries, to address quickly challenges resulting from the global economic crisis.
He said Moldova's political forces should also agree to set up a commission to investigate violence after the April 5 elections that left at least one person dead and led to hundreds of arrests and allegations of police brutality.
After the repeat elections on July 29, pro-Western parties have a majority in the country's new parliament. But the Communists remain the most powerful single party and could block the election of a new head of state to replace outgoing Communist President Vladimir Voronin.
Mizsei said Brussels will wait until Moldova's new government is formed before going ahead with plans to strengthen ties with Chisinau.
But before any agreement with the EU is discussed, Mizsei said Moldova needs to abolish the visa requirement it imposed on the citizens of EU member Romania in April.
Moldova's Communist government accused Romania of fomenting unrest in Chisinau to advance its own "revisionist" agenda -- most of Moldova was part of Romania before World War II.
Bucharest rejected the charge.
Moldova Votes Again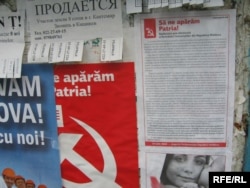 #moldovavotes
Through the eyes of RFE/RL correspondents and editors, guest bloggers, and other contributors who are following the July 29 national elections from the streets of Chisinau and far afield. Plus tweets and pics.
More