Parishioners of The New Life evangelical Christian church in Minsk have refused to vacate the church's building, despite demands to do so by Minsk city authorities, RFE/RL's Belarus Service reports.
Members of the congregation are remaining in the church around the clock.
The building is an old barn in the Minsk suburbs that held livestock in the Soviet era. The building was converted by parishioners into a church in 1990.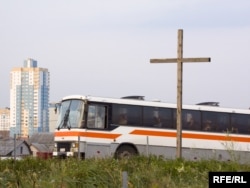 Church parishioners are staying in the building around the clock.
New Life parishioners have been fighting with Minsk officials to preserve the building as their place of worship for more than three years. The church building legally became city property on August 21.
Minsk authorities say the property was "illegally privatized by the church in the 1990s."
On August 25, the church's pastor, Vyachaslau Hancharenka, and lawyer, Syarhey Lukanin, were invited by the ambassadors to discuss the problems faced by the church.
Many Belarusian politicians and NGOs have expressed their support for the church and have sent petitions to President Alyaksandr Lukashenka, urging him to overrule the decision by the Minsk city administration.
Protestant churches in Lithuania, Russia, and Ukraine sent letters of support to the church.
Leaders of The New Life Church in Minsk have met with ambassadors of European Union countries in the Belarusian capital in an effort to resolve a dispute between the church and city authorities, RFE/RL's Belarus Service reports.
On August 24, the church's leaders refused to accept an offer of $13,000 by city authorities as compensation.