BRUSSELS -- Leading diplomats representing the 27 EU governments have met their counterparts from the six members of the bloc's Eastern Partnership -- Ukraine, Moldova, Belarus, Georgia, Armenia, and Azerbaijan -- in the Polish Baltic resort of Sopot.
The meeting, co-hosted by Poland and the current holder of the EU's rotating presidency, Spain, was the first senior EU-Eastern Partnership gathering in more than half a year.
It was seen as symbolically very important in a number of EU capitals keen to ensure that the rejuvenated EU-Russia relationship -- expected to progress with a long-term deal on visa-free travel at the Rostov-na-Donu summit next week -- does not overshadow partnerships with smaller neighbors.
Afterward, Spanish Foreign Minister Miguel Angel Moratinos said today's meeting had confirmed that the European Union remains committed to the future of its six eastern neighbors.
Moratinos said that "politically speaking," the bloc had "demonstrated that the Eastern Partnership is one of the main priorities of the European Union."
Fighting For Attention
But there were signs of tension behind the scenes. In a last-minute decision, the EU's high representative for foreign affairs, Catherine Ashton, stayed away from the meeting, allowing EU Enlargement and Neighborhood Commissioner Stefan Fuele to deputize for her.
At the final press conference, Polish Foreign Minister Radoslaw Sikorski pointedly thanked Fuele for attending and confirming that the Eastern Partnership remains "a priority for the European Commission."
Ashton's absence means that none of the EU representatives present in Sopot will attend the EU-Russia summit at Rostov-na-Donu on May 31. Among the EU's senior foreign-policy figures, Ashton alone will travel to Russia.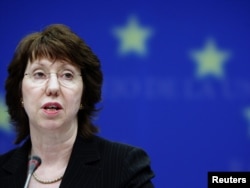 Catherine Ashton was a last-minute scratch.
The partnership was launched in May 2009 at the joint initiative of Poland and Sweden, but has struggled for profile within the bloc. The EU's southern member states see in it an unwanted competitor to EU southern outreach across the Mediterranean, while Germany and France appear worried it could complicate what they see as the bloc's strategically crucial relationship with Russia.
A number of EU foreign ministers today sent lower-ranking officials as stand-ins. Among the neighbors, Armenia and Azerbaijan were represented by deputy foreign ministers.
Race For Visa-Free Travel
Today's meeting also failed to offer assurances to countries such as Ukraine and Moldova that Russia will not be allowed to upstage them in the visa-free-travel stakes -- a hugely symbolic issue for all eastern governments.
Officials say Russia is likely to secure an EU "road map" -- called "common steps" -- at the summit, effectively committing the bloc to lift visas at a yet-unspecified date.
Commissioner Fuele indicated today that Ukraine -- whose visa talks are the most advanced among the six Eastern Partnership members -- could expect a similar recognition two weeks after Russia.
"This is not an easy task because this is a technically demanding and politically very sensitive [one] at the same time," Fuele said.
"But I think we have already reached a moment where we're talking, as far [as] the Ukraine [is concerned], about a concrete action plan -- which I hope very much will be on the table at our accession council in mid-June."
Moldova, hamstrung by domestic political turmoil until late last year, should be next in line late this year.
Georgia has signed a visa-facilitation accord with the EU -- meaning visas can be acquired more cheaply and quickly by its citizens. Armenia and Azerbaijan are yet to begin talks.
Belarus Excluded
All five have also either started negotiating new association agreements with the EU, or received the bloc's green light to do so. They also qualify for free-trade accords down the line.
Belarus, owing to the refusal of President Alyaksandr Lukashenka to hold free and fair elections, is disqualified from EU concessions beyond financial and technical assistance.
Responding to a question from a Belarusian journalist, Spanish Foreign Minister Moratinos today said human rights and democracy remained EU preconditions for closer ties with Minsk. "Human rights are the essence of the EU and we cannot talk about Europe without the defense [of] and commitment to human rights," he said.
Sikorski today also announced the formation of a "Friends of Eastern Partnership Group" that lists Russia among its members, alongside the United States, Canada, Japan, and Norway -- with the latter expected to contribute funds.
The EU has earmarked 1.9 billion euros ($2.4 billion) for the six eastern partners between 2010 and 2013.